Description
Fresh from Greenbelt 2018 and his UK tour Everything is connected Peterson Toscano, who describes himself as quirky queer Quaker performance artist and scholar from the USA, will be joining us at Southwark Cathedral Inclusive Drinks to host The LGBTQ-Friendly Bible Hour.
In this lively presentation, Peterson Toscano reveals bizarre, hilarious, disturbing, and revelatory characters and moments from the Hebrew and Christian scriptures. This is not "What does the Bible say about homosexuality?" No, Peterson delves into the texts to find gender outlaws, to bust open traditional readings, and provide whole new perspectives. If you want to hear something fresh and new about old Bible stories and also experience outright weird and hysterical performance art, come see Peterson in action. See a sample for yourself: Joseph and the Amazing Gender Non-Binary Bible Story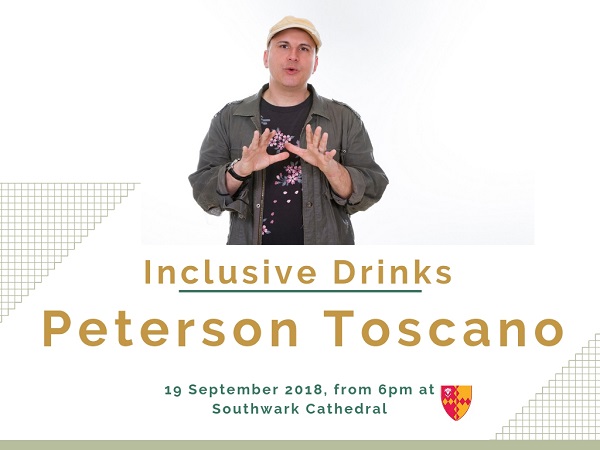 Join us in the Garry Weston Library of Southwark Cathedral, on Wednesday 19 September, at 6pm for drinks and then this inspiring performance with Peterson Toscano at 7pm.
More about Peterson
Peterson Toscano's unique personal journey led him into performance art. After spending 17 years and over $30,000 on three continents attempting to de-gay himself through gay conversion therapy, he came to his senses and came out a quirky queer Quaker concerned with human rights and comedy. He asks himself and his audiences unusual and stimulating questions: Who are the gender outlaws in the Bible? What is a queer response to climate change? and How can comedy help us better understand our most tragic losses? Peterson is on a mission to connect with his audiences in deeply personal ways stirring up hope and purpose in a rapidly changing world.
He has been featured in the New York Times, The Guardian, the Trya Banks Show, and NPR Morning Edition. Peterson is a regular contributor to Huffington Post and The Porch magazine. His Bible scholarship has been featured in The Oxford Handbook of the Bible in America. His essay, Transgender Gender During Passover, appears in the Lambda Award winning Anthology, Gender Outlaws—The Next Generation. Peterson is the host of Citizens Climate Radio and the curator of ClimateStew.com. His film, Transfigurations—Transgressing Gender in the Bible is currently moving through film festival process. He lives in Central Pennsylvania with his husband, Glen Retief. www.petersontoscano.com
Praise for his work
"Peterson Toscano's work combines astute readings of the Bible with great story-telling and comedy. He offers interpretations of the texts and insights that even experienced biblical scholars haven't seen before. When portrayed by Toscano, Bible stories and characters come to life with wit, sympathy, and humor." Dale Martin, Phd, Woolsey Professor of Religious Studies, Yale University. Author of Sex and the Single Savior

"Toscano brings a deep reverence for the Biblical text with him into his exploration of gender transgression. This play is mesmerizing and compels the viewer to see well known Bible stories in a brave new light." Nadia Bolz-Weber, Author of Pastrix: The Cranky, Beautiful Faith of a Sinner & Saint
Inclusive Drinks
Inclusive Drinks was founded in 2017, and meets periodically, to simply increase community friendships in a supportive and friendly environment, for all people, irrespective of who they are, within the Cathedral community and anyone who wants to support this inclusive community, of orthodox faith and radical love, right in the heart of the Capital.