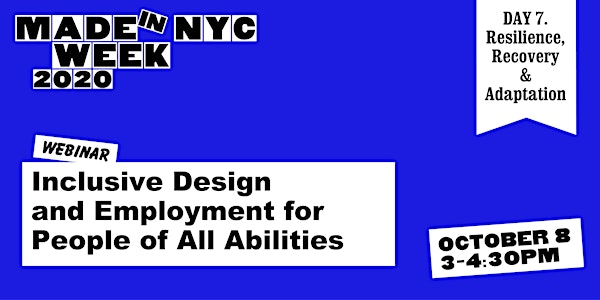 Inclusive Design and Employment for People of All Abilities
This panel will discuss adaptive and inclusive design solutions for disabled communities.
About this event
Learn about how New York's makers and manufacturers in New York City are advancing inclusion of people with disabilities through adaptive design and inclusive employment practices. We will explore adaptive design with the Adaptive Design Association, a nonprofit organization that creates adaptations of expensive and non-custom commercial products for people with disabilities; Adapt Ability, a new nonprofit that specializes in affordable solutions for adaptive bicycling; and will take a behind-the-scenes look at Undercare's adaptive clothing for people with mobility challenges with CEO and Founder Susanne Leary Shoemaker. In celebration of Disability Employment Awareness Month, we will also be joined by Karen Waltuck, JobPath's Director of the Consortium of Customized Employment, to learn how a network of 13 agencies are working together with manufacturers and other businesses through the customized employment strategy that is key to engaging skilled people with developmental disabilities as long-term employees. This program will be hosted by Turnstile Tours' President Cindy VandenBosch who is an accessibility professional in the museum and tourism fields.
Made in NYC is a Pratt Center for Community Development initiative that supports local manufacturers and makers by giving them marketing and branding resources, valuable skills-building opportunities, and access to a supportive community of peers within the sector.
You can shop online at madeinnyc.org or follow us for the latest on NYC's vibrant maker community:
Instagram: @madeinnewyorkcity
Facebook: @madeinnewyorkcity
Twitter: @madeinnyc
Learn more about Made in NYC Week 2020 at madeinnyc.org/minycweek-2020