Description
Description: Speaker Lineup for Inclusive Conversations: Building Interracial Sisterhood at Work March 12, 2019 6-9 pm at Digital Marker, 4330 Gaines Ranch Loop | ##120 | Austin, TX 78735

Speakers: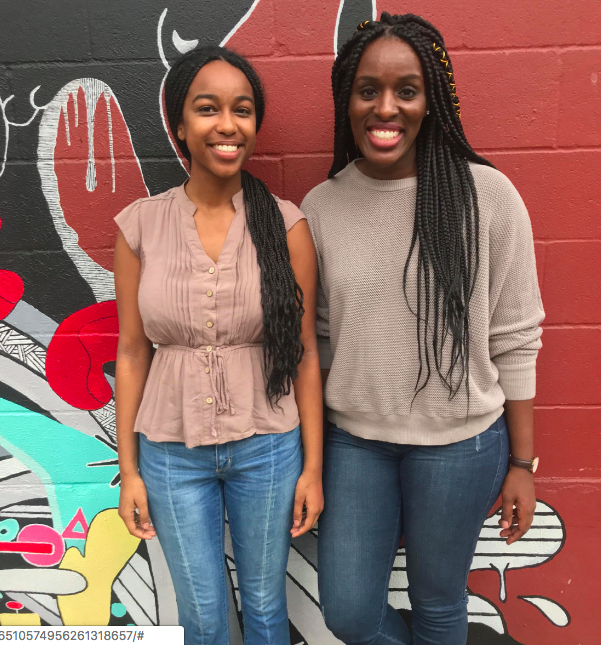 ---
UT Students Ayana D'Aguilar and Lakeya Omogun will share their stories at Inclusive Conversations.
Read about them here, here, and here.
Audra Heinrichs, Gen Z Feminist; Avis Jones De Weever, Author, Speaker, and Media Commentator, ; Ayana D'Aguilar, Student, University of Texas at Austin Class of 2019,
Bob Bland, Co-President and Board Member, National Women's March; Laura Haykel, Co-Founder, Inclusive Conversations; Michelle Goodwine, Founder-CEO, Diversity Advice Consultants; Karen Fleshman, Co-Founder, Inclusive Conversations; Lakeya Omogun, Ph.D. Student and Author, The Truth About Being a Black Woman in a Liberal City; Minda Harts, Founder and CEO, The Memo; Muna Husseini Senior Program Manager, Pay Pal Sophia Lopez, HR Professional and President, Women Communicators of Austin (more to be added)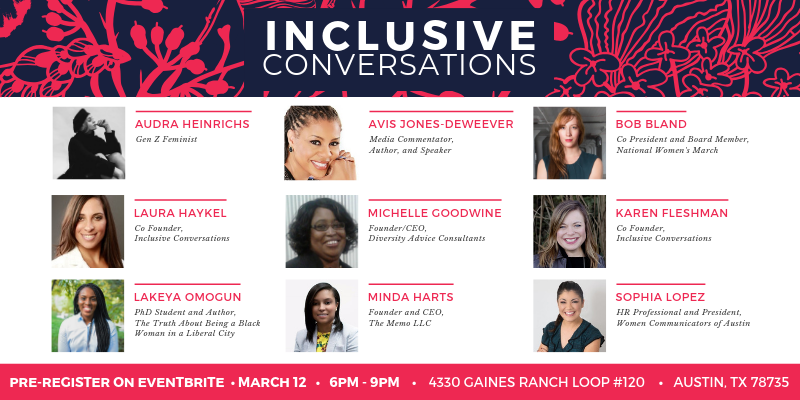 Coming to Austin for SXSW or already live there? Committed to the advancement of all women in the workplace and beyond? Interested in communing with other like-minded women to educate and empower ourselves to strengthen our alliances and further our shared goals?
If so, we would love for you to join us for an unofficial SXSW event on March 12th: Inclusive Conversations, an awareness-elevating evening focused on women femmes GNC folks and our allies of all ages, races, ethnicities, sexual orientations, abilities, and classes learning from each other and enhancement of both individual and collective power.
The goal of Inclusive Conversations is to come to a shared understanding of racism and how it divides womxn and harms us all. We'll analyze how we've gotten here, and offer tools on how to improve how we relate to one another going forward. We will briefly discuss the history of feminism through the lens of intersectionality to create shared understanding.
Inclusive Conversations are a healing space for an honest and open conversation. We will set community norms and adhere to them. This event is less about learning from experts and more about learning from each other.
As Audre Lorde taught us, we need to teach ourselves patterns of relating across difference as equals since we have no patterns to follow.
Come prepared to be honest, to be open, and to make new friends.
Thanks to the generosity of Muslim Space, we're serving Hallal appetizers from Shawarma Point. We'll also have nonalcoholic beverages and wine. There's ample free parking.
Host Committee (in formation):
Founded in 2012, DigitalMarketer is an e-learning company that offers digital marketing training and certification for marketing professionals, founders, and digital agencies. The Austin, Texas-based company offers professional certifications, online trainings, live workshops, and also manages one of the largest communities of digital marketers in the world, "DM Engage." With tens of thousands of customers all around the globe, DigitalMarketer has become one of the world's leading voices sharing the best of what works in digital marketing.