Sales Have Ended
Registrations are closed
Thank you for your support! Remember... EVERYONE DESERVES A STAGE.
Join us for SHOWAbility's masterclass with social disability activist, Rev. Calvin Peterson to discuss the Independent Living Movement.
About this event
All are Welcome ... All Abilities. All Families. All Caregivers.
SHOWAbility (formerly ABEL2 Inc.) is offering monthly Inclusive Masterclasses all 2022! Each class will uniquely provide eductional and entertaining courses led by led by leaders, advocates, and professionals within the disability arts community
This Masterclass is ADVOCACY IN ACTION: Before ADA and Beyond ADA
A listen to Atlanta's own, Rev. Calvin Peterson - author, advocate, and long time activist discuss his first hand experience and fight for disability rights and independent living for 40 years and counting. From spiritual calling to social outcomes Reverend Calvin Peterson has an amazing story to tell.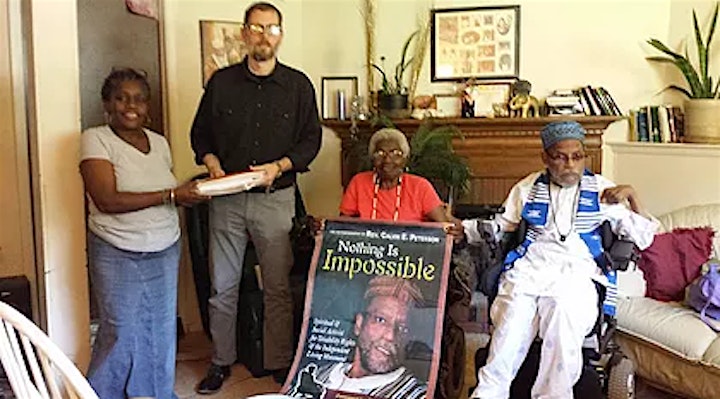 Calvin E. Peterson was born in Atlanta, Georgia, on March 30, 1948. At birth, he was diagnosed with a severe form of cerebral palsy. He graduated from Booker T. Washington High School in southwest Atlanta. In 1978, he graduated with a B.A. in Liberal Arts from Long Island University.
In 1970, Peterson and others founded the Atlanta-based organization Advanced Association for the Physically Handicapped to assist individuals with disabilities in communicating with employers, assistance agencies and rehabilitation centers, among other purposes. Since 1984, Rev. Peterson has been an ordained minister of the African Methodist Episcopal Church and has taught at the Interdenominational Theological Center in Atlanta.
In 1986, Rev. Peterson founded the non-profit organization, Disabled in Action (DIA), in Atlanta with a mission to advocate, educate and empower people with disabilities living in poverty, their families and caregivers, and with an emphasis on equity and inclusion. In 1988, representing DIA, he provided testimony before the U.S. House Committee on Housing and Finance to urge public housing authorities to mandate accessibility. Among Rev. Peterson and DIA's other accomplishments are instituting disabled voter education and registration drives, fighting for sidewalk curb-cuts in low-income communities, demanding public transportation for people with disabilities living in poverty, and creating curriculum for church leaders to allow them to adequately address the needs of their congregants with disabilities.
Rev. Peterson is the author of Nothing is Impossible, his autobiography. Since 1986, he has produced television programs at People TV, the City of Atlanta's public access media center, including the show Let's Plant a Seed, and currently hosts the monthly program, Voice of the Voiceless.