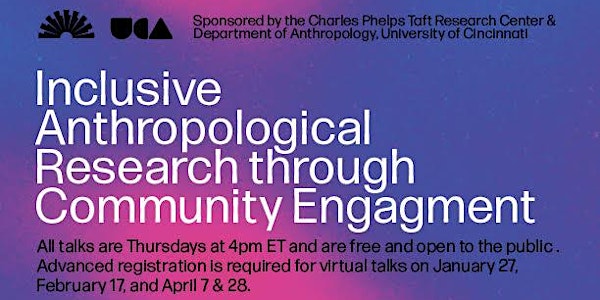 Inclusive Anthropological Research via Community Engagement: Dr. Engmann
Dr. Rachel Ama Asaa Engmann will present on on Autoarchaeology: An archaeology for, by and with direct descendant communities.
About this event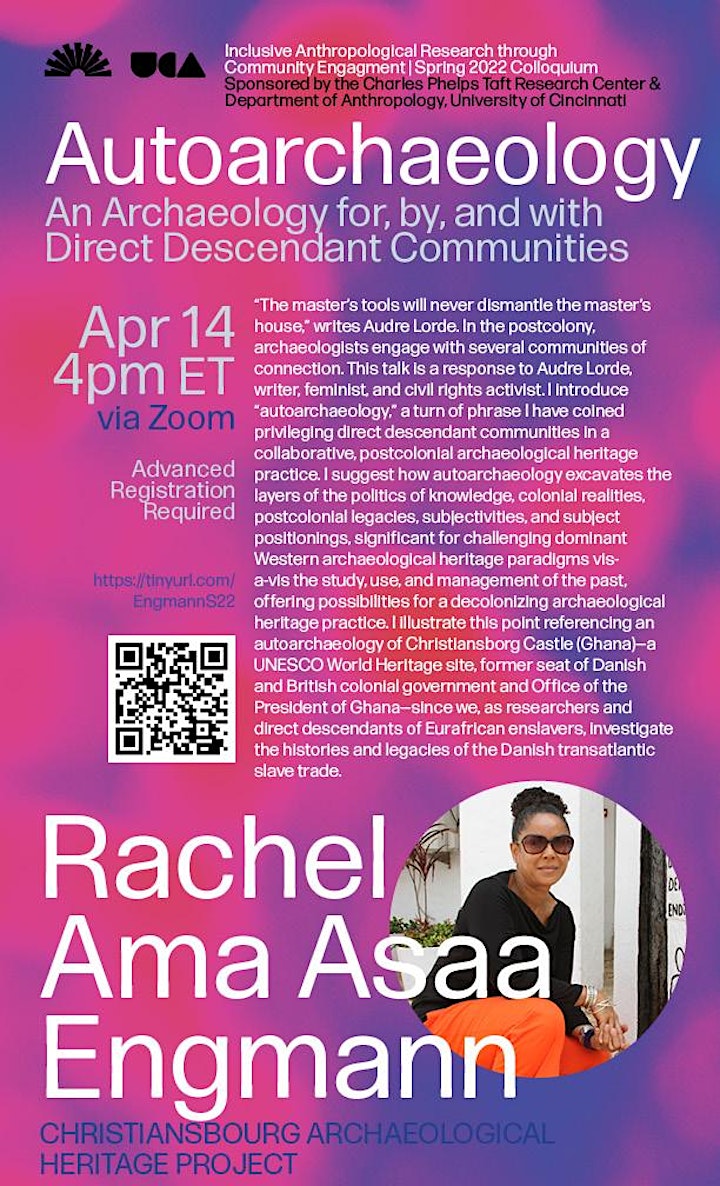 "The master's tools will never dismantle the master's house," writes Audre Lorde. In the postcolony, archaeologists engage with several communities of connection. This talk is a response to Audre Lorde, writer, feminist, and civil rights activist. I introduce "autoarchaeology," a turn of phrase I have coined privileging direct descendant communities in a collaborative, postcolonial archaeological heritage practice. I suggest how autoarchaeology excavates the layers of the politics of knowledge, colonial realities, postcolonial legacies, subjectivities, and subject positionings, significant for challenging dominant Western archaeological heritage paradigms vis-aÌ-vis the study, use, and management of the past, offering possibilities for a decolonizing archaeological heritage practice. I illustrate this point referencing an autoarchaeology of Christiansborg Castle (Ghana)—a UNESCO World Heritage site, former seat of Danish and British colonial government and Office of the President of Ghana—since we, as researchers and direct descendants of Eurafrican enslavers, investigate the histories and legacies of the Danish transatlantic slave trade.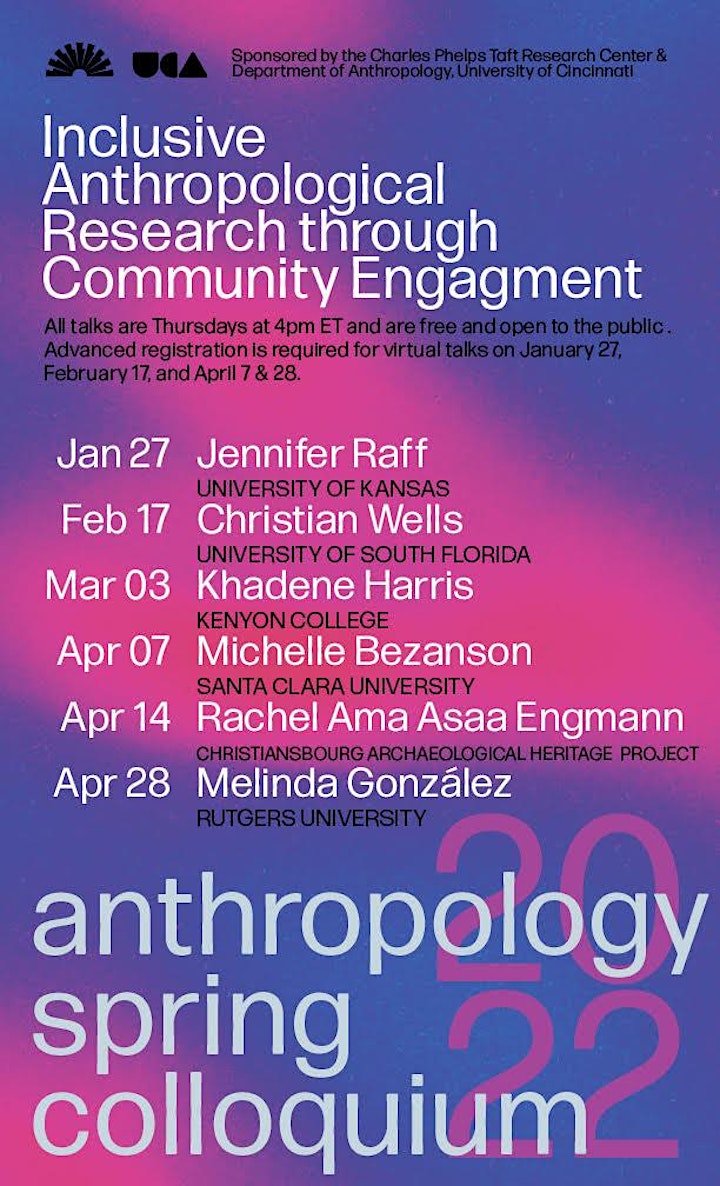 Please join us for the first speaker in the colloquium series, Inclusive Anthropological Research through Community Engagement, presented by the University of Cincinnati Department of Anthropology and the Charles Phelps Taft Research Center. The full series line-up is featured below.
January 27th - Dr. Jennifer Raff from the University of Kansas presenting reflections on community engaged research as a paleogeneticist.
February 17th - Dr. Christian Wells from the University of South Florida presenting on empowering partnerships and building capacity for environmental justice.
March 3rd - Dr. Khadene Harris from Kenyon College, topic TBA
April 7th - Dr. Michelle Bezanson from Santa Clara University presenting on how to evaluate what are good practices in primate conservation.
April 14th - Dr. Rachel Ama Asaa Engmann from the Christiansbourg Archaeological Heritage Project presenting on Autoarchaeology: An archaeology for, by and with direct descendant communities.
April 28th - Dr. Melinda Gonzalez from Rutgers University presenting on disaster, recovery, and sovereignty in Puerto Rico after Hurricane Maria.