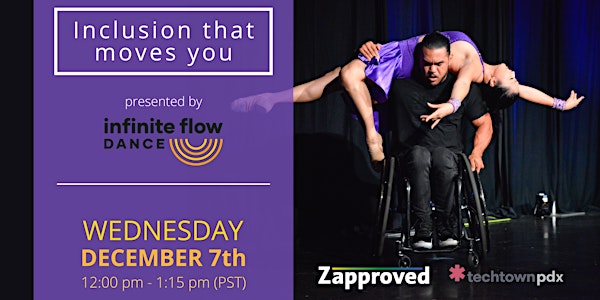 Inclusion That Moves You
A heart-centered approach to DEIA
About this event
1 hour 30 minutes

Mobile eTicket
This year Zapproved has focused on action. We started with turning awareness into action, then we workshopped creating our own personal equity roadmaps, and then we learned how to hold ourselves accountable to these actions.
And now we will be joined by the Infinite Flow Dance Company to remind us that taking action is more than words and workshops, it requires you to get moving in the right direction. We want to awaken you to the infinite possibilities of disability inclusion.
1 in 4 Americans, that is 61 million Americans have a disability. Disability is the one minority group that anyone can enter at any given time. Yet, disability is often either forgotten or mentioned last in the conversation of diversity, equity, and inclusion. Led by Marisa Hamamoto, founder of Infinite Flow, a professional dance company that employs disabled and nondisabled dancers with diverse, intersectional identities with a mission to dismantle biases and promote inclusion, and joined by a few Infinite Flow artists, this will be a soul-filling conversation destigmatizing and demystifying disability, and how each of us can be an ally to one another.
We would like to thank TechTown for sponsoring our 2022 Ally Lunch & Learn series. We appreciate your support the last two years and value you as a partner bringing amazing folx to the stage to take the mic!
ASL Interpretation provided for this event by Pro Bono ASL.

Marisa Hamamoto (she/her)
Named People Magazine "Women Changing the World", InStyle Magazine Badass 50, among other honors, Marisa Hamamoto is an emerging thought leader and transformative movement artist who designs heart-centered learning experiences that accelerate inclusivity and engagement in the workplace and beyond. She is the founder of Infinite Flow Dance, an award-winning nonprofit dance company that employs disabled and nondisabled artists with diverse intersectional identities. Marisa is a stroke survivor, proud 4th generation Japanese American, chocolate-lover, and pandemic-born roller skater.
Mia Schaikewitz (she/her)
At 15 years old, an Arteriovenous Malformation (AVM) ruptured in Mia's spinal cord, leaving her paralyzed from the waist down. With resilient determination and a positive attitude, Mia finished high school, then graduated with top honors in Media Production from the University of Florida. After college, Mia moved to Los Angeles where she worked in the recording industry and later developed an award-winning career in graphic design and branding. In 2012, Mia became one of the stars of the hit TV show Push Girls on the Sundance Channel which inspires audiences internationally and won the Critic's Choice Award for "Best Reality Series" in 2013. In addition to her dynamic career pursuits, Mia is an advocate for diversity and inclusion in the workforce and media. She maximizes her time public speaking, giving back to the community, and participating in multiple adaptive sports. Mia is a founding member of Infinite Flow. She is proud to be part of an organization that pushes for change and influences humanity.
Natalie Trevonne (she/her)
At the age of one, Natalie was diagnosed with juvenile rheumatoid arthritis, which caused her to lose her vision at the age of 18. As a cheerleader, co-captain of her dance team, and member of the show choir, she never thought she would perform again. But after an almost decade-long hiatus, Natalie put her dancing shoes back on. Natalie was connected with Marisa through her agent and although Ballroom dance is new to her, Natalie has a blast training and collaborating with other Infinite Flow artists. Natalie is a triple threat who hopes to bring the blind community together through the arts. She recently launched a Podcast called "Fashionably Tardy" with fellow blind friend Lissa Loe, where they "bridge the gap between the disability community and the fashion industry one story at a time". Although she has been faced with numerous obstacles throughout her life, Natalie refuses to let her blindness define her and wants to encourage others to take the risk and go after their dreams. Infinite Flow holds a special place in Natalie's heart because she feels that there is no other dance company or even entertainment organization that brings together people from different cultures, genders, beliefs, and abilities all together to express themselves through dance as one. Natalie's time at Infinite Flow has taught her how to be more confident in her dancing because the organization showed her that she can still do the same types of dance as everyone else. She just has a different approach to learning.
Joey Antonio (he/she/they/siya)
Joey Antonio previously appeared in a series of ASLized music videos with Sesame Street, and last year in a virtual reading of Tiger Styl! (2021) with the Huntington's. Nash in Garrett Zuercher's production of Malachi. Select Zoom credit include the role in Disconnected: The Musical (Hearts Production), Legally Blonde (Deaf's Spotlight). DC credits include Bunnicula (Gallaudet University Theatre), and Tommy (Open Circle Theatre). Los Angeles credits include productions at Spring Awakening (Deaf West Theatre), Beggars, and Choosers: The Musical (Jill Wright). His film and television appearances include roles in Zoey's Extraordinary Playlist, Youtube's Dance Camp, and as well in music videos, "Morning Dew" (Kelsey Lu), and "I Dare U" (Kelly Clarkson), to name a few. In addition to a description of my dancing style: Primarily the lively form that combines a variety of freestyle movements that correspond with the choreography in funk, popping and locking, groove, and some jazz-funk and contemporary elements. Joey is the newest addition to Infinite Flow's roster of performers.