Description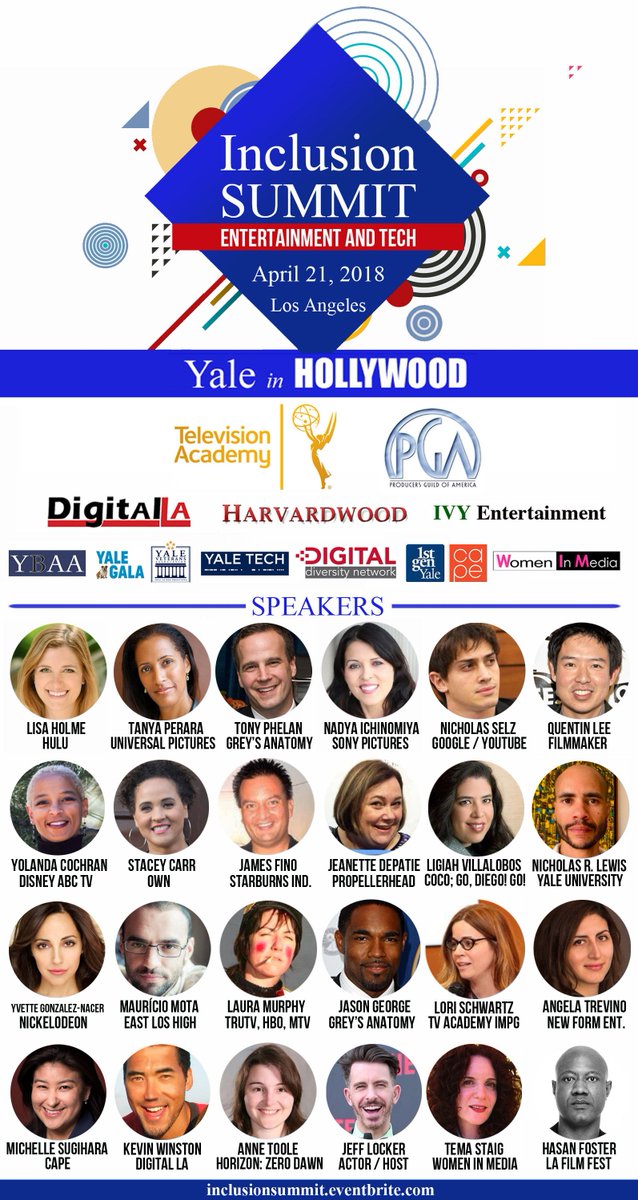 Inclusion Summit: Entertainment and Tech brings together top Hollywood industry and University alumni groups for a half-day summit focused on actionable steps to increase representation of underrepresented groups in these industries. The summit seeks to explore themes of authentic inclusion and will feature a keynote, panels, and mentorship roundtable sessions.
HOST ORGANIZATIONS: Yale in Hollywood with community partners: Television Academy Interactive Media Peer Group, Producers Guild of America, Digital LA, Harvardwood and IVY Entertainment.
Additional community partners include: Yale Black Alumni Association, Yale GALA, Yale Veterans Association, Yale Tech, 1stGen Yale, Women in Media and the Digital Diversity Network.
PROGRAM

10:00a-4:00p Registration at front desk of CTRL Collective
10:45a-11:00a Opening Welcome
Nicholas Roman Lewis, Yale University, Yale Alumni Association, Sr. Dir., Shared Interest Groups
MC: Lori Schwartz, Television Academy IMPG, Governor; StoryTech, Principal

11:00a-12:00p - "Diversity & TV: Big Challenges for the Small Screen" panel
Presented by the Television Academy Interactive Media Peer Group (IMPG)
- Moderator: Lori Schwartz, Television Academy IMPG, Governor; StoryTech, Princi
- Kristi Shuton, Disney ABC TV Group, Manager, Creative Talent Development & Inclusion
- Yvette Gonzalez-Nacer, Actress, Singer Songwriter, Producer.
Yvette plays Kiki on Emmy winning Nickelodeon series "The Fresh Beat Band"
She founded Whitelighter Productions, develops film/TV content in US/Hispanic markets

- Laura Murphy, Comedy Director of "Now We're Talking", TruTV's "Adam Ruins Everything"
sketches for HBO's "Last Week Tonight with John Oliver", and MTV's "GirlCode"

- Jason George, Actor on "Grey's Anatomy", "Station 19", "CSI: Cyber", "CSI: Miami"

- Maurício Mota, Wise Entertainment, Co-Founder. Wise produced Emmy-nominated
teen drama "East Los High" on Hulu, the first English language show with all Latino cast.
LA Times has called it as a "TV unicorn in the broadcast marketplace."
The East Los High franchise is expanding to include a movie, novels, and clothing.
12:00-1:00p - Lunch included!

1:00-1:45p - "What is Inclusion?" panel presented by Yale in Hollywood
- Moderator: Jeff Locker, Actor, Host; Host for STX Tencent at Golden Globes, etc.
- Tanya Gregg, Universal Pictures, SVP Business and Legal Affairs, Film Music
- Tony Phelan, Executive Producer (Grey's Anatomy, Doubt)
- Nicholas Selz, Google, Global Co-Head of YouTube Originals Performance
- Nadya Ichinomiya, Sony Pictures Entertainment; Co-Founder Women in Technology Hollywood
- Quentin Lee, Director (White Frog, The Unbidden); Producer (Gay Hollywood Dad)
1:45-2:00p - Break
2:00-3:00p - Panel presented by Producers Guild of America
- Moderator: Jeanette DePatie, Propellerhead, Inc., President
- Stacey Carr Manager, OWN: Oprah Winfrey Network, Programming and Development
- Yolanda T. Cochran, Disney ABC Television Group, Production Executive;
Producer "Breaking the Glass" series
- James Fino, Starburns Industries, Co-owner. Produced NBC's Community Christmas Special
and Adult Swim's Mary Shelly's Frankenhole, Season 2
3:00-4:00p - Keynote Fireside Chat: Lisa Holme, Hulu, Vice President of Content Acquisition
Lisa oversees content acquisition from major broadcast and cable networks, movie studios,
and other rights holders worldwide with key partners including Fox/FX, ABC/Disney,
NBCUniversal, CBS, WB, Viacom, Sony, Lionsgate, Turner, AMC, A+E, and more.
Moderated by Kevin Winston, Digital LA, CEO, and President of Yale in Hollywood
4:00-5:00p - Networking Reception
- Wines provided by Smith Devereux Wines of Hawai'i.
10:30a-3p - Speed Mentoring Workshops. These sessions are an opportunity to learn first-hand strategies for promoting inclusion in your casting, crews, production, marketing and distribution efforts, with sessions led by diverse industry experts.

- 10:30a - Anne Toole (Harvard): Writing for Games. Anne just won WGA Award for co-writing Horizon: Zero Dawn popular video game starring a female character
- 11:00a - Angela Trevino, New Form Entertainment, Development
- 12:00p - Ligiah Villalobos, head writer, Go! Diego! Go! animated series; Coco cultural consultant, Under the Same Moon writer
- 12:30p - Hasan Foster, LA Fim Festival at Film Independent, Senior Manager, Inclusion and Discourse
- 1:30p - Michelle Sugihara, Coalition of Asian Pacifics in Entertainment (CAPE), Executive Director
- 2:00p - Kevin Winston, Digital LA, CEO: Getting Your (Next) Job: Online Tools and Networking in Ent/Tech.
- 2:30p - Tema Staig, Women in Media, Executive Director
PARKING: Complimentary parking in the enclosed CTRL parking lot.
SPONSORSHIP is available, both monetary/logo and in-kind (drinks, food): Email info@digitalla.net
All ticket purchases are final. No refunds, or exchanges. Limited capacity.