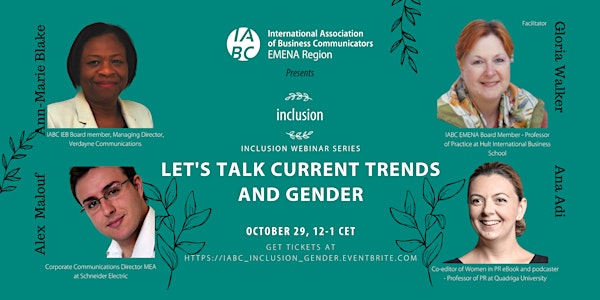 Inclusion: Let's talk current trends and gender
What is our role as communicators in supporting inclusion? How does our profession measure up?
About this event
Looking beyond diversity toward inclusion, our new series takes the approach of COVID-19 being a storm that we've all experienced, but in different ways. Same storm, different boats. We've all seen ugly commentary and events emerging around gender, race and age, to name a few (don't forget people in lockdown with kids and those alone). We've also seen an abundance of misinformation that certainly has not aided our increasingly fragmented society.
Let's talk about this.
Where do we fit in as communicators in framing and shaping the message within and outside of our organisations? What about our own industry? How inclusive are we really?
The first in our series looks at the intersectionalities around gender. It draws on recent research compiled in the Women in PR eBook (PDF), which has contributions from many of our international IABC Members including Zora Artis, Mike Klein and Sia Papageorgiou.
We have a stellar, A-team panel lined up for you facilitated by Gloria Walker, current IABC EMENA Board Member:
Ann-Marie Blake, Managing Director, Verdayne Communications International Executive Board Member for the IABC, Board Member for the PRCA Race & Ethnicity Equity Board.
Alex Malouf, Corporate Communications Director for the Middle East and Africa at Schneider Electric, previous IABC EMENA Chair, previously responsible for Gender Parity/Diversity & Inclusion at Procter & Gamble as a part of his Corporate Communications role.
Ana Adi, Professor of Public Relations and Corporate Communications at Quadriga University, Chair of the Digital Communication Awards, Host of the Women in PR podcast, Co-editor of the Women in PR ebook.
Please submit your questions to the panel on Twitter using #iabc_inclusion or via our main website contact page: iabcemena.com/contact. Let us know if you'd like to ask your question in person.
Register for our event. Be involved. We'll send you a meeting invitation with log-in details closer to the event.