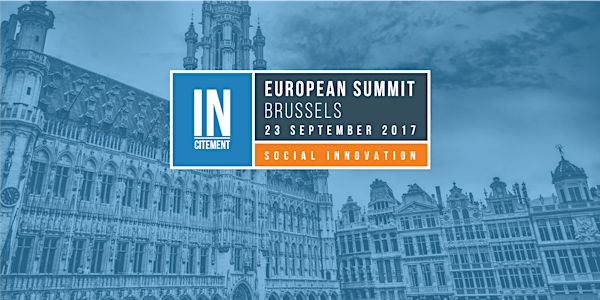 Incitement European Summit
Location
ESPACE BANCA MONTE PASCHI BELGIO
Brussels
Avenue d'Auderghem 22-28
1040 Brussels
Belgium
Description


FREE EVENT: Social Innovation
Let's tackle the world's problems through social entrepreneurship


Have you ever noticed how we're pouring millions of dollars into big organisations claiming to solve social issues, but nothing is really changing? In fact, the global situation is getting worse and worse. Poverty is ever on the rise, clean water and energy still isn't available to more than half of the globe's population and true equality is yet to be established, just to name a few…
We believe that's because the current system for solving social issues isn't working, and at the Incitement Europe we'll tell you exactly why we think that and how we should change it. Join us for the Incitement European Summit in Brussels, where we have some brilliant speakers lined up for you to talk about social innovation. Our aim is to create awareness around global issues and design solutions through social business models.
After attending this event, you'll know exactly how to kickstart your own social project from scratch, how to line up the sponsors and investors behind your cause and how to organise kick-ass events that attract hundreds of people passionate about your cause.
With grit and care Incitement is pushing the boundaries of social businesses to the next level. We believe firmly that doing business in an ethical manner really isn't all that hard. Purpose and profit can go hand in hand seamlessly — and we are on a mission to prove it to you. Are you in? Get your free tickets here!
Incitement Europe
Here's your chance to mingle with some of the brightest minds in the social industry.

Listen to their stories and toss your own ideas around, while you spar with today's game changers in social innovation.

At the Incitement European Summit you'll learn exactly how to setup your own social projects from scratch, completely for free!
Introducing: your speakers


Sofiia

Shvets

Ukrainian


Sofiia
Shvets is a Marketing Solutions specialist at Google and co-lead at Women@Google Ukraine movement.
Sofiia
is working with fastest growing clients across CEE markets and mentoring startups on go-to-market strategies.
Sofiia
was heavily involved in various diversity and social-good focused projects for 5 years.
She is working with students and women in CIS countries on business education projects with more than 20k+ participants. Prior joining Google, she was leading communications at TEDxKyiv team.
Steffie Limere
Belgium
Steffie connects leading thinkers with the hottest student talent at Factory of Imagination, a factory that makes ideas, not things. At just 25 years old, she enables young people to collaborate with international experts from NASA, Google, and Facebook, to name a few.
Here's what you'll get out of the event
Learn to identify social needs and measure impact
You will work with Zikry Kholil, co-founder of Incitement and co-inventor of the Hourglass tool. With this tool you'll be able to identify social needs around you and measure the impact of your social project.
Recruit and organize
Learn from Steffie Limere how to recruit passionate people and organize a kick ass event that attracts hundreds of people.
Level up your social business
Work on your own business model using Incitement's framework and mentors and bring it to the next level.
Connect and promote
You'll be able to use Incitement's global network to connect with likeminded social entrepreneurs and promote and find support for your own social project.
Get access to Incitement's social toolkit
Receive Incitement's social toolkit packed full of useful tools and get help in funding your NGO, applying for grants and pitching your projects to sponsors.
Network!
Incitement is a community of independent event organizers aimed at creating awareness around social issues and designing solutions for them using social entrepreneurship as a business model. Get connected to people who can help you kickstart your social project and learn the best ways to do it.
Morning
Registration and Networking
Incitement Kick Start + Agenda Overview
Incitement around the world
Incitement Italy Show Case
Incitement Global strategy for 2018
Afternoon
Workshop – turning volunteers into passioneers (Steffie Limere)
Workshop by Google (Julia Bespala)
Conclusions and Call to Action
Dinner and Incitement Party
Incitement: a global movement


Incitement is a thriving global movement of independent event organizers in 43 countries, aiming to spread positive social change in communities around the world. Our events will leave you inspired to make a meaningful contribution to the world, and connected to the people to help you make that happen!
Our mission is to create a new model for the way humanitarian work is done, because the current system just isn't working. We are collaborating with a vast network of social causes, MNC's, and volunteers to bring a new global approach to doing social work, using decentralized, bottom-up methods, and innovative ways of financing them.
LOCATION
Incitement European Summit
ESPACE BANCA MONTE PASCHI BELGIO
Brussels
Avenue d'Auderghem 22-28
1040 Brussels
Belgium