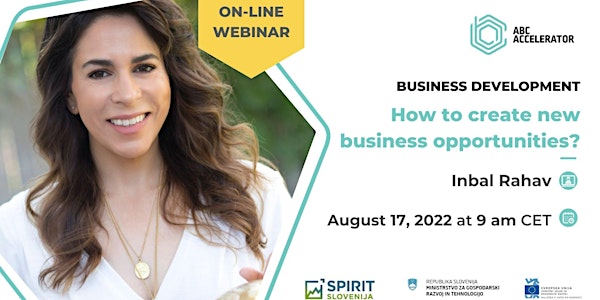 Inbal Rahav – How to create new business opportunities
Business Development - How to create new business opportunities?
About this event
ABOUT THE EVENT
So you have an excellent idea. Following that, you founded a startup. And you wish to spread your wings and fly with it as far as possible.
But wait,
What is the right way to do it? Which direction should you aim for? And what is the best way to get there?
In this workshop, we will address all those questions and provide lots of food for thought a minute before you pack your bags and rush to the airport.
We will understand how to create global opportunities that will meet YOUR startup needs.
Talk about the right tool kit to take with you while thinking of global business development and we will demonstrate how easy it can be to implement those tools once you are aware of them.
WHY SHOULD YOU ATTEND?
The online workshop aims to prepare entrepreneurs for international markets by providing them with the theoretical framework.
We will be talking but also working together to make sure we are aligned and capable of "traveling alone".
ABOUT INBAL RAHAV:
• Business Development Consultant to Startups
• Marketing & Strategic Specialist
• Mentoring Entrepenurs
• Innovation Promoter- Building Innovation Processes to Low & Mid Tech Industries Worldwide
MAIN OUTCOMES:
Practical tools who will assist early-stage startups to expand their activities globally, in a wise calculated manner.
WHO IS IT FOR?
Entrepreneurs with a global mindset, who are aware that their business potential can cross borders, understand the need for planning, learning, setting milestones for success, but also have the patience and determination to achieve success.
JOIN US ON AUGUST, 17th AT 9 AM!
We have 30 spots for these workshops.
The application process applies.
Join us today by applying via Eventbrite and let's do this ✌️
❗ This workshop will be held in English and is FREE of charge! Hurry, the number of tickets is limited. It will be hosted online. You will receive a link to access the webinar two days and two hours before the event starts.
❗❗ Warning: webinar is being recorded. In order to fulfill the Call to tender "SIO 2020-2022", your personal data will be forwarded to the contractual partners of the said tender (SPIRIT Slovenia, Ministry of Economic Development and Technology, European Regional Development Fund).
ABOUT ABC ACCELERATOR
ABC Accelerator is an award-winning acceleration program for startups and scaleups designed to grow your business and increase your valuation, combined with a 25k€ convertible loan and an option for 100k-250k€ investment.
THIS EVENT IS SUPPORTED BY:

The event is co-financed by the Republic of Slovenia and the European Union from the European Regional Development Fund. The operation is being carried out under the "Operational Program for the Implementation of the European Cohesion Policy 2014-2020", priority axis: "3 Dynamic and competitive entrepreneurship for green economic growth".
www.eu-skladi.si