Inaugural Pints for Pat Event: Philadelphia - Army/Navy Week
About this Event
The Inaugural Pints for Pat: Philadelphia will be held on Thursday, December 12, 2019, from 6:00 – 9:00 PM at Fox & Hound Bar + Grill in honor of the Tillman Scholars who carry on Pat's legacy of leadership and service. The night will feature Philly's own Craig Shoemaker as Host, Silent Auction, Premiere Raffle, Buffet, DJ and Drink Specials. Attendees will have the opportunity to connect with Tillman Scholars and friends of the Pat Tillman Foundation Community. Proceeds generated from the Event will support the Tillman Scholars Program.
Ticket prices are as follows:
$50 VIP – Includes: Early Entry (5:30 PM) for Silent Auction Preview, 2019 Inaugural Pints for Pat Philadelphia Souvenir Pint Glass, First Pour, Buffet, and Raffle Ticket.
$20 GA – Includes: Admission, Buffet, and Raffle Ticket.
There will be a limited number of Pints for Pat Souvenir Glasses available for purchase at the event. This is Army/Navy Week and expect this event will sell out. It is recommended you order tickets early.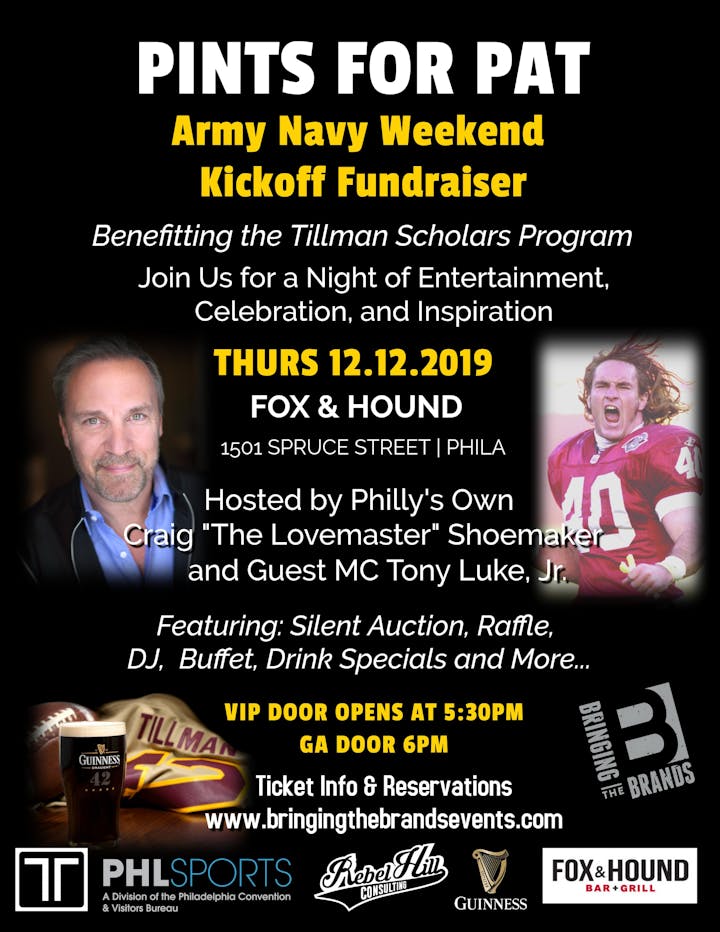 About the Pat Tillman Foundation: The Pat Tillman Foundation was established by family and friends in April 2004 following Pat's death while serving with the 75th Ranger Regiment in Afghanistan. The Foundation's mission is to unite and empower remarkable military veterans and spouses as the next generation of public and private sector leaders committed to service beyond self.
About the Tillman Scholar Program: Created in 2008 following the outpouring of donations in the wake of Pat's death, the Pat Tillman Foundation established the Tillman Scholars Program, a leading fellowship program that supports active-duty service members, veterans and their spouses with academic scholarships, a national network, and professional development opportunities. Based exclusively on merit and potential for impact, the Foundation made a $1.3 million lifetime commitment to the 2018 Class of Tillman Scholars and has invested over $17 million in academic support since it's inception. All donations made to the Pat Tillman Foundation benefit the Tillman Scholars Program.
The Tradition of Pints for Pat: Pints for Pat serves not only to raise money for the Tillman Scholars Program but also to honor Pat's legacy. While playing for the AZ Cardinals, Pat often rode his bike to the Irish bar Rúla Búla in Tempe to study his playbook over a pint of Guinness. One day, Pat showed up with his own glass: an Imperial 20-oz. pint glass engraved with his ASU #42. He asked the bartender to keep it on the top shelf behind the bar for whenever he came by. Prior to leaving for his first tour in Afghanistan, Pat came in for a pint and rather than take his glass with him, he asked the bartender to keep it on the shelf for when he would next return. Pat's pint glass remains on the shelf of Rúla Búla's backbar today.
The Pat Tillman Foundation is a 501(c)(3) non-profit organization and their Federal Tax Identification Number is 20-1072336. For more information, please visit www.pattillmanfoundation.org. To learn more about Bringing the Brands and future Pints for Pat events, please visit www.bringingthebrands.com.