Description
Preserving health and healthcare in rural communities is key to maintaining the economic stability of the underserved rural populations. The health care challenges facing rural America call for more rigorous scientific research, successful implementation of evidence-based practice in rural settings and use of innovative technology to improve rural health outcomes. The NIH Rural Health Interest Group provides a forum to connect translational scientists from diverse disciplines across the NIH to research communities and decision makers, as well as provide opportunities for professional development, networking, and community engagement. In addition to establishing a listserv for announcements and information sharing, the group has regular meetings on campus featuring invited speakers and members of the interest group presenting and discussing their research, including the annual rural health seminar series and activities observing National Rural Health Day. The objective is to provide a space where these important, timely topics can be explored and to enhance opportunities for interchanging ideas about how innovations in clinical and translational science can improve rural health outcomes.
---
Videocast Link
https://videocast.nih.gov/summary.asp?live=35176
---
---
Agenda
9:30 am-9:40am: Welcome by Dr. Christopher P. Austin, Director, NCATS
9:40am-10:00am: Opening Remarks by Dr. Eliseo J. Pérez-Stable, Director, NIMHD
Dr. Gary H. Gibbons, Director, NHLBI
Introduced by Dr. Christopher P. Austin
10:00am-11:00am: Inaugural Rural Health Seminar – "Resilience to adversity and the early origins of disease among rural African Americans" by Dr. Gene Brody, Director and Regents Professor, Center for Family Research, University of Georgia
Introduced by Dr. Shelli Avenevoli, Deputy Director, NIMH
11:00am – 11:05am: Break
11:05am – 11:45am: Panel Discussion – Dr. Michael G. Kurilla, Director, DCI, NCATS (Moderator); Dr. Jon R. Lorsch, Director, NIGMS; Dr. Diana W. Bianchi, Director, NICHD; Dr. Eliseo J. Pérez-Stable, Director, NIMHD; Dr. Wilson Compton, Deputy Director, NIDA, Dr. Andrea Beckel-Mitchener, Director, Office for Disparities Research and Workforce Diversity, NIMH; Dr. Melissa Walls, Johns Hopkins University
11:45am-12:00pm: Closing Remarks, Tom Morris, Associate Administrator for Rural Health Policy, HRSA
Introduced by Dr. Michael G. Kurilla
---
Security Information at NIH
Participants will be required to show a non-expired government-issued ID to clear security located at the "Visitor Gateway Center" (directly outside of the Metro station). Please visit this website in order to be informed about NIH security measures: http://www.nih.gov/about/visitorsecurity.htm
---
Directions to Natcher Conference Center
Walking to Natcher Conference Center, Building 45 from Metro Station: follow the "Walking Path" from the NIH Gateway Center (at the Medical Center Metro). Follow the yellow arrow on map to Building 45 Natcher conference center.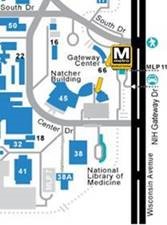 ---
NIH Shuttle Schedule
https://www.ors.od.nih.gov/pes/dats/NIHShuttleServices/Pages/shuttle.aspx
---
Workshop Sponsors
The Seminar is co-sponsored by the National Center for Advancing Translational Sciences (NCATS), the National Institute of Mental Health (NIMH) and the National Institute on Minority Health and Health Disparities (NIMHD), with additional contributions from the National Cancer Institute (NCI), the National Heart, Lung, and Blood Institute (NHLBI), the National Institute on Aging (NIA), the Eunice Kennedy Shriver National Institute of Child Health and Human Development (NICHD), the National Institute on Drug Abuse (NIDA), the National Institute of Dental and Craniofacial Research (NIDCR), the National Institute of Diabetes and Digestive and Kidney Diseases (NIDDK), the National Institute of General Medical Sciences (NIGMS), and the National Institute of Nursing Research (NINR).
---
Individuals who need Sign Language Interpreters and/or reasonable accommodation to participate in this event should contact Brandin DeChabert (brandin.dechabert@nih.gov, 301-451-3705) and/or the Federal Relay (1-800-877-8339). Requests should be made three days in advance of the event.