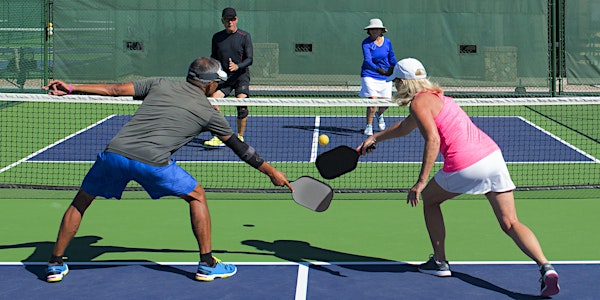 Inaugural Multi-Generational Pickleball Tournament | St Michael Academy
Join us for the Inaugural SMA Multi-Generational Pickleball Tournament! **REGISTRATION CLOSED**
When and where
Location
Central Park (Pickleball Courts) 1200 Atlantic Avenue Fernandina Beach, FL 32034
About this event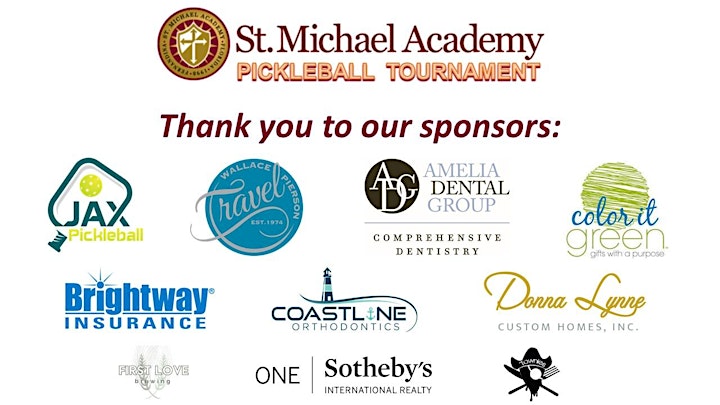 Saint Michael Academy welcomes you to the Inaugural Multi-Generational Pickleball Tournament. Participants will enjoy two days of outdoor fun, with teams comprised of junior and senior players, as well as novice adults, matched up for a lighthearted games on day one and competition amongst intermediate to advanced adults on day two. Players can enroll in 1 up to 3 events.
WHAT? St. Michael Academy Inaugural Multi-Generational Pickleball Tournament, benefitting the school and also Fernandina Beach Parks & Recreation. This is not a sanctioned tournament.
WHO? Adults and juniors of various skill levels can participate. We have two amazing pros, Rod Gibson and Peter Keeley, who will be tournament co-directors. Peter will oversee the youth programming specifically.
WHEN? Tournament will be October 15-16, 2022, and general registration will open August 11, 2022
WHERE? Central Park , Fernandina Beach, FL. There will be food trucks at the event. Parking lots will be coned off at Central Park for event participants (free parking).
HOW? Sign up here via Eventbrite. Please make sure to decide on your team member, as these are doubles events. All games are first to 11 points.
Tournament Director reserves the right to change final format based on total registrations. Prior to the event and based on registration levels, organizers will email approximate start times. Each event will last one to two hours and will vary based on total registrations and final format.
Registration includes one event and a t-shirt for each teammate. Additional event registrations are priced at 50% for the purchaser with a promo code that will be provided on your confirmation page and sent in your registration email. The registrant acts as the "team captain" and is responsible for disseminating information to the team member that they register.
Proceeds will benefit St. Michael Academy and City of Fernandina Beach.
Food Truck schedule:
Saturday Oct 15th
8:45-11:30am Sunshine & Bacon Food Truck
11:00-3pm Beyond Horizons
Sunday Oct 16th
New South (time to be finalized)
FAQ
What is multi-generational play?
Multi-generational play involves youth 13 years old and under (two age brackets) paired with adults with a minimum 20 year age gap. This means that a 6 year old could pair with someone at least 26 years old. A 13 year old could pair with an adult at least 33 year old, etc etc.
I'm a competitive player. Do I have to play with a kid?
No, you don't. Most of our events are for adult players, and Day 2 (Sunday) is dedicated to intermediate and advanced play.
What if I need a partner?
If you would like to join a list of players seeking doubles partners, you can access the self-service list here. This list is not monitored by the organizer.
What and whom does my entry fee cover?
The entry fee paid covers a team of two players, Player 1 (the purchaser) and Player 2. The exception is the children's beginner's clinic, which is individual entry ($25 per child).
Are there refunds?
Because this is a school fundraiser, we enforce a no refund policy.
What if it rains?
Should we be subject to inclement weather, the rain dates will be October 22-23, 2022.
How do I find out my rating?
You can estimate your rating by referring to this link for guidance on self-assessment or use your official rating. Remember, this is a non-sanctioned tournament, so will not impact your "official" rating. We are here to have fun and support the school and community.
Is my purchase tax deductible?
Our school is a non-profit institution recognized as tax-exempt by the IRS under Section 501(c)(3) of the Internal Revenue Code. Your donation is fully deductible for income tax purposes as allowed by law. Please keep your receipt for your records. It serves as compliance with Internal Revenue Service regulations governing charitable contributions. This attests that you did not receive any goods or services in exchange for your donation. Our non-profit tax identification number is 59-3529536."
Sounds fun, but what if I don't have a paddle?
Don't worry; we have you covered. Please indicate in your registration that you'd like to borrow a paddle. We can loan out up to two per team.
Additional questions? Please email Pickleball@SMAcad.org. The event is run by a parent volunteer, so thanks for your patience if it takes us some time to get back to you!
Thank you to our sponsors:
* Amelia Dental Group (GOLD)
* Brightway Insurance (GOLD)
* Coastline Orthodontics (GOLD)
* Donna Lynne Custom Homes (GOLD)
* Jax Pickleball Store (GOLD)
* Wallace Pierson Travel (GOLD)
* The Chenoweth Family (GOLD)
* Color It Green (SILVER)
* One Sotheby's (BRONZE)