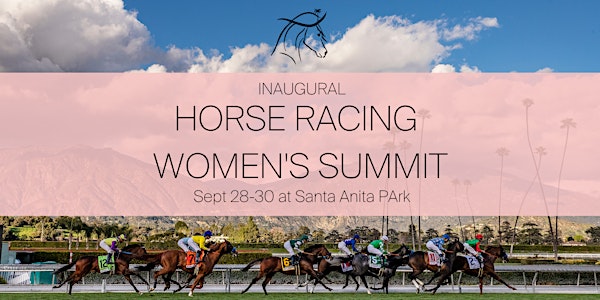 Inaugural Horse Racing Women's Summit
Inaugural Horse Racing Women's Summit
When and where
Location
Santa Anita Park 285 W Huntington Drive Arcadia, CA 91007
About this event
ABOUT
Founded as an initiative of the Thoroughbred Owners of California (TOC) Owner Relations Committee, the Horse Racing Women's Summit has blossomed into an event gathering national attention. The multi-day event aims to bring together people from all facets of the horse racing industry with the mission of connecting and empowering women in horse racing. This event is designed for people from all facets of the industry including racing, bloodstock, breeding, ownership, aftercare, marketing and more. We look forward to inspiring Summit members to be trailblazers, build networks, meet new friends, foster deep discussions, and ultimately Engage, Innovate and Invest!
SCHEDULE
Wednesday, September 28
4:30 - 6:30 pm PT - Registration & Welcome Reception
Join us at the beautiful 100-1 Club with stunning views of the San Gabriel mountains and the racetrack for cocktails and In-N-Out burgers to kick off the summit!
Thursday, September 29
7:30 - 8:30am - Registration & Breakfast
8:45 - 10:15am - Welcome Message & Keynote ft. Susan Packard
10:45am - 12:00pm - Panel 1: Thriving Through Challenges
Dr. Dionne Benson - Chief Veterinary Officer, 1/ST Racing
Dora Delgado - EVP & Chief Racing Officer, Breeders' Cup
Christa Marrillia - Vice President & CMO, Keeneland
Rikki Tanenbaum - Chief Operating / Marketing Officer | Board Director
12:15 - 1:30pm - Plated luncheon in the Chandelier Room with Amy Howe, CEO of FanDuel Group
2:00 pm - 3:15pm - Panel 2: Looking Ahead - Opportunities for the Industry
Lisa Kerney - FanDuel TV and Events Host
Jodie Vella-Gregory - Director, Office of Innovation at 1/ST Racing
Shona Rotondo - Head of Marketing, MyRacehorse
Lindsay Schanzer - Sr. Producer, NBC Sports
3:45 - 5:00 pm - Panel 3: Industry Integrity - A Brighter Future
Bo Derek - Board Member, DMTC & Animal Activist
Shannon Kelly - Executive Director, Jockey Club Safety Net Foundation
Marie Moretti - Board Member, Del Mar Thoroughbred Club
Jen Roytz - Co-owner/manager of Brownstead Farm and co-founder/partner of Topline Communications
5:00 - 6:00pm - Closing Reception
Unwind and network with your Women's Summit colleagues. Libations and appetizers included.
Friday, September 30
Morning Activity
10:00 am - Handicapping Seminar w/ Christina Blacker
Optional Add Ons
12:00 pm - Fashionable Fillies Luncheon:
We're thrilled to share that summit attendees will receive a $50 discount to the Fashionable Fillies Luncheon held in the Chandelier Room on Friday, September 30th. Tickets to the event are listed at $150 and will be offered at a rate of $100. To receive your discount use promo code HRWS22 and visit the following link to purchase tickets: Tinyurl.com/FFGoesWest2022! Following the luncheon, attendees will have access to the Chandelier balcony for the remainder of the race day with any additional F&B to be paid separately on individual tabs.
1:00 pm - Opportunities to Go Racing:
On Friday, Saturday & Sunday, HRWS attendees will have access to a reserved section of Santa Anita clubhouse box seats available at no charge (F&B to be paid separately on individual tabs). To inquire about these tickets, contact Jodie Vella-Gregory at Jodie@1st.com. Please confirm interest by Friday, September 23rd to take advantage of these opportunities to go racing.
For access to our Event Concierge document for helpful details to plan your trip, please click HERE.