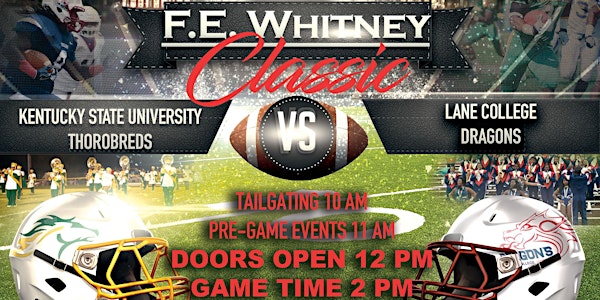 Inaugural F.E. Whitney Classic: Kentucky State University vs. Lane College
When and where
Location
Stadium Of Champions 9503 Eagle Way Hopkinsville, KY 42240
Description
TAILGATING 10 A.M.
PRE-GAME EVENTS 11 A.M.
DOORS OPEN 12 P.M.
GAME TIME 2 P.M.
Join us for the inaugural F.E. Whitney Classic, the largest sports tourism event to take place in Hopkinsville, Kentucky!
In conjunction with the 30th anniversary of the Minority Economic Development Initiative (MEDI), the Classic will feature the first ever college football game played at Hoptown's Stadium of Champions, as "host" Kentucky State University (Frankfort, KY) will battle Lane College (Jackson, TN) on the gridiron.
This will be an entertaining experience for you, your friends and your family, and it should not be missed.
The F.E. Whitney Classic football game will begin at 2 p.m. on Saturday, Oct. 27, 2018 at Stadium of Champions. Doors will open at 12 p.m., but there are an abundance of pre-game activities scheduled, including the option to have laughter and fellowship during a tailgate outside the stadium.
This event will also a Battle of the Bands during the halftime show. The free pre-game events include a College Fair, Kids Zone, STEM Experience, Stomp the Yard, vendors and exhibits.
Book your rooms today by visiting www.visithopkinsville.com/category/listings/stay. Please note that the Holiday Inn of Hopkinsville will host Kentucky State University's football team and the Best Western of Hopkinsville will host Lane College.
This Classic is named in honor of one of Hopkinsville, Christian County and Kentucky State University's most notable and esteemed leaders, F.E. Whitney. Mr. Whitney was born in 1916. He was a graduate of the historic Attucks High School in Hopkinsville, as well as Kentucky State University and Indiana University.
He owned and operated F.E. Whitney Real Estate and was the first black realtor to be accepted into the Kentucky Association of Realtors. F.E. Whitney served on the Kentucky State University's Board of Regents, as well as terms as mayor of Hopkinsville, Hopkinsville city councilman and magistrate of Christian County Fiscal Court.
MEDI, Inc. is one of Kentucky's leading 501(c)3 organizations that provides small business and economic development services. Founded in 1988 and incorporated in 2009, MEDI has helped to startup hundreds of small, minority and woman owned businesses. MEDI has helped to create, save and retain hundreds of jobs and to obtain millions in capital investments.
To become a sponsor, purchase tickets, volunteer or simply for more information, contact MEDI, Inc. at 270-885-8885 or email info@medisuccess.org.