Description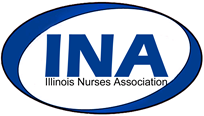 Welcome to the ticketing site for the Illinois Nurses Association - Political Action Committee Fundraiser and Safe Patient Limits Campaign Kickoff! INA Members, Staff, Friends, and Family are all invited to Vintage Bar on September 27th, 2018 form 7p to 10p.
We will be taking donations to fund a multi-year campaign designed to do one thing: Pass meaningful legislation that reduces patient mortality by limiting the number of patients one nurse can have at any given time. Multiple studies show that the overburden of patient responsibility on nursing directly contributes to medication errors and increases patient mortality. Additionally, overburden creates a cycle of abuse on working people that reduces job performance and satisfaction, while increasing burnout and physical injury.
Our state's patients and nurses deserve to be protected from harm. Passing robust legislation that ensures the diginity of all working people will do just that.
To show our appreciation to our donors, we will be including photos or advertisments that you submit to the 2019 INA-PAC Calendar and drink tickets! The levels of donation are as follows:
$20 Donation Receives 1 Drink Ticket and your photo in the INA-PAC Calendar
$50 Donation Receives 3 Drink Tickets and includes 3 photos in the INA-PAC Calendar
$100 Donation Receives 5 Drink Tickets and a Quarter Page Photo/Advertisement in the INA-PAC Calendar
$500 Donation Receives 10 Drink Tickets and a Half-Page Dedication Photos/Advertisement in the INA-PAC Calendar
$1000 Donation Receives 20 Drink Tickets and Full Page Dedication in the INA-PAC Calendar
Entry to the Fundraiser is free and we ask that you buy drink tickets through INA at the designated table at the event.