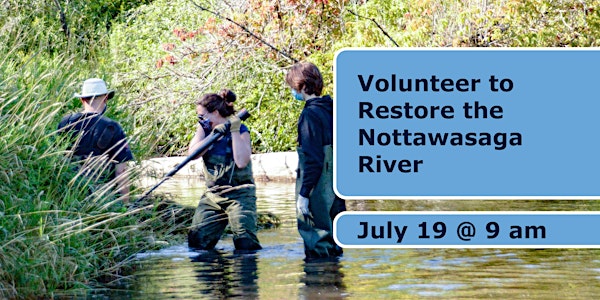 In-water volunteer river restoration event in Adjala Tosorontio
Help us keep the Upper Nottawasaga River cool, clean and clear!
When and where
Location
Park on the side of the road at 8100 Adjala 25 Sideroad Loretto, ON L0G 1L0 Canada
About this event
Help us with step 1 of our ecological restoration project!
We will be stepping into chest waders and wading into waist-deep water and anchor old Christmas trees into the streambank to prevent erosion, which causes
the water to be murkier and warm faster
algae blooms
degradation of fish habitat
The Christmas Trees will help trap the soil on the banks and provide habitat for fish.
The Upper Nottawasaga River is home to native species-at-risk fish as well as spawning ground for Georgian Bay's trout and salmon! Help us keep the Upper Nottawasaga cool, clean and clear!
This event is in partnership with the South Simcoe Streams Network, Nottawasaga Futures and Nottawasaga Valley Conservation Authority.
Take a look at how your help will improve fish and wildlife habitat, water quality and our economy!
Please Note: This is an in-water event – volunteers must be very comfortable in the water. Since many of our waders leak, plan on getting wet and bring a change of clothes and socks! This is a moderately physically demanding project involving hiking, lifting and hammering and walking on uneven surfaces in the water.
This event only suitable for volunteers for Ages 14+.
What to expect
An orientation and tutorial
3hrs of planting
This event will take place rain or shine but will be rescheduled if there is extreme weather.
Remember to Bring
Water bottle, snack
Sunscreen, hat, bug repellant
Close toed shoes
Backpack or bag is recommended since we will be doing a short hike to the site
Work gloves (extras available)
Chest waders (extras available)
A friend or family member: its more fun together!
Students
Remember to bring your community service volunteer form!
Where to Meet: Park on the road at 8100 Adjala 25 Sideroad, Alliston ON
Important information:
Pre-Registration is required! Space is limited
This is a mask friendly event.
COVID pre-screening is required prior to coming to the event. A reminder email will be sent out the day before the plant, which will include the COVID pre-screening form.
Questions? Contact Laura Wensink at 705-424-1479 ext. 275 or lwensink@nvca.on.ca