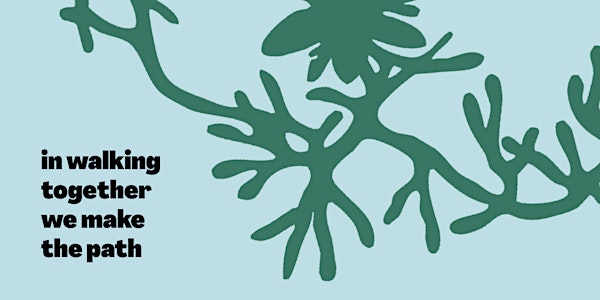 In Walking Together We Make The Path
Location
The Bowling Green, Pollokshields
49 McCulloch Street
Glasgow
G41 1SU
United Kingdom
Social Dreaming Workshop with Mina Heydari- Waite
About this event
In Walking Together We Make The Path: a social dreaming workshop and lunch for women* hosted by Artist and Facilitator Mina Heydari-Waite at Pollokshields Bowling Green.
Social dreaming is a reflective practice in which people share their dreams and associated thoughts in a group, layering a collaborative collage of images, ideas, cultural references and feelings. The aim of social dreaming is not to interpret a dream for an individual dreamer; instead it asks, what are we dreaming as a people? This process seeks to put our 'rationally' defined reality in conversation with our wider imaginative dreaming minds, offering potential for new perspectives and ideas to arise. You do not have to be a vivid dreamer to attend this workshop; while the session will involve sharing literal dreams, it will also be a dream-like space in which associations, memories, thoughts and feelings can also act as 'dreams'.
In the first 45 minutes of the workshop, we will share dreams (and the thoughts they bring up for us) without discussing what the dreams might 'mean'. We will then spend 15 minutes reflecting on the session. The session will be captured through an audio-recording that will be converted into an anonymised transcript that records the ideas, themes and patterns that come up in the workshop.
The workshop will be followed with a communal meal and support for public travel will be provided. For more details please contact Mina Heydari- Waite at minacc@govanhillbaths.com
*our use of the word women is inclusive of Trans and Intersex women, as well as non-binary people who are comfortable in a space that centres the experience of women
Mina Heydari-Waite is an British-Iranian artist living and working in Glasgow. She has built a body of work in a range of contexts, including: working with communities in collaborative capacities, co-authoring artworks, workshops and resources, as well as creating works across mediums (installation, sculpture, video, print and sound) for gallery settings. Mina's practice centers relationships between places and communities, their histories and potential futures. She is currently one of the Culture Collective Artists in Residence based at Govanhill Baths; working with people from global majority backgrounds and those who identify as having a marginalised gender.