About this Event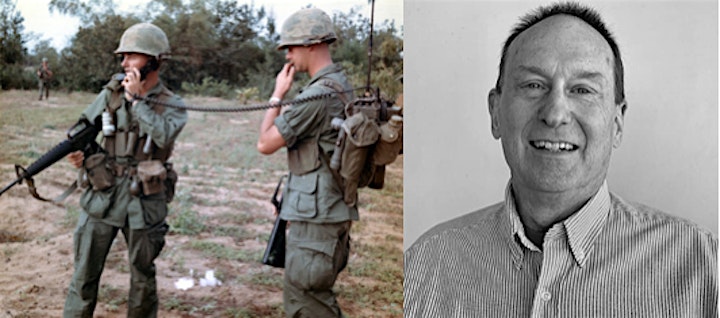 Local Cape Cod author David R. Van Wye draws upon his personal experiences for "In Vietnam, Radio Was My Lifeline" as the Chatham Marconi Maritime Center continues its First Thursday Speaker Series. As a U.S. Army infantry officer during the Vietnam War, Van Wye served as a military advisor to local village/hamlet forces and a South Vietnamese infantry battalion in 1970 and 1971. He earned the Combat Infantryman Badge, the Bronze Star and the Vietnamese Honor Medal First Class. For the infantry, the ubiquitous Field Radio was critical to all operations and essential to a soldier's survival in a combat zone. Van Wye's presentation centers on its capabilities, operating procedures and effective use in tactical situations.
Following a career in public service and after raising a family with his wife Elizabeth, he re-examined his involvement in Vietnam. He has written two historical novels based upon his experiences, "Saving Ben Tre" and "Vietnam Blues", that convey an authentic, historically accurate picture of what the war was like for both the Vietnamese and the U.S. soldiers who put their lives on the line for their country.
The First Thursday Speaker Series is free to Chatham Marconi Members. General Admission for non-members is $10, which permits one linked computer to access the Zoom webinar. Why not join now at www.ChathamMarconi.org to enjoy this and future programs at no charge?!
About Chatham Marconi Maritime Center Founded in 2002, the Chatham Marconi Maritime Center is a 501(c)(3) organization which celebrates the rich history of 20th Century maritime radio and explores the innovative advances in science and technology that continue to transform our lives. The Center comprises the historic Marconi-RCA Wireless Museum, an Education Center offering in-house STEM education in communications science and technology, and the TechSmart education outreach initiative designed to bring its proven wireless technology curricula directly to children in Cape Cod classrooms.
About the First Thursday Speaker Series On the first Thursday of each month from October through June, the Chatham Marconi Maritime Center will present a lecture or presentation drawn from the resources of the Marconi-RCA Wireless Museum, the STEM After Hours program, or member-suggested topics related to its mission. For the foreseeable future the series will be presented virtually, or if conditions permit in a hybrid format with a limited live audience.
More at: www.ChathamMarconi.org.