Description
In Three Days
by Ted Johnson
"Please Lord allow me to be all I can before I meet thee..."
Synopsis: Returning to Atlanta from it's New York premeire, In Three Days is about "Rick" who is visited by an angel of death. He begs for more time and is given three days in purgatory. During the three days, "Rick" and his best friend "Ted" discuss life, love and forgiveness.
Presented by: Galo Entertainment
City of Origin: Atlanta, Georgia
Genre: Drama

Suitability: Mature (under 14 yrs NOT permitted)
Warnings: Sexually Explicit Content; Swearing or Strong Language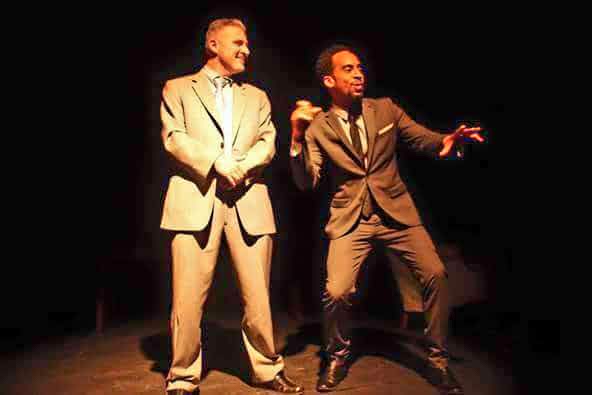 ---
---
We are committed to providing a world-class experience for you and your guests — if you're dissatisfied for any reason, please notify the attendant at Guest Relations and we'll work with you to make your experience better.
---
---
Plan Your Visit: FAQs
What is your late seating policy? Doors open 15 minutes prior to each show. VIP GUESTS and PRIORITY EXPRESS ticket holders are seated first immediately followed by GENERAL ADMISSION. Please arrive early. Late seating is NOT permitted.
What about parking? Parking is plentiful and free. YES, FREE!
Are tickets available online? Yes. In fact, you can save more by purchasing your tickets online. You can either 1.PRINT your tickets at home or 2.PRESENT the query "Q" code on your phone at the door. CAUTION: Duplicates will be voided.
Can I purchase tickets at the door? Yes, although the price is slightly higher. The Box Office is open for your convenience 11am -5pm daily during the festival. Tickets are available online 24/7 at abtf.eventbrite.com
What methods of payments are accepted? We accept CREDIT/DEBIT CARDS only. Due to safety and security reasons, WE DO NOT ACCEPT CASH.
Are discount tickets available? Yes! We also have special rates for groups, seniors, students or veterans. The specialty rate is available on the ticket page and varies for each show. For groups of 10 or more email us at atlbtf at yahoo dot com.
Does the festival have a dress code? No, not really. Most people dress causal and comfortable. Some may step it up a bit in the evening. NOTE: Auditoriums are air conditioned/heated for the comfort of the majority — please dress according to your personal preference. EXCEPT: The closing event theme is 1960's Black is Beautiful.
Do you have any dining suggestions? Dining is available on site at the BackStage Cafe where you can enjoy delicious, yet light, southern fare. Some our café favorites include grilled wings, gourmet sandwiches, home-made potato salad, and artisan cheese platters. Vegetarian options are also available!
What about shopping? THE BEST! You can visit our popular International Vendor's Market for one-of-a-kind selections from our local artisans and vendors. In fact, we encourage you to enjoy our version of "Black Friday" and get an early start on your Christmas shopping.
Is there a host hotel nearby? Yes! We have negotiated a discount rate with Holiday Inn Express & Suites East in Lithonia (approx. 15 mins from the venue). Please call 678-325-4830 to make your reservation. Mention: "Atlanta Black Theatre Festival Group". The hotels will require a non-refundable one-night deposit upon making the reservation.
What if I leave something in the theatre, where is the lost and found? Personal items found in the theatre are kept in the hospitality room. Please check there first.
What is your policy on the use of electronics? They are prohibited. Using devices with screens that light, noise or buzzing creates a disruption for guests and actors. We suggest you power off everything before entering the theatre. We reserve the right to dismiss anyone caught using an electronic recording device during the performance.
Social Media: We absolutely hope that you tweet/share/text everyone you know after the performance to let them know what a wonderful time you had here! Please use #ABTF2019 when sharing so we can all enjoy your photos!
Can you accommodate people with disabilities? Yes, we have wheelchair access for those who are in wheelchairs. Ask Guest Relations for assistance if needed.
What is your refund policy? All sales are NON-REFUNDABLE; however, tickets can be exchanged as credit for another show. Stop by the Box Office, Guest Relations or send us an email for assistance. There is a $2 exchange fee.
What about smoking? Smoking is NOT allowed in the building including bathrooms, theatre, cafe, lobby or campus at any time. That includes e-cigarettes.