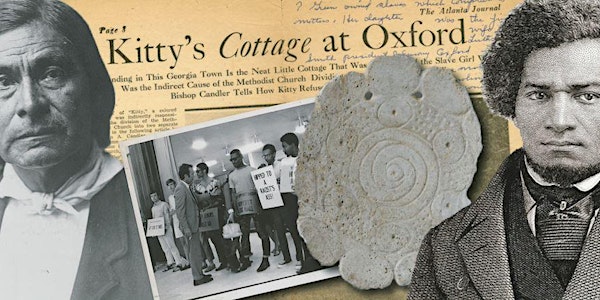 In the Wake of Slavery and Dispossession
In the Wake of Slavery and Dispossession: Emory, Racism and the Journey towards Restorative Justice
About this event
Registration is closed.
If you would like to attend the symposium sessions virtually, please go to our online program where all Zoom links are posted. Registration is not required.
If you would like to attend in person, we will accept walk-ins. However, room capacity is limited due to current Emory COVID-19 protocols, so you may be redirected to the overflow space in the Jones Room on Level 3 of the Woodruff Library.
All sessions taking place on Wednesday (9/29) in the Emory Student Center Multipurpose Room, Thursday (9/30) in Room N104, and Friday (10/1) in the Oxford Student Center will be aired in this overflow space.
Questions? Please write to slaverydispossessionsymposium@emory.edu and your question will be answered.
Many universities are examining their histories and discovering their connections to slave labor and Indigenous dispossession. This symposium will highlight the ongoing efforts and research in the areas of slavery, dispossession, and restorative justice, with a focus on the legacy of racism and its enduring effects at Emory University. The sessions will include creative interpretations and dialogue, with a primary focus on the perspectives of Black, Native American, and Indigenous peoples.
For a complete list of sessions and speakers, please see our online program schedule.
Schedule:
The symposium begins Wednesday, September 29, 2021, at 6 p.m. with prayers, blessings, rituals and acknowledgements, followed by keynote remarks and an opening reception. The programming continues from 9 a.m. to 6:45 p.m. on Thursday, September 30, on Emory University's Atlanta campus, and 8:30 a.m. to 5 p.m. on Friday, October 1, on its Oxford campus.
Format:
This symposium will take place in a hybrid format, with attendees welcome to participate either virtually or in-person at Emory University's Atlanta and Oxford campuses.
COVID-19 safety precautions:
Based on the current COVID-19 conditions in Atlanta, and in consultation with public health experts on and off campus, Emory University has developed guidelines and resources for a continued safe learning environment.
Please read more here about Emory's health and safety protocols.
Please email slaverydispossessionsymposium@emory.edu if you have additional questions.
We acknowledge that Emory University was founded in 1836 on the historic lands of the Muscogee (Creek) Nation, 15 years after the First Treaty of Indian Springs (1821) dispossessed the Muscogee of land including both Emory campus locations. We also acknowledge that Emory University's founders were slaveholders, and the Oxford campus was originally constructed by enslaved people. To these peoples and their descendants, we acknowledge the grave injustices inflicted on them, and we recognize the indelible mark of their labor on the creation of the university.