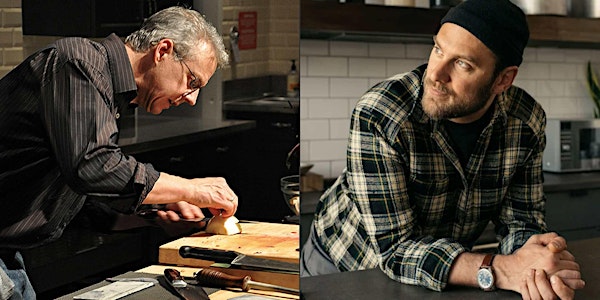 IN THE SUR LA TABLE KITCHEN WITH BOB KRAMER & BRAD LEONE
Join Bob Kramer & Brad Leone for a live event as they introduce the revolutionary new knives from the Kramer by Zwilling Cumulus Collection.
About this event
Join Bob Kramer and Brad Leone for an exclusive first look at the brand new Kramer by ZWILLING Cumulus Collection. Bob and Brad will show you each of these artfully crafted knives and demonstrate the immense value they will add to your kitchen. From the best minds in the culinary world, they will demonstrate key knife skills, sharpening techniques and more throughout this one-of-a-kind event.
This exclusive launch event is free to attend. Register today for the live reveal and be one of the first to discover this new, exciting line of knives from Bob Kramer and Zwilling.
About Bob Kramer:
Widely considered to be one of the greatest American Bladesmiths of our time, Bob Kramer has been an instrumental influence on the custom and commercial culinary knife industry as we know it today. Since 1998, Kramer Knives have become a coveted item for both cooks and collectors alike. It's a brand recognized for excellence, craftsmanship and unbeatable performance.
About Brad Leone:
Brad Leone is a bona fide Swiss army knife—a trained chef, avid outdoorsman, carpenter, entrepreneur and host of the popular YouTube series It's Alive and celebrity-guest show Taste Testers. It's Alive has been nominated and praised for its laid-back cooking show appeal mixed with educational sustainability and adventure travel that has led to Leone's rise to Internet stardom. Originally from New Jersey, Leone learned to respect ingredients, hunt and fish and fell in love with food as the universal language. Leone is a New York Times best-selling author of his first book Field Notes for Food Adventure.