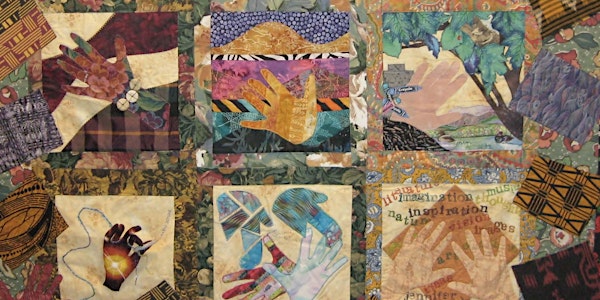 In the Studio with Lauren - Quiltmaking & Movement for Today - Thursday
Lauren Kingsland and Carrie Monger return to the virtual quilt studio for a series about making and moving with intention.
About this event
Use your quilts to capture the moments of your life today - big or small. In a diary format we will explore ways to express moments of joy, celebration, connection, and challenge. Lauren will share examples and offer hands-on technique demos. To help us connect with the intention to honor the moment and the feeling, our dance master, Carrie Monger, will offer a movement component to the class.
You'll create a block each week that can stand alone, be combined into a quilt or book, or serve as a starting point for a larger piece. Sharing your work in class through Padlet is encouraged, and optional. This is a safe place where each person's journey is treated with respect.
This class welcomes participants of all experience levels. Some quiltmaking experience will be helpful, AND new quilters are always welcome. Celebrate your creative spirit as part of this community of "makers". 
The class runs for 5 sessions, at Noon EST on either Mondays OR Thursdays.  Please register for each session individually. The lesson will be the same on Mon. & Thurs. each week.  
Lauren Kingsland is a longtime Georgetown Lombardi Arts and Humanities Program (AHP) resident artist. As quilt artist, teacher and author she is dedicated to bringing out the creative maker inside everyone. She's made quilts for exhibits, for walls and beds, for clients, for her loved ones, and just because. She also teaches for the Smithsonian Studio Arts program where she is working on a grant-funded project about the history and practice of textiles with a message. She lives in Maryland with a long-haired tortoiseshell cat named Duchess.