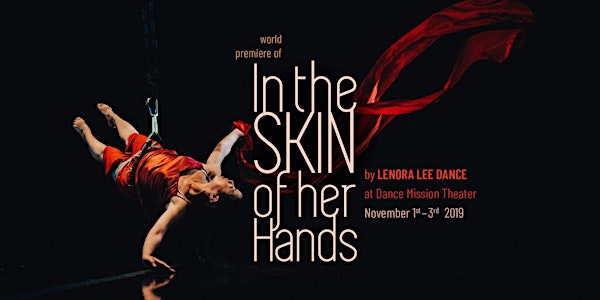 In the Skin of Her Hands
When and where
Location
Dance Mission Theater 3316 24th Street San Francisco, CA 94110
Description
Dance Mission Theater in association with Asian Improv aRts and API Cultural Center present
as part of Dance Mission's WORD Series (Womxn Oracular Radical Dance)
the World Premiere of a new multimedia dance experience
In the Skin of Her Hands
by Lenora Lee Dance
At Dance Mission Theater
3316 24th Street San Francisco, CA 94110
Post-Performance Panelists
Friday, 11/1, 8pm show - Karina Lee Howe, Pamela Munster, Julie Wong
Saturday, 11/2, 8pm show - Raymond Fong, Valerie Soe, Marie Weber-Retherford
Sunday, 11/3, 5pm show - Karina Lee Howe, Cristina Prada, Akriti Sharma
Performances will begin on time, please arrive early.
Post-performance discussions to follow each show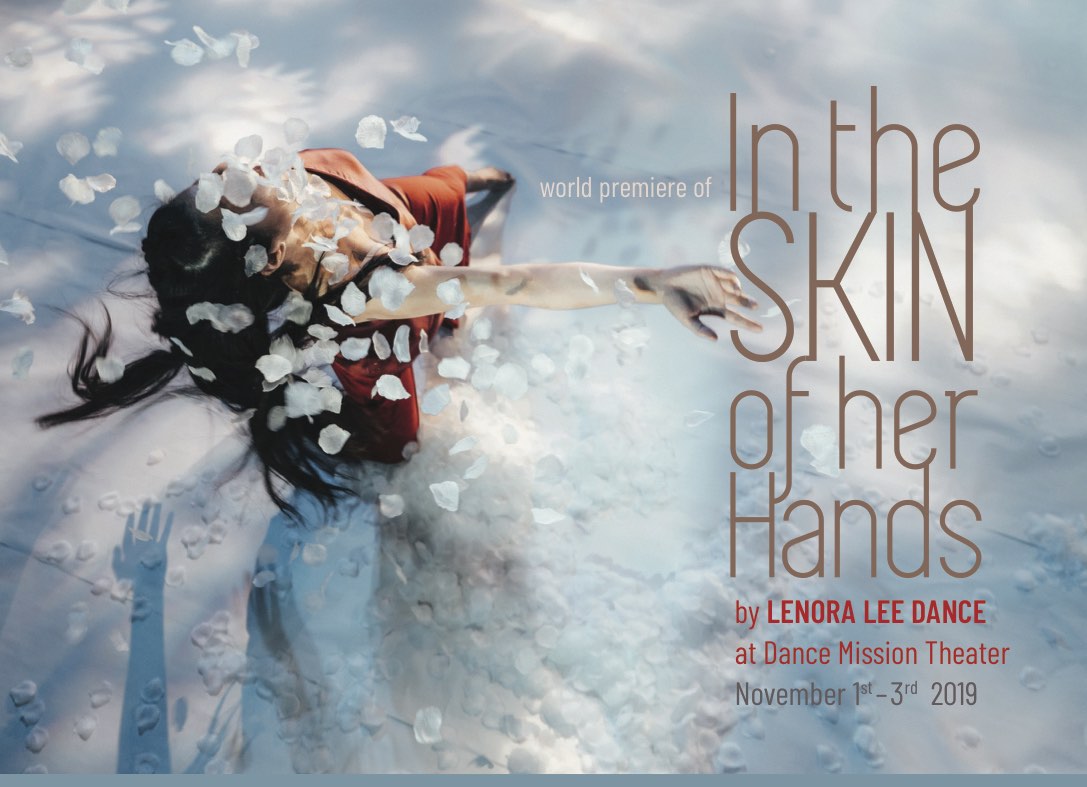 "The words that are spoken are both incredibly specific and indelibly universal — the location comes alive and is given a voice through Within These Walls." - Brian Resler, No Proscenium
"In the Skin of Her Hands" trailer from Lenora Lee on Vimeo.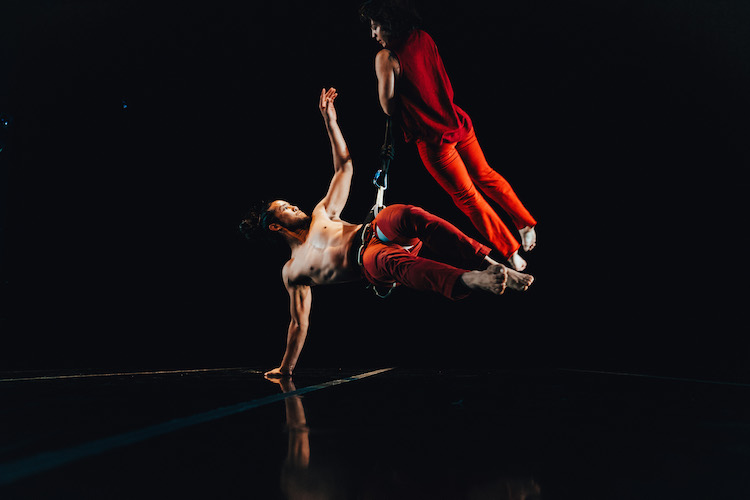 Tickets: https://in-the-skin-of-her-hands.eventbrite.com
For more info: www.lenoraleedance.com
For questions or high resolution images, email LenoraLeeDanceManager@gmail.com, (415) 570-8615
Lenora Lee Dance (LLD) celebrates its 12th Anniversary Season with the World Premiere of our latest multimedia dance production, "In the Skin of Her Hands." Inspired by the lives and experiences of those living with breast cancer, this piece is a journey through healing, compassion, and forgiveness in the face of the unknown. It will feature contemporary and aerial dance, multimedia film/video projection by Olivia Ting and Lenora Lee, original music by Francis Wong and Tatsu Aoki, as well as voiceover interviews from those with cancer, their loved ones, and experts in the field.
"In the Skin of Her Hands" will share stories and perspectives of those living with breast cancer, their families and communities, gained from a community engagement project involving interviews and workshops. So many women have been affected by breast cancer, including Lenora's sister and mother, creating an extremely urgent need for greater awareness, information, and connection in the face of this health crisis. On average, every 2 minutes a woman is diagnosed with breast cancer. Over 3.3 million breast cancer survivors are alive in the United States today.
LLD will premiere "In the Skin of Her Hands" 11/1 - 11/3/19 at Dance Mission Theater as part of the theater's WORD Series (Womxn Oracular Radical Dance). We will include a panel of those living with cancer and experts in the field as part of the post-performance programming.
Through this process, we embrace moments of sharing and honoring women's stories and experiences, in order to reflect collectively, inspire resiliency, and acknowledge the communal bravery, compassion, and endearing support of loved ones.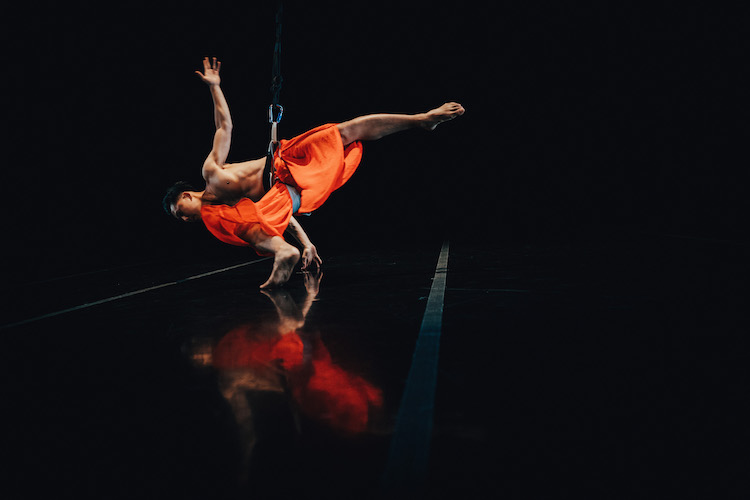 Audience responses to LLD's "Within These Walls"
"Deeply touched, deep sorrow. I was so moved. As beyond moved right now, still trying to metabolize the complexity" - Amber Cady
"It was a truly unique and powerful experience, and I feel fortunate to have witnessed it. It snuck into my dreams last night."
"It was brilliant and emotionally powerful."
Conceived, Produced & Directed by Lenora Lee
Choreography by Lenora Lee in collaboration with performers Jory Horn,
Lynn Huang, Hien Huynh, SanSan Kwan, Megan Lowe, Johnny Nguyen
Music Score directed byTatsu Aoki and Francis Wong, with Kioto Aoki, Edward Wilkerson Jr.
Vocals by Edward Kaikea Goo, Megan Lowe, Jacinta Wu
Media Design & Editing by Olivia Ting & Lenora Lee
Videography by Edward Kaikea Goo, Hien Huynh, Lenora Lee, Joel Wanek
Calligraphy by Jacinta Wu
Voiceover by Raymond Fong, Erika Gee, Marina Goez, Karina Lee Howe, Winnie Lai, JoAnn Lee, Lenora Lee, Mixi Li, Nancy Lim-Yee, Megan Lowe, Ha Wa Lui, Javier Moreno, Sandra Moreno, Pamela Munster, Cristina Prada, Camilo Romero, Isabel Romero, Rose, Valerie Soe, Melody Takata, Olivia Ting, Marie Weber-Retherford, Julie Wong, Jacinta Wu
ABOUT THE PANELISTS
Dr. Raymond Fong worked as a counselor with City College of San Francisco's (CCSF) Extended Opportunity Programs and Services (EOPS) from 1990 to 2018, and as coordinator of the EOPS' Second Chance program, a comprehensive academic support service program that was geared towards the needs of formerly incarcerated CCSF students. Ray holds a doctorate degree in International and Multicultural Education, a baccalaureate degree in Psychology, as well as masters degrees in MFT Counseling, and in Ethnic Studies. An accomplished bodybuilder, he is also a longtime martial artist who teaches karate at his San Mateo dojo. Ray's mother battled with both breast cancer and Alzheimer's disease prior to her passing earlier this year. He and his family were confronted with many challenges in caring for their mother, and struggled in finding ways to create and maintain meaningful connections with her.
Karina Lee Howe earned a BA in Pre-Physical Therapy and a Minor in Asian American Studies at San Francisco State University. She received a Master's of Science in Physical Therapy from Columbia University. It was in college that Karina met Perry and their lifelong collaboration began. The twenties were the milestones of marriage and career. The thirties were establishing the family unit, and having four children. The forties were about nurturing the family (developing the football players, artists, lacrosse players and tennis players) and growing the therapy practice. With the introduction of Metastatic Breast Cancer, the fifties have become the period of change. The refocusing of life back on oneself. Relinquishing control to the medical professionals. The acquisition of knowledge, everything about her type of breast cancer and how to survive it. And new goals: to be the best patient there is, to cherish every day, and to impart life lessons to her family as often as she can.
Pamela Munster, MD is a professor of medicine at the University of California, San Francisco, where at the Helen Diller Family Comprehensive Cancer Center, she is leader of the Experimental Therapeutics Program, Director of Early Phase Clinical Trials Unit, and Co-Director of the UCSF Center for BRCA Research. In Dr. Munster's lab, UCSF scientists are exploring new ways to detect, surveil, intercept, and cure BRCA-related cancers. In addition to her laboratory research, she develops novel strategies to treat patients with incurable cancers as an oncologist. Dr. Munster serves on multiple local, national and international committees focused on developing new treatments for cancer, has published over two hundred articles, authored textbooks and is a frequent lecturer. A native of Switzerland, she leads breast cancer awareness campaigns in the United States, United Arab Emirates, and India.
Dr. Munster was diagnosed with a BRCA2 mutation in 2012. There was not an easy place to coordinate her care, and so she set out to create the UCSF Center for BRCA Research in partnership with Alan Ashworth, PhD, FRS. By transcending the doctor-patient perspective, Dr. Munster gives a framework for successful treatment – epitomizing the personal, patient centered care that is a hallmark of the UCSF medical center. Dr. Munster recently authored Twisting Fate, about her experience as an oncologist and a cancer patient.
Cristina Prada was born in Colombia in 1931. She grew up around a farm in La Calera, a small town outside of the capital, Bogotá. Her mother, Cristina, died while giving birth to a younger sibling. Her father, Lorenzo, raised her and her four siblings. Cristina worked several jobs from a young age, eventually becoming the manager of a pharmaceutical laboratory and giving birth to her daughter, Isabel Cristina. In 1973, she immigrated to the United States and settled in southern California. For over 20 years, Cristina worked two full-time jobs, at Hoag Hospital in Newport Beach and at various hotels around Disneyland. She was diagnosed with breast cancer in 2014, which went away with treatment, but then metastasized and was diagnosed again in 2018. Cristina attributes the cancer to the chemicals used during her years of employment in the U.S. She is heartened in her struggle by her three great granddaughters, Emma, Penelope, and Olivia Cristina.
Since 1986 Valerie Soe has produced nearly two dozen short films and documentaries which have exhibited worldwide. Her essays and articles have been published in numerous books and journals and she is the author of the blogbeyondasiaphilia.com. She is Professor of Asian American Studies at San Francisco State University. Her latest film, Love Boat: Taiwan, premiered in 2019. She discovered her cancer through a routine mammogram and subsequently had chemotherapy, surgery, and radiation therapy.
Marie Weber-Retherford is a wife and mother of three children, who are all in their 20's now. She has been a registered Nurse for 40 years, currently still working full time in pediatric Emergency Department. Marie is a 12-year survivor of both DCIS (ductal) and invasive breast cancer, which was discovered by her own manual exam.
Julie Wong is a physical therapist and a certified lymphedema therapist at Proactive Physical Therapy. As a breast cancer survivor, she discovered a vacuum of care and information for other patients. Her background as an orthopedic specialist combined with her osteopathic and lymphedema studies and applications allowed her to develop protocols never conceived or tried. In 2013 Julie was honored with the Komen San Francisco "Make a Difference Award" for helping patients regain function, comfort, and understanding.

Dr. Akriti Sharma, DPT is a Doctorate in Physical Therapy, Board Certified Orthopedic Clinical Specialist and is Owner of Proactive Physical Therapy where the focus is on treating breast cancer patients. She utilizes a unique physical therapy protocol that addresses total body systems to help patients before, during, and after breast cancer treatment: including radiation therapy, chemotherapy, and various breast cancer related surgeries. Akriti & her team at Proactive Physical Therapy are also involved in and support various breast cancer organizations throughout San Francisco.
Please Note:
Comfortable footwear is encouraged

Guests may encounter situations in close proximity with performers
We encourage guests with special needs to contact us prior to arrival at: LenoraLeeDanceManager@gmail.com
or (415) 570-8615
Dance Mission is located 3316 24th St, San Francisco, CA 94110; across the street from the 24th St BART station. Street parking can be challenging, so we highly suggest you take public transit. There is a parking garage at Mission Bartlett Garage Google Maps. Follow link for rate information: https://lots.impark.com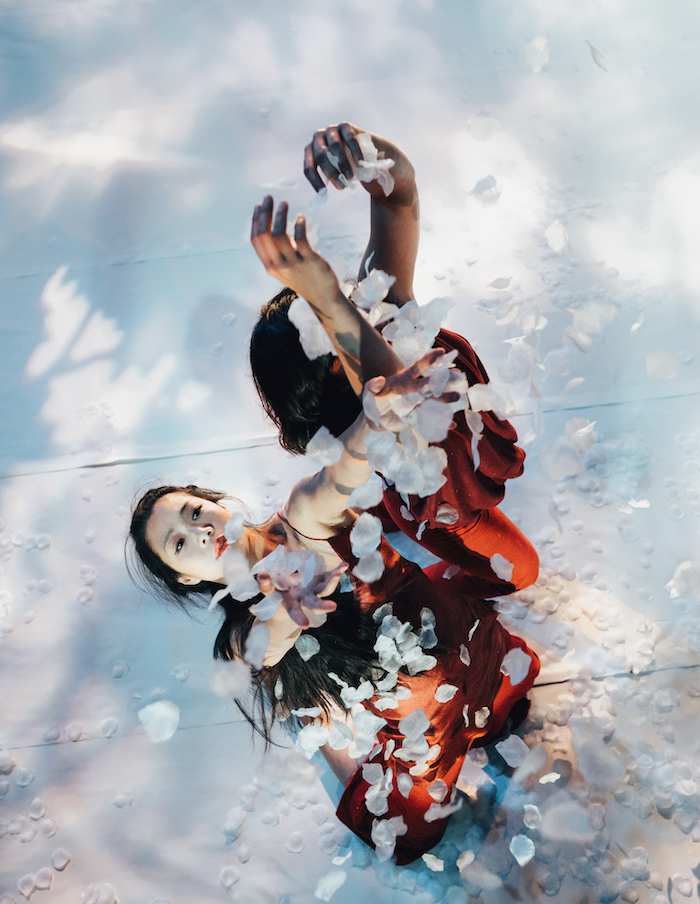 "In the Skin of Her Hands" is supported in part by Dance Mission Theater, United States Artists, CA$H a grants program of Dancers' Group, San Francisco Grants for the Arts, and Generous Individuals.
Photos by Robbie Sweeny
1) Lynn Huang
2) Johnny Nguyen & Megan Lowe
3) Hien Huynh
4) Lynn Huang & Megan Lowe