Description
$10 presale tickets are now available!
Tickets will be $15 Day of Show or $5 a venue
12 Venues / 12 Hours / 40 Acts
Saturday / Aug. 3, 2019 in Downtown / Old Market Omaha
Wristbands available for pick up day of show (Saturday, Aug. 3rd) at Will Call / Box Office booth. Print a copy of your ticket and exchange for a wristband for entry into all 12 venues.

Save $5 from day of show ticket pricing by purchasing early
Performers:
Blues Beatles

Shaw Davis and the Black Ties

Kris Lager Band

Mick Kolassa & The Taylor Made Blues Band

Hector Anchondo Band

Shawn Holt and the Teardrops

Polly O'Keary and the Rhythm Method

Heather Newman Band

Taylor Scott Band

The Cold Stares

Dust Devil Choir

Laurie Morvan Band

Jeremiah Johnson Band

Patrick Recob & The Perpetual Luau All Stars

Sebastian Lane Band

Hurricane Ruth

Scott Holt Band

Eric Jerardi Band

Jackson Stokes

Matt Woods

David Zollo

Coyote Bill Boogie Band

Easy Riders

Bucky McCann & John Crews

Stan and the Chain Gang

Big Daddy Caleb and The Chargers

Matt Cox

Tim Budig Band

Terry Parker Quartet

Swampboy Blues Band

Blue Mudfish

Galen Prince & Blue Venue

Sweet Tea

Scott Moyer Band

Steve Lovett Band

Soul Tree

Blue Sunday

Far & Wide

Five Minute Drive

The Redwoods

Vertigo
Venues:
Harney Street Tavern
The Hive Rock Club
Jazz, A Louisiana Kitchen - Omaha
Dubliner Pub
Karma Nightclub
T-Henery's Pub
The Omaha Lounge
Havana Garage
Annie's Irish Pub Omaha
Beer Can Alley Omaha
The Jewell
Omaha Performing Arts Mammel Courtyard in the Holland Center

Ready for a challenge? How many can you make in 12 hours?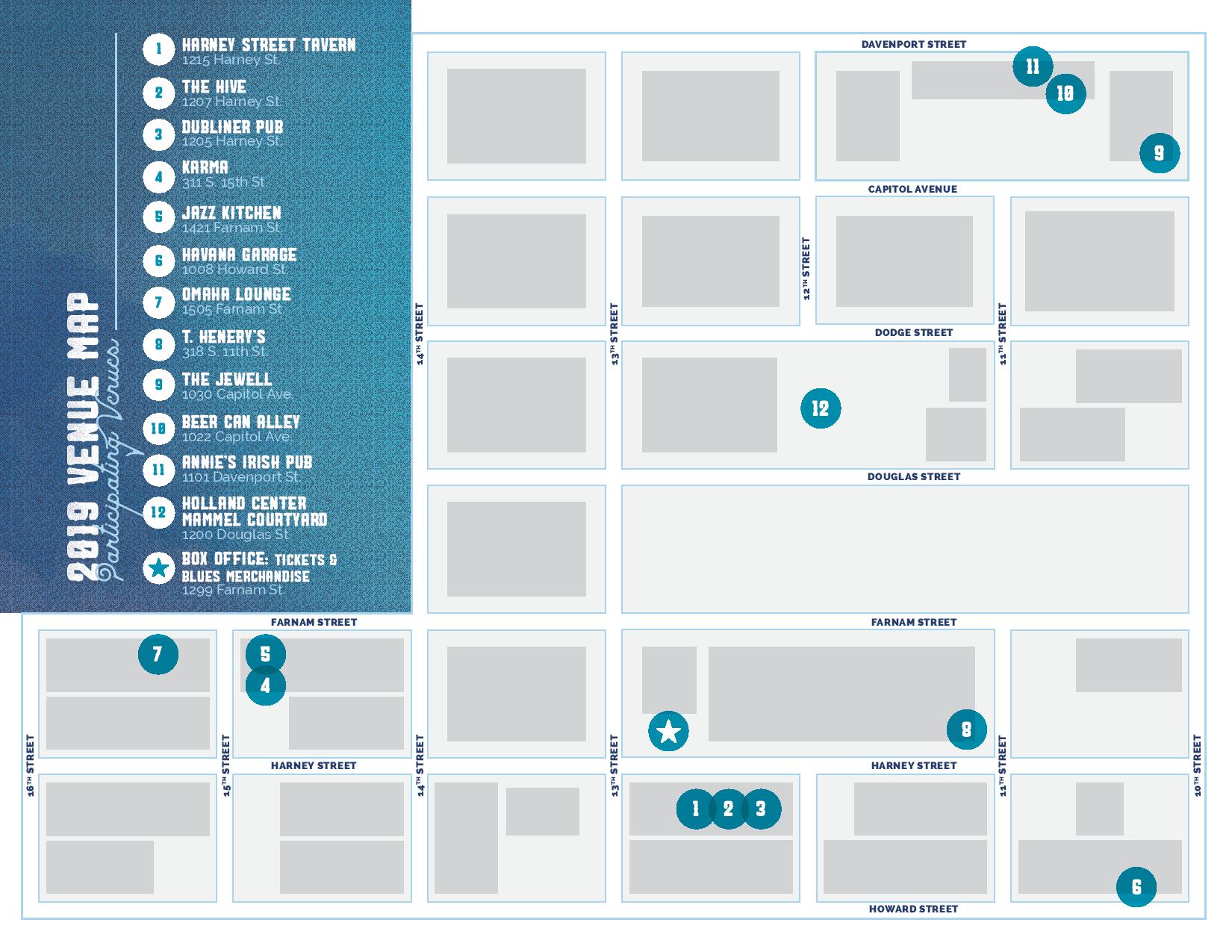 FAQs:
Where is the Box Office/Will Call?
The Box Office and Blues Festival Merch tent is on 13th & Harney Street. We are set up on the pad/sidewalk in front of the Landmark building near Roja. This location is directly across the street from Harney Street Tavern, Hive Nightclub, and Dubliner Pub. You can not use your paper receipt to enter a venue. You must come and exchange your receipt for a wristband.
What time is the Box Office/Will Call open?
The Box Office and Blues Festival Merch tent is open from 12:00 Noon to approximately 9 pm on Saturday, Aug. 3rd.
May I purchase tickets at a participating venue before Aug. 3rd?
No. Tickets may only be purchased online on Eventbrite OR Thursday, Aug. 1st at the Polly O'Keary show 6-9 pm at the Chrome lounge. If you do not want to order online at the discounted price, this is your only opportunity to purchase tickets at the discounted price of $10. Day of show tickets are $15 or $5 for a single venue.
Do you have t-shirts for sale?
We will have special 5th anniversary In the Market for Blues t-shirts for $15 and koosies for $3. We also have all of our Blues Society of Omaha merch for sale, including hats, shirts and koosies.
Are there ID or minimum age requirements to enter the event?
All venues (except Havanna Garage) are all ages up until 9 p.m. accompanied by an adult
How can I contact the organizer with any questions?
IntheMarketforBlues@gmail.com
Can I bring in outside food or beverages?
No outside food or beverages allowed. Every venue has drinks available for purchase. Many have food available.
May I bring a lawn chair?
Lawn chairs/blankets can be brought into the Mammel Courtyard at Holland Center only
May I get a refund?
Sorry, all sales to In the Market for Blues are final
What if I bring a friend with me to the festival and they did not purchase their ticket online?
Tickets are $15 day of show or $5 for a single venue. Next year, tell them to get with the program and order online before the day of show. ☺

Organizer of In the Market for Blues
In the Market for Blues is an annual blues festival in Omaha's Old Market, Downtown and The Capitol District.  14 hours of music at 14 different venues featuring international, national, regional and local blues bands.
In the Market for Blues is a production of Blues Society of Omaha in conjunction with Hector Anchondo.  The festival started in 2014 with 2 venues and has since grown to 14.