"IN THE CLASSROOM" STUDENT SCHOLARSHIP FUNDRAISER WITH OMAR EPPS
Description
Join an exclusive group of people who share a passion for educating youth. Attend the Entertainers 4 Education Alliance / I WILL GRADUATE Student Scholarship Fundraiser event taping of "In The Classroom" featuring world-renowned actor Omar Epps from the blockbuster FOX television show "House," and classic films such as, "Juice", "Higher Learning" and "Love and Basketball." Sunday, September 16th, 2018 from 6 pm to 9 pm doors open at 5 pm sharp. Polygon (formerly Don Coqui Brooklyn) 299 Vandervoort Ave, Brooklyn, NY 11211. All proceeds will provide scholarships to students in the I WILL GRADUATE Leadership Academy. Ticket prices include seating, food, drinks, and gift. VIP tickets include VIP reception and VIP gift bag.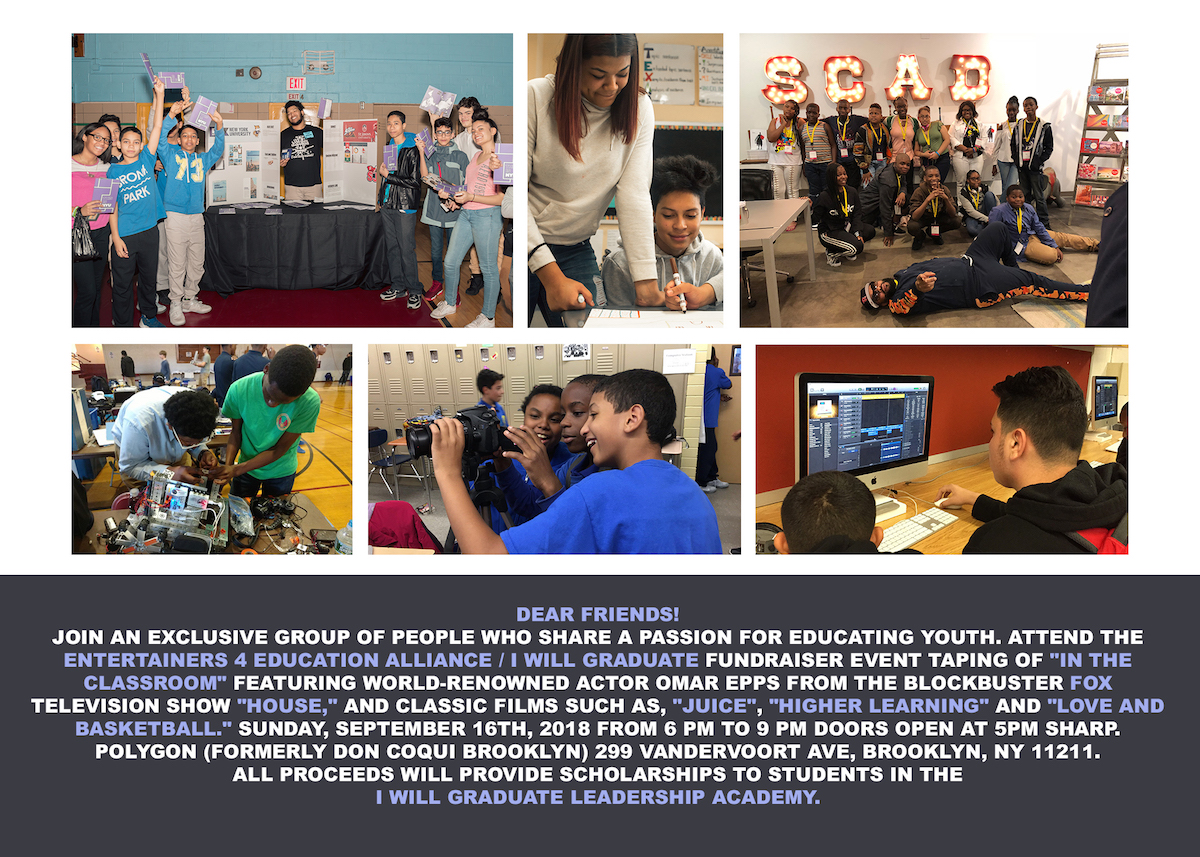 About in The Classroom: "In The Classroom" is an original program hosted by Tonya Lewis Taylor founder of Entertainers 4 Education Alliance/I WILL GRADUATE Program. Taylor sits down with high profile guest to discuss their roadmap to success, struggles, and triumphs. The show is taped in front of a student audience and featured "On Demand" The series and was first developed as an after-school program to encourage and inspire students to stay in school.
About Omar Epps: Omar Epps is an American actor, author, rapper, songwriter, and recording/film producer. His film roles include "Juice", "In Too Deep" and "Love & Basketball". His television works include the role of Dr. Eric Forman on hit TV series "House", and role of Agent Martin in American fantasy drama "Resurrection". Omar Epps was born in Brooklyn, NY. He began writing poetry and short stories at the age of ten and attended LaGuardia High School of Music & Performing Arts. Omar recently released a new book titled "From Fatherless to Fatherhood" sharing his journey from humble beginnings to the bright lights of Hollywood.
About Entertainers 4 Education Alliance, Inc. (501c3) organization is headquartered in New York City. Our award-winning I WILL GRADUATE CAMPAIGN is our drop-out prevention initiative and call to action for students, parents, and the entire community to increase educational achievement in youth. Our goal is to provide powerful messages to youth and parents about the importance of educational excellence. We accomplish this through youth development programs, parent engagement, community outreach exciting events, various forms of multi-media and corporate partnerships. We enlist the talents, resources of the music and entertainment industry along with prominent high profile individuals to stress the importance and coolness of being educated -
"Smart is the New Cool."