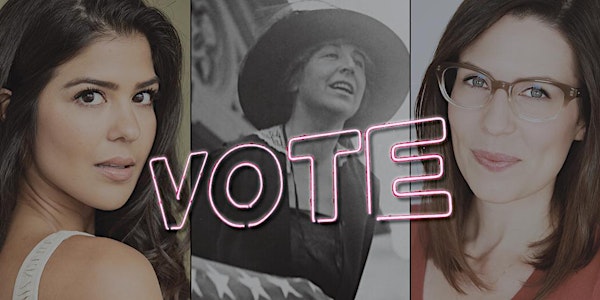 In the Artist's Studio: Ari Afsar and Lauren Gunderson
When and where
Location
WMPAC Virtual Link: https://youtu.be/FdfCUqirkG4 WMPAC Virtual Mini-Series
Description
Presented by the Warren Miller Performing Arts Center in Big Sky, Montana: warrenmillerpac.org
In this episode of In the Artist's Studio, we explore a new work of creator/composer+lyricist Ari Afsar and playwright Lauren Gunderson. An epic pop musical based on the true story of America's first Congresswoman, Jeannette electrifies the life and history of suffrage activist, social worker and Montanan, Jeannette Rankin. Elected to Congress in 1916—three years before women are granted the right to vote—Jeannette finds herself to be the only female voice within the halls of power to vote on women's suffrage. Jeannette heralds one person's radical voice in America's ongoing journey toward equal rights for all.
ABOUT THE CREATORS
Ari Afsar is a singer/songwriter with placements on ABC, Disney, and an On-Demand feature. A graduate of Ethnomusicology Jazz from UCLA, Afsar just released her debut EP, "Somewhere I Thought I'd Be." Most recently she opened for Michelle Obama at the Shrine Auditorium, performed at the U.S. Institute of Peace, and opened for the ACLU national conference in D.C. She was the original Eliza Hamilton in Chicago's production of Hamilton, Miss California 2010, top 10 at Miss America 2011, a top 36 American Idol Alum, and currently stars in a SXSW-award winning series. She has been an advocate/performer/and public speaker for The Women's March, The Social Innovation Summit, Nexus Global, The University of Chicago, The MoveOn rally on the steps of the U.S. Supreme Court, and The United State of Women.
Lauren M. Gunderson was named the most produced playwright in America in 2019 after topping the list in 2018. She is a two-time winner of the Steinberg/ATCA New Play Award (for I and You and The Book of Will), winner of the Lanford Wilson Award and the Otis Guernsey New Voices Award. She is also a finalist for the Susan Smith Blackburn Prize and John Gassner Award for Playwriting, and a recipient of the Mellon Foundation's 3-Year Residency with Marin Theatre Company where she is the Playwright in Residence. She studied Southern Literature and Drama at Emory University, and Dramatic Writing at NYU's Tisch School where she was a Reynolds Fellow in Social Entrepreneurship. Her work has been commissioned, produced and developed at companies across the US and UK. She co-authored Miss Bennet: Christmas at Pemberley with Margot Melcon, which was one of the most produced plays in America in 2017. Her work is published at Playscripts (I and You, Exit Pursued By A Bear, The Taming, and Toil And Trouble), Dramatists (The Revolutionists, The Book of Will, Silent Sky, Bauer, Miss Bennet) and Samuel French (Emilie). Her picture book Dr Wonderful: Blast Off to the Moon is now available on Amazon and she is working on a major motion picture.