Description
Please join us for the 17th Annual Sonoma County Breastfeeding Coalition Conference, as we welcome expert speakers Dr. Alison Stuebe and Dr. Lauren Spieler, who will share ideas, solutions, and tools for supporting breastfeeding mothers with their newborn infants in the "Fourth Trimester."
You won't want to miss this year's conference, so register before June 27th for the early bird discount.
(Prices go up on June 28, 2018.)
Who Should Attend
This conference offers a professional update for: Physicians, Midwives, Nurses, Lactation Consultants and Specialists, Dieticians, Physician Assistants, Nurse Practitioners, WIC and medical office staff, La Leche League Leaders, Childbirth Educators, and others who work with breastfeeding mother-infant dyads.
Conference Topics:
Applying a 4th Trimester Lens to Mother-Infant Care

Obesity and Metabolic Syndrome

Integrative Medicine for the 4th Trimester

Lactation and Contraception

Beyond the Latch: Persistent Breast Pain


Speakers:
Dr. Alison Stuebe MD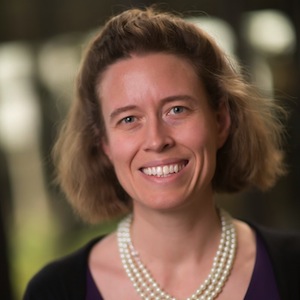 Dr. Stuebe graduated from Washington University School of Medicine in St. Louis and completed her Obstetrics and Gynecology residency at Brigham and Women's Hospital and Massachusetts General Hospital in Boston. She completed fellowship training in Maternal Fetal Medicine at Brigham and Women's, and she earned a Master's of Science in Epidemiology from the Harvard School of Public Health. She is currently a board-certified maternal-fetal medicine subspecialist at the University Of North Carolina School Of Medicine. She serves on the board of directors for the Academy of Breastfeeding Medicine and edits the Breastfeeding Medicine Blog. In the clinical arena, she works with an interdisciplinary team of faculty and staff in lactation, pediatrics, family medicine, obstetrics and gynecology, pathology, general surgery, dermatology, and maternal/child health. Her current research focuses on clinical management of breastfeeding complications and the intersection between postpartum depression and premature weaning.
Dr. Lauren Spieler DO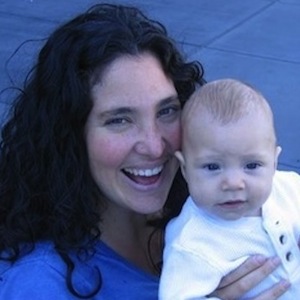 Dr. Lauren Spieler, D.O. is Board Certified in Family Medicine as well as Integrative and Holistic Medicine. Dr. Spieler practices Family Medicine at Kaiser Permanente in Santa Rosa, California where she serves as a Breastfeeding Champion. She began working with families as a Doula and focused her Clinical Herbalist training on women's and children's health before attending Touro University College of Osteopathic Medicine. She continues to use her knowledge of herbal medicine, Osteopathy and Family Medicine to serve families in her current position at Kaiser Permanente. She has served as the Medical Director of the Sonoma County Breastfeeding Coalition since 2014 and is an active member of the Academy of Breastfeeding Medicine.



Timing of the Day
Registration and breakfast from 8:00 - 8:45 am
Conference time is 8:45 am - 5:00 pm
Full breakfast and networking lunch are provided.
Conference Meals
We provide a full breakfast and lunch at the conference. This year we are able to offer a pre-ordered gluten-free, dairy-free vegetarian breakfast and lunch option if it is requested by Tuesday, August 28, 2018.
If you would like to order this special option please email the conference chair by August 28th at scbcbreastfeedingconference@gmail.com.
Conference Agenda & Program
Click HERE to download a PDF of the updated Conference Flyer.
Click HERE to download a PDF of the Conference Agenda.
Click HERE to download a PDF of the Conference Program.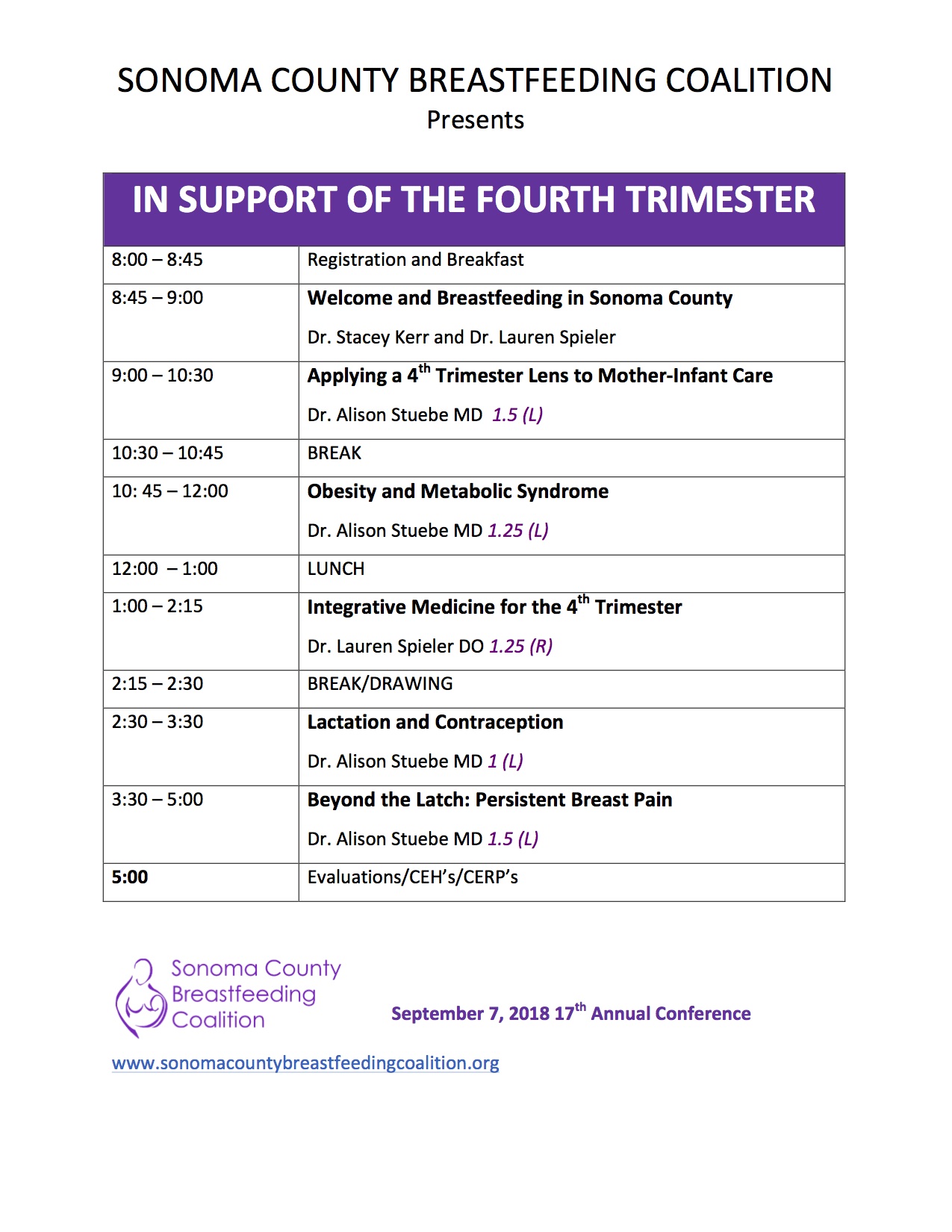 Continuing Education
Pending approval of 6.5 hours
An application has been submitted to California Board of Registered Nursing for approval of 6.5 BRN CEH contact hours.
An application has been submitted to The International Board of Lactation Consultant Examiners (IBLCE) for CERP approval.
Going Green
: Minimal Paper
Please note— this year we continue Going Green, in an effort to minimize our carbon footprint and help protect our environment. Each registered individual will receive all the handouts via email prior to the conference. Thank you for your understanding in our attempts to minimize paper waste.
Hotel Reservation at the Hyatt Regency Sonoma Wine Country
A block of rooms is available for conference attendees at a discounted rate if booked by Thursday, August 9, 2018.
Click HERE to make a reservation. All guest room rates are subject to applicable State and City taxes at the time of check-in.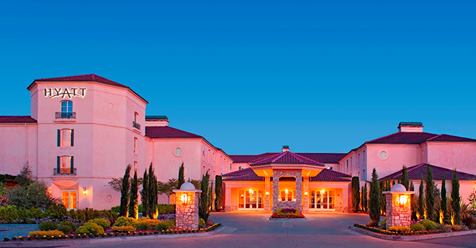 sonomawinecountry.regency.hyatt.com

Other Nearby Accommodations
Courtyard Marriott
The Courtyard Marriott is adjacent to the conference location and is a 1 minute walk.
www.marriott.com/hotels/travel/stscy-courtyard-santa-rosa

Hotel La Rose
Hotel La Rose is a boutique hotel. It is a 4 minute walk to the conference location at the Hyatt Regency Sonoma Wine Country.
www.hotellarose.com
SMART Train: Sonoma-Marin Area Rapid Transit
The conference location is also within a 5 minute walk of the SMART train stop at Railroad Square.
sonomamarintrain.org
Conference Scholarships
A limited number of scholarships are available. If you would like to apply, please email the conference chair by August 10, 2018 with your request. There is a deadline of August 10 to apply. Please contact scbcbreastfeedingconference@gmail.com for further information.
Other Questions
Contact our conference coordinator at scbcbreastfeedingconference@gmail.com.
Cancellations and Refunds
In the event that the conference is cancelled, all registered attendees will be contacted via email and ticket fees will be returned in full.
Conference ticket buyers can request to cancel their order by contacting scbcbreastfeedingconference@gmail.com. Refunds will be granted through August 31, 2018, less a $50 processing fee. After this date, refunds will not be granted.

About Sonoma County Breastfeeding Coalition
The Sonoma County Breastfeeding Coalition began in 1996 with this mission: "To educate and empower women to breastfeed; to encourage breastfeeding-friendly attitudes, policies, and images in the community; to promote unity among breastfeeding professionals and advocates; and to increase public awareness of the value of breastfeeding."
We are proud to be sponsoring our 17th annual breastfeeding conference!

For more information about the conference, Sonoma County breastfeeding resources, or Coalition membership, please see our website, www.sonomacountybreastfeedingcoalition.org.