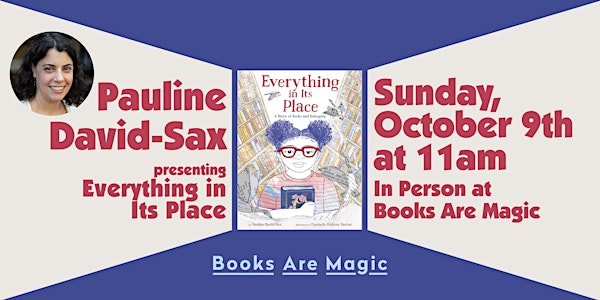 In-store: Storytime w/ Pauline David-Sax: Everything in Its Place
"For all those who are never found without a book at recess." —Kirkus, starred review
When and where
Location
Books Are Magic 225 Smith Street Brooklyn, NY 11231
About this event
Event guidelines:
All attendees must wear a face mask at all times.
RSVP is highly encouraged but not required.
As a reminder: If you are not feeling well, please do not come to the event, even if you have a ticket; email us and we'll work it out.
If you have any questions regarding these guidelines or to request accessibility accommodations, please contact eventhelp@booksaremagic.net.
An inspiring and poetic story about reading, libraries, and overcoming social anxiety to find self-acceptance.
I gather the books in my arms, and give them a hug. "Welcome back," I whisper.
Nicky is a shy little girl who feels most at home in the safe space of her school library, and when the library closes for a week, she is forced to face her social anxiety. But when she meets a group of unique, diverse, inspiring women at the diner where her mother works, Nicky realizes that being different doesn't have to mean being alone, and that there's a place for everyone.
Book lovers of all ages will find inspiration in this beautiful, poetic love letter to reading - and how it helps us find empathy and connections with the world around us.
Pauline David-Sax is a playwright, author, and educator living in Brooklyn. She worked in New York City public schools for eighteen years before turning her attention to writing. Everything In Its Place is Pauline's debut children's book and was inspired by her friendship with the Sirens Women's Motorcycle Club in New York City. Pauline's play How We Survived was awarded the 2020 Jane Chambers Prize and her play Cotton's Tale was selected as a finalist for the 2021 Susan Glaspell Contest. Follow Pauline on Twitter at @Pauline_D_S.