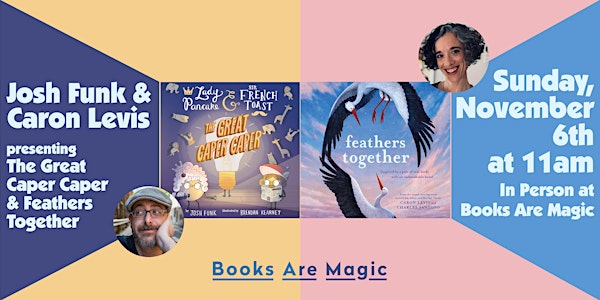 In-store: Storytime w/ Josh Funk & Caron Levis
Join Books Are Magic for a double feature storytime with award-winning authors Josh Funk and Caron Levis!
When and where
Location
Books Are Magic 225 Smith Street Brooklyn, NY 11231
About this event
Event guidelines:
All attendees must wear a face mask at all times.
RSVP is highly encouraged but not required.
As a reminder: If you are not feeling well, please do not come to the event, even if you have a ticket; email us and we'll work it out.
If you have any questions regarding these guidelines or to request accessibility accommodations, please contact eventhelp@booksaremagic.net.
About The Great Caper Caper:
In the fifth adventure of the Lady Pancake and Sir French Toast series, our delectable rhyming friends find their home covered in darkness and embark on a Las Veggies heist—perfect for fans of The Food Group series.
When Lady Pancake and Sir French Toast awake one morning to near-darkness, they are aghast. Who would steal the fridge light? And what if the fridge is—gasp—dark all the time? Not to worry. Our trusty heroes are on the case. Will they be able to bring the fridge back to its bright self, or will they have to live in semi-darkness…forever?
About Feathers Together:
From the award-winning team behind Ida, Always and This Way, Charlie comes an uplifting story of animal friendship, inspired by a real-life pair of storks whose bond overcame great distance
Best friends Malena and Klepetan always adventure together! The two excitedly prepare to fly thousands of miles for the flock's annual migration to a warm winter. But when Malena is injured, she stays in Croatia while Klepetan goes to South Africa—and the pair must navigate the turbulent winds of separation for the first time.
Being apart is hard. Malena and Klepetan miss each other achingly, and they have big feelings about adventuring on their own. But even over the vast distance, the two brave explorers discover ways to enjoy their separate seasons while keeping their hearts connected—and their hopes aloft that spring will bring them back together.
Josh Funk is a software engineer and the author of books like the Lady Pancake & Sir French Toast series, the It's Not a Fairy Tale series, the How to Code with Pearl and Pascal series, the A Story of Patience & Fortitude series, Dear Dragon, My Pet Feet, and more.
Bio Written by Josh's Cat:
Meow meow meow. Mew meow. Grrrr! MEOW! Mew mew meow mew meow. Me-oooooow! Mew.
Caron Levis (MFA; LMSW) is the author of the award winning children's picture book, Ida, Always (Atheneum) illustrated by Charles Santosos, which the New York Times Book Review calls, "an example of children's books at their best." Caron is a professor at NYU and The New School's Creative Writing MFA program where she is the advisor for the Children/YA concentration. Caron has an LMSW from Hunter College and has facilitated young people's loss and bereavement groups for The Jewish Board. After many years as an arts educator, Caron now loves using acting and writing to teach social, emotional, and literacy skills to students of all ages through her author workshops.