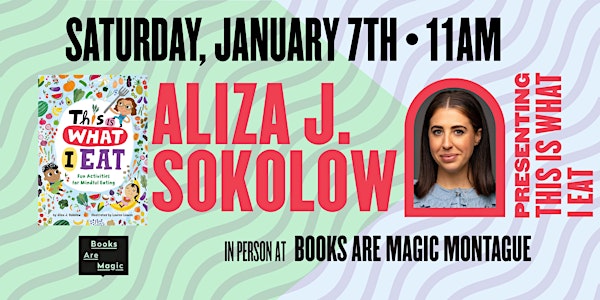 In-Store: Storytime w/ Aliza J. Sokolow: This Is What I Eat
Join Books Are Magic for a delicious, interactive storytime with award-winning writer and photographer Aliza Sokolow!
When and where
Location
Books Are Magic Montague 122 Montague Street Brooklyn, NY 11201
About this event
Event guidelines:
All attendees are encouraged to wear face masks at all times.
RSVP is highly encouraged but not required.
Additional copies of the event book will be available for purchase in-store.
The reading will be followed by a book signing.
As a reminder: If you are not feeling well, please do not come to the event, even if you have a ticket; email us and we'll work it out.
If you have any questions regarding these guidelines or to request accessibility accommodations, please contact eventhelp@booksaremagic.net.
This color-and-activity book from an award-winning food stylist is a playful introduction to healthy eating and engaging with our planet, perfect for your budding foodie or your picky eater!
In this bold and bright activity book, award-winning food stylist Aliza J. Sokolow shares her love of fruits, veggies, and all things yummy with kids just starting to explore their own dietary preferences.
This book is the ultimate journey for little foodies and picky eaters alike. With a deliciously global perspective and a focus on community and humanity, this activity book helps kids better understand not only what we eat, but how we eat it!
Filled with 30+ activities and journal pages, kids will love having this keepsake of culinary self-exploration.
Inside, you will learn:
How to grow an avocado tree at home!
What grown-up foodie job is right for YOU!
How families around the world eat!
How to save our planet . . . one batch of compost at a time!
Foodie facts from around the world!
Aliza J. Sokolow is a food stylist and photographer for both digital and print media. She got her start working for Jamie Oliver's Food Revolution project. Her work has won an Emmy, two Emmy nominations, and a James Beard Media Award. Her photography work can be seen in the New York Times, Architectural Digest, Bon Appétit, the Wall Street Journal, and the Los Angeles Times. Aliza loves to give back to the community and the world.