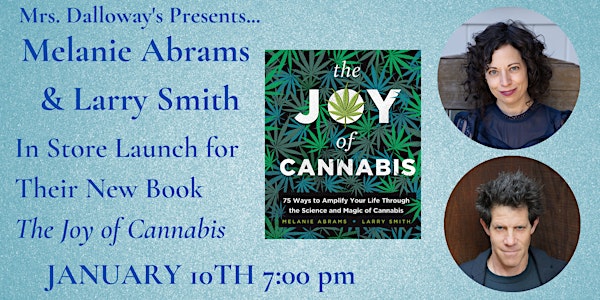 In Store Book Launch With Authors Melanie Abrams & Larry Smith
Join us January 10th when authors Melanie Abrams and Larry Smith celebrate the launch of their new book THE JOY OF CANNABIS
When and where
Location
Mrs Dalloway's 2904 College Avenue Berkeley, CA 94705
About this event
Authors Larry Smith and Melanie Abrams come to Mrs. Dalloway's to launch their new book The Joy of Cannabis: 75 Ways to Amplify Your Life Through the Science and Magic of Cannabis (preorder here). It's a sophisticated and humorous cannabis book to enhance your life and promote self-care through the science and magic of weed.
With a toolkit of the basics to get you started and a curated set of 75 activities, The Joy of Cannabis is a road map to a higher and happier you. In it you'll find science-based research as well as charts, essays, and fun facts from bold thinkers. The activities--tested and approved by authors Melanie Abrams and Larry Smith--teach you how to amplify pleasure through bonding and intimacy, deepen meditation to help with social anxiety and sleep, and elevate your cooking with innovative cannabis-infused recipes. You'll even learn why the word marijuana rarely appears in the book.
The Joy of Cannabis is a comprehensive guide for the cannabis curious to the cannabis connoisseur. For some, this book will further awaken their love for an elixir that's changing our culture and bringing pleasure to millions around the world. For others, this guide will inspire discovery of an ancient plant that's been used for both healing and happiness for thousands of years.
From improving sleep and decreasing anxiety to promoting focus and making the ordinary extraordinary, recreational cannabis' time is now. Whether you purchase it as a self-care book for yourself or the men and women in your life or give it as a gift for a friend, get ready to experience the Golden Age of Cannabis. You're going to love it here.
MELANIE ABRAMS is the author of the novels Playing and Meadowlark. She is a developmental editor and photographer and teaches writing at the University of California, Berkeley.
LARRY SMITH is a journalist and storytelling evangelist touted by O: The Oprah Magazine as "on a quest to spark the creativity in everyone." He is the founder of The Six-Word Memoir Project and book series, editor of the book, The Moment: Wild, Poignant, Life-Changing Stories from 125 Writers and Artists Famous and Obscure, and speaks on storytelling in schools and at companies and conferences.
THIS EVENT is free but pre-registration is required. Registration ends at 4:30 pm on January 10th.
BECAUSE SEATING is limited, please register only if you plan to attend.
DUE TO SPACE limitations, we may not be able to accommodate every person at an event, so early registration is encouraged.
WE ARE NOT ABLE to accommodate any walk-ins that evening.
WE ASK that attendees arrive between 6:45 and 7:00 PM for the event.