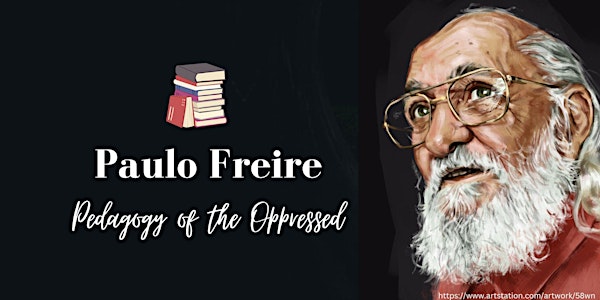 In Solidarity We Read: Session I - Paulo Freire's Pedagogy of the Oppressed
We invite you to the first meeting of the 'In Solidarity We Read: Solidarity, Displacement and Higher Education reading group'.
About this event
As we suggest starting with the classics, this time, we will be reading the first two chapters of Pedagogy of the Oppressed by Paulo Freire. The suggestion runs a little bit over the page count that we will aim to stick to in the future. If you only get the time to read one chapter, please read the second chapter, as it introduces Freire's concept of banking education. If you have more time, read the first chapter - it will introduce you to the political and ethical basis of Freire's pedagogy.
Here is a link to the text: https://envs.ucsc.edu/internships/internship-readings/freire-pedagogy-of-the-oppressed.pdf?fbclid=IwAR2E-K1esXGwv2Jvz8FKtLMpZ6166450qgd8HeVw1ix7iEoy4fqVt0IJZjI
Here is a document where we suggest you (anonymously) share the questions/quotes/comments that occur to you while reading the text - we will be using this document during the meeting: https://docs.google.com/document/d/1t1KxYb-Jyx9ej4ITgP5Gt8DjOMkp1sLMBeRIfJhxZF4/edit?fbclid=IwAR0Nv07uOFMsQstJEgsRQZfWiWFpd4W1rAFWhOfEAyvbhBhUXTAL2LcqSto
---------------------------
About the reading group
This is a reading group where we meet every three weeks to read together texts at the intersection of topics of solidarity, displacement, and higher education. We read mostly academic and semi-academic texts and, once in a while – fiction. Duration of each meeting - around 90 minutes.
Everyone interested is welcome to join!
Here, you can see the readings planned for the next meetings (tab1) as well as suggest readings for the future (tab2): https://docs.google.com/spreadsheets/d/1LocQsmtNttv-asdOLYm8aaR8wRoOuODa5Uvs_Ko8rLE/edit?fbclid=IwAR3sV3lJHGLK5ODB2JovZ65QD8j165zoPKwM1nZDHfr9HpesgfNjU_aTqrs#gid=1566576586