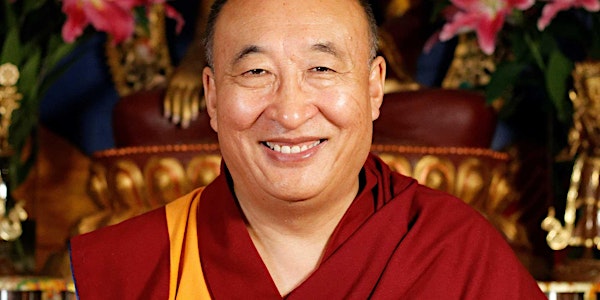 In Search of the Real Buddha with Khentrul Rinpoche
An afternoon of Dharma & Meditation
When and where
Location
Empty Cloud 29 Ridgeway Ave West Orange, NJ 07052
Refund Policy
Contact the organizer to request a refund.
Eventbrite's fee is nonrefundable.
About this event
What is known today as Buddhism and Meditation are a vast range of teachings and practices from different perspectives, various vehicles and transmitted through the lens of a wide variety of cultures. At first the contemplative renunciate life of a monk in a temple in Burma contrasted to a drumming Himalayan tantric yogi wearing bone ornaments in the burial grounds appears to be full of contradictions. How can all these practices be Buddhist? What does a silent Vipassana retreat, chanting 1 million mantras and reflecting on Zen koan have in common as meditation?
While it is taught that there are 84,000 dharma gates with enough teachings to suit the minds of all types of sentient beings, it can be challenging to see the common thread running through them all. Is Buddhism a philosophy, a religion or a science, all of the above, none of the above?
In this talk Khentrul Rinpoche will illuminate the non-contradictory nature of what the Buddha taught and explain the common thread that binds all these various forms of meditation practices together.
Bio:
Khentrul Rinpoché Jamphel Lodrö is the founder and spiritual director of Dzokden. Rinpoche is the author of Unveiling Your Sacred Truth, The Great Middle Way: Clarifying the Jonang View of Other-Emptiness, A Happier Life, and The Hidden Treasure of the Profound Path.
Rinpoche spent the first 20 years of his life herding yak and chanting mantras on the plateaus of Tibet. Inspired by the bodhisattvas, he left his family to study in a variety of monasteries under the guidance of over twenty-five masters in all the Tibetan Buddhist traditions. Due to his non-sectarian approach, he earned himself the title of Rimé (unbiased) Master and was identified as the reincarnation of the famous Kalachakra Master Ngawang Chözin Gyatso. While at the core of his teachings is the recognition that there is great value in the diversity of all spiritual traditions found in this world; he focuses on the Jonang-Shambhala tradition. Kalachakra (wheel of time) teachings contain profound methods to harmonize our external environment with the inner world of body and mind, ultimately bringing about the golden age of peace and harmony (dzokden).