About this Event
In Real Life - For U Meet & Great Package includes:
One general admission ticket
VIP early entry into the venue
Exclusive meet & greet with In Real Life
Personal photograph with In Real Life
Collectible "She Do" tour poster; signed by IRL
Exclusive VIP merchandise item (tbd)
Official meet & greet laminate
Limited availability
Please reach out to INFO@FUTURE-BEAT.COM with any questions concerning your VIP package.
- - - - - -
IN REAL LIFE
- Sergio - Conor – Chance - Drew - Brady -
Website | Facebook | Twitter | Instagram | Youtube | Soundcloud
Bound by an unstoppable passion for music, the five members of L.A.-based pop band In Real Life hail from wildly diverse backgrounds. Growing up in The Bronx, Drew busked in the subways of New York City to help his single mom make ends meet, while Brady first pursued his dreams by performing in choirs and musical theater back home in Wisconsin. Chance got his start singing with his late father as a little kid in Southern California—many miles down the coast from Sergio, a Redwood City native who brings his bilingual vocal skills to nearly every IRL song. And as the embodiment of IRL's eclectic spirit, Conor's Ohio upbringing included everything from taking up classical violin at age six to producing his own hip-hop tracks as a teenager.
On their debut album She Do, IRL channel their wide-ranging influences into a massively appealing blend of pop and hip-hop and R&B, endlessly showcasing the potent chemistry behind their creative connection. "Because we're all coming from such different places, it brings these very different melodies and thought processes out of us when we're working together," says Chance. Conor adds: "We each have our own take on what needs to happen in any particular song, and we're able to feed off everyone's energy in a way that creates something totally new. At the end of the day, we get the most musical inspiration from each other."
With its full-hearted harmonies and addictive melodies, next-level beats and Latin-inspired rhythms, She Do takes its title from one of IRL's latest and most sophisticated offerings. Described by Brady as "a slightly provocative song about your affections for a female," "She Do" unfolds in silky grooves, super-smooth vocal work, and a rap verse from Conor that boldly spotlights his complex wordplay and masterful flow.
In an especially meaningful moment for IRL, She Do features one of the first songs the band wrote and produced mostly on their own: "Don't Go," a powerfully hypnotic track built on an irresistible back-and-forth between English and Spanish lyrics. As Sergio explains, the song was spontaneously started in the studio, then completed in a laid-back session at Brady's apartment. "There was no pressure in the whole process of writing or recording 'Don't Go,'" he recalls. "We didn't even expect it to be on the album—we were just making it because we wanted to, and that's why it came so great: it's just us having a good time doing what we love most."
Although She Do also delivers never-before-heard numbers like the stripped-back and achingly soulful "Loveless," the album's tracklist offers its share of fan favorites. Those internationally beloved tracks include "Tattoo (How 'Bout You)"—a Top 40 hit that's now amassed over 22 million streams across all platforms—as well as their beat-heavy and blissed-out debut single "Eyes Closed." Penned by Justin Tranter (an A-list songwriter known for his work with Ariana Grande, Justin Bieber, and Lady Gaga), "Eyes Closed" was first unveiled when IRL performed the song on the finale to ABC's reality competition "Boy Band." "That song's always going to hold a special place in our hearts," says Brady. "Every time we play it, it takes us back to that moment when we realized, 'Okay, this is our band now,' so there's definitely a lot of nostalgia there."
Throughout She Do, IRL reveal both their refined musicianship and disparate sensibilities, from Chance's passion for classic-rock bands like AC/DC to Drew's affinity for opera singer Andrea Bocelli to Sergio's lifelong love of Latin pop star Prince Royce. As the first band in history to be voted together by America, IRL made a point of deliberately celebrating those differences as they brought She Do to life. "We didn't start this band in a garage together when we were 12—we're not even from the same town," says Conor. "It might seem like that would make it hard for us to find a cohesive sound, but actually it's motivated us to explore our individual strengths and really play to those, and make something that stands out from everything else happening today."
Over the past two years, IRL have proven the power of their camaraderie by performing in such far-flung places as The Philippines and Turks and Caicos, constantly turning out an unforgettably feel-good live show. "So many of our favorite moments are created on tour," says Sergio. "We love being able to travel all over and experience as much as we can in every new place. Now we have all these memories from all around the world, and all the fans that we've gotten to meet there."
For IRL, one of the greatest rewards of touring lies in that direct interaction with their fanbase. To that end, each member has forged a deep kinship with their fans by keeping candid and open about his own unique path through life, including Sergio's upbringing as the son of Mexican immigrants, Chance's journey as a young father, and Conor's experience in being diagnosed on the autistic spectrum at age 16. "We each have a different relationship with the fans, and hopefully we can help people through different struggles by talking about what we've gone through in our own lives," says Drew. "We always try to do what we can to put ourselves in their position, and be there for them as much as possible."
As Brady points out, life on the road has also helped intensify the ever-growing connection at the heart of the band. "We've definitely gotten a lot closer from all these nights of just hanging out and doing crazy stuff, and you can really hear that in the music," he says. Along with infusing an infectious energy into each song on She Do, that closeness has ultimately helped IRL to strengthen their artistic vision. "At this point we've all seen what we're like at our best and our worst," says Chance. "We know so much more about each other, and about the kind of music we want to create. We're in a much stronger position than we ever were before, and all we want is to just keep going."
- - - - - -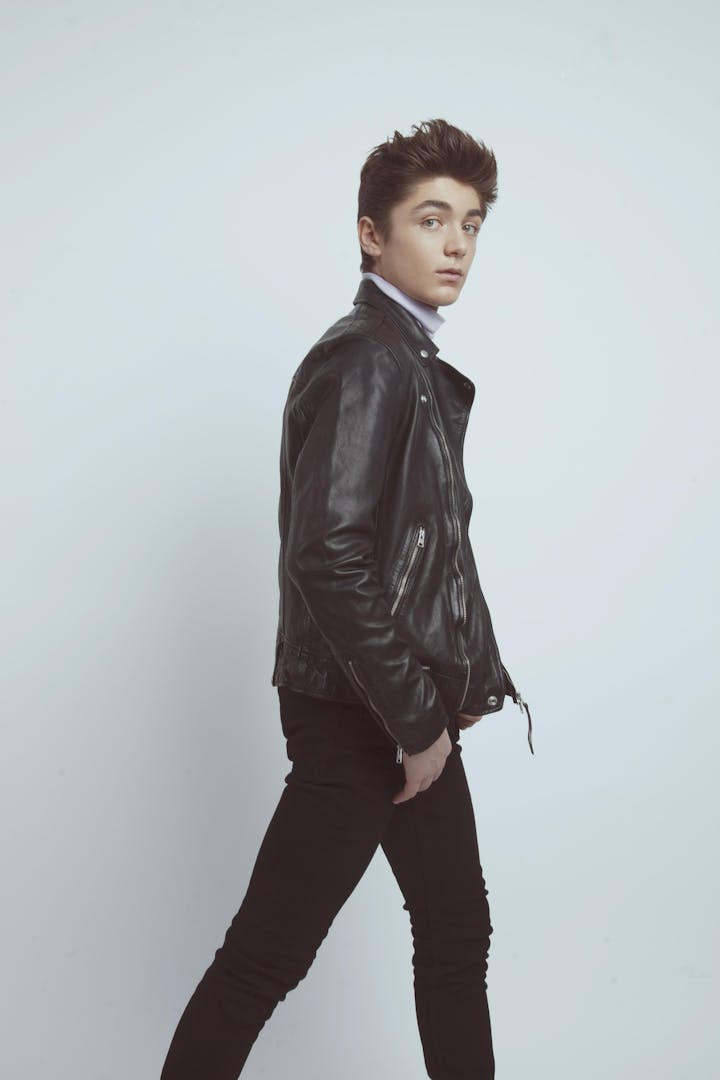 ASHER ANGEL
Facebook | Twitter | Instagram | Yourtube
Determination, diligence, and drive ushered Asher Angel from a key role on Disney Channel's top-rated staple Andi Mack to starring in the DC comics blockbuster Shazam! in 2019. The same energy carried over to the 16-year-old's original music as a solo artist ignited by a forthcoming full-length debut for HITCO. His own determination brought an original style to life, merging singer-songwriter honesty, soulful swagger, and universal pop appeal.
At the age of five, Asher made his acting debut in the critically acclaimed Jolene alongside Academy® Award nominee Jessica Chastain. In between re-watching Usher and Justin Timberlake videos countless times, he pursued musical theater in grade school. , he pursued musical theater in grade school. Cutting his teeth in a community theatre production of Oliver, he appeared in nearly forty shows, ranging from Into the Woods to Mary Poppins. At twelve-years-old, his prolific output and commitment convinced his mom and dad to travel back-and-forth to LA with the rest of his family for auditions. Following appearances on Nicky, Ricky, Dicky & Dawn and Criminal Minds: Beyond Borders, 2017 saw him join the cast of Andi Mack as Jonah Beck. It paved the way for a lead in Shazam!, which emerged as "one of the Top 10 grossing films of 2019." Not to mention, The New York Times praised him as "a relaxed, natural presence."
As he made strides to screen ubiquity, Asher built a growing discography. Independent single "Chemistry" clocked over 7 million YouTube views and 1.5 million Spotify streams. He contributed "Last Christmas" to Disney's 25 Days of Christmas Holiday Party. His music garnered looks from Entertainment Tonight, Just Jared Jr., and Tiger Beat. Now, he formally assumes the solo spotlight on the 2019 single "One Thought Away" [feat. Wiz Khalifa] and more music to come.
- - - - -
4 TICKET LIMIT PER CUSTOMER. YOUR NAME, CREDIT CARD, ADDRESS, AND EMAIL ADDRESS WILL BE VERIFIED. EVENTBRITE AND STATESIDE PRESENTS/VALLEY BAR RESERVE THE RIGHT TO CANCEL ANY ORDERS IN EXCESS OF THE STATED TICKET LIMIT.
ANY TICKETS SUSPECTED OF BEING PURCHASED FOR THE SOLE PURPOSE OF RESELLING CAN BE CANCELLED AT THE DISCRETION OF STATESIDE PRESENTS/VALLEY BAR/EVENTBRITE.
- - - - -
Please note that if there is no PDF or Barcode attached to your confirmation email, tickets will not be available to download or in the app until 24-hours prior to show date.
Support acts are subject to change. No refunds.
The maximum number of tickets per purchase for each event is the maximum number permitted per customer purchase. Your name, credit card, address, and email address will be verified. Stateside Presents reserve the right to cancel any orders in excess of the stated ticket limit.
Ticket resale is strictly prohibited. Any tickets suspected of being purchased for the sole purpose of reselling can be cancelled at the discretion of Stateside Presents.