| | |
| --- | --- |
| In Pursuit of Self-Love: A 30-Day Challenge (2/3/13- 3/4/13) | |
Event Details
Greetings!
Imagine starting off the year with a new sense of love and appreciation for yourself? What could be possible if you kicked off your new year with a firm stance in who you are and what you are committed to for yourself and your life? What if those things you have been compromising could be addressed within 30 days, at the beginning of the new year? 
Imagine falling in love with yourself in a brand new way. 
Read on for more information....
I invite you to sign-up today! Something led you here, so allow your inner voice and spirit to continue to guide you.  What say you? 
Early Bird Special Deadline: 5pm EST on January 13, 2013.
Deadline to register: 5pm EST Monday, January 28th, 2013. 
The Process
Self-love is a journey, and more specifically, it begins with an awareness followed by consistent practice.  Since 2011 Let's Pursue You has successfully implemented (6) 30-day self-love challenges to support over 800 people from across the globe on their journey by providing them with practices they can implement on a daily basis!
The (2) Self-Love packages we offer empower you to choose yourself first.  It is about falling in love with ourselves, over and over again, and letting go of past beliefs that don't serve us. It is about embracing the lives that we actually want and deserve. It is about loving ourselves enough that we no longer seek love from something outside of ourselves. We ARE the ones we've been waiting for.
The Self-Love Challenge Packages
In Pursuit of Self-Love: A 30-Day Challenge
Cost: $100
This challenge is designed for the individual who appreciates structure but has the self-discipline to execute the tasks independently. The tasks for this challenge allow participants to easily incorporate acts of self-love into their daily routine.  To offer additional support, participants will be provided with one-weekly group coaching calls, one weekly 10-minute Empowerment Call, private Facebook group and more!  In addition, participants will dismantle their beliefs about self-love/self-care and create beliefs that empower them to make themselves their first priority. 
The Ultimate Love Challenge: An Intimate Journey of Self-Love 
Cost: $250
This 30-day journey is designed for the individual who appreciates structure, guidance and more one-on-one support. While the majority of the tasks are similar to those in the "In Pursuit of Self-Love Challenge," this challenge is a more in-depth journey that includes one-on-one, customized coaching. Each participant will receive a 45-minute weekly coaching session with Let's Pursue You, and support with creating a 30-day self-love action plan to utilize after the challenge.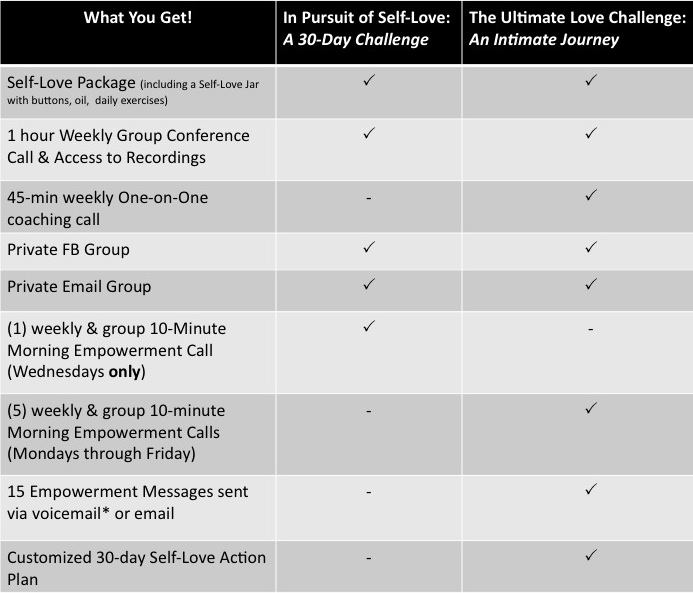 *********************
In Pursuit of Self-Love is brought to you by Let's Pursue You!, a company committed to personal growth and development.
At Let's Pursue You! we provide a platform for you to discover and challenge your core beliefs so that you can pursue what you actually want.  www.LetsPursueYou.com 
Organizer
Let's Pursue You
Let's Pursue You supports individuals, entrepreneurs, organizations and groups with turning their personal or professional goals into tangible results through intentional actions and healthy competition. While ensuring that our client's self-care needs are not compromised, our adrenaline-based transformative experiences are inspired by our belief that "we are just one conversation and one action away from having everything we want."
In Pursuit of Self-Love: A 30-Day Challenge (2/3/13- 3/4/13)