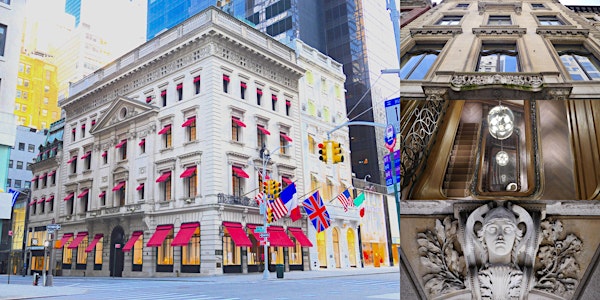 'In Plain Sight: The Mansions of Midtown Manhattan' Webinar
Can't make it live? Register and get access to the full replay for one week! New York Adventure Club | www.AdventureClub.com
About this event
Ask nearly any New Yorker about the mansions that once lined the blocks of Fifth Avenue and its side streets below Central Park, and they'll tell you that traces of them couldn't possibly exist. But hiding in plain sight among the skyscrapers of 21st Century Midtown Manhattan are numerous once-opulent residences, many of them in nearly intact condition. It's time to explore these palaces, inside and out.
Join New York Adventure Club for a virtual exploration of more than a dozen former mansions in Midtown Manhattan, which belonged to some of New York's wealthiest citizens.
Led by historian Tom Miller, our virtual exploration of these easy-to-miss mansions within a four-block area of each other will include:
The incredible stories of wealth, power, scandal, and eccentricities surrounding these residences, including a fashionable home that became a high-end speakeasy; a mansion built for a millionaire bachelor who sequestered himself with his art and eight live-in servants; and an urban chateau sold in 1917 for $1 and a pearl necklace
How the mansions are being used today, which include everything from retail shops, to offices, to private social clubs
Rare historic and modern photographs of many of these iconic midtown homes, inside and out
Afterward, we'll have a Q&A with Tom — any and all questions about the mansions of midtown are welcomed and encouraged!
Can't make it live? Don't worry, you'll have access to the full replay for one week!
See you there, virtually!
*Immediately upon registering, you will receive a separate, automated email containing the link to join this webinar
**For the best possible viewing experience, please ensure you're using the latest version of your internet browser — Google Chrome is the most compatible. Exact technical requirements and a webinar user guide will be shared in the automated confirmation email upon registration.
***A full replay of the experience will be available to all registered guests for up to a week
About Tom
Architectural and social historian Tom Miller is the author of Seeking New York, Seeking Chicago, as well as the popular blog "Daytonian in Manhattan." Since 2009 Tom has published a blog post on a different Manhattan location every day — now totaling more than 3,000.
His research and reporting focus as much on the social histories of the buildings — the tragedies and sorrows, triumphs and scandals of the people who built and lived in the houses — as on their architecture and styles.
Tom Miller's retelling of these stories make the buildings come alive; and suddenly they are more than brick, marble, and limestone, but the histories of real people.
Testimonials
"The instructor was so knowledgeable, and I love the old vs modern day, photographs!" -Sarah
"Tom Miller is an excellent speaker. Communication clearly and shared a wealth of knowledge." -Judith
"I liked the history and background of the people that lived in those houses. How they got their wealth, what their lives were like, what happened to the house." -Lynn
"I loved how organized Tom was especially by putting the year built, name of mansion, builders/architect and address before he spoke about each house. I loved that he pointed out what artwork/craftsmanship to look for on the exterior. The interior grand staircase photos were awesome." -Barbara
"I liked how in-depth it was and the presenter gave great insight and was incredibly knowledgeable." -Elizabeth
"Nice descriptions, easily understood what he said, saw things I would have never noticed on the buildings" -Mary Ann
"Photos old and new were excellent, loved all the details. Opened my eyes to what to look for walking around the area." -Claire
"Tom Miller presents a well-organized, informative, and very entertaining program. I have a greater appreciation of the beautiful buildings and will certainly spend more time observing details - now that I know what to look for." -Katherine
"Loved all of the wonderful pictures of the homes then & now. It was great to learn the history behind all of these magnificent old homes." -Cheryl
"Extensive info and excellent slides. Speaker was very clear and accurate with detailed info." -Fu-Li
"I liked everything - the level of detail of both the buildings and their history, the pacing of the lecture, Tom's knowledge, and the incredible pictures" -Patricia
"I liked the historical details of each house and the people that occupied it. The interior photos were wonderful too. That it encompassed a small area of Manhattan was good because I will be able to walk around to see them first hand. I would never notice all the details and "hidden" areas of the facades without the photos. Thank you! I enjoyed it very much and look forward to more." -Katrina
"I liked the guide focused us on noticing the details of the building exteriors. I also enjoyed the contrasting pictures between what the homes looked like when they were built verses how they look today." -Monica
"It was a good way to "tour" stately mansions in NYC and get the history of the architecture and owners...they are just stunning! Give me something to look forward to - visiting NYC and looking up!" -Debby
"I loved the photography showing the original mansions and then today. Lots of historical information" -Bobbie
"Lots of great background information. I love learning about the origin and past of buildings and structures. And the lives of the people who created them were fascinating." -Thomas
"Tom was very knowledgeable and I learned a lot about the wealthy who influenced NYC in the late 19th and early 20th centuries." -Mary
"Loved learning about the mansions and seeing the pictures. Enjoyed hearing about the people and their lives." -Debra
"The speaker was coherent and knew what he was talking about! the content was fascinating. While I am a native NYer, there was much to learn. I'll be looking for more similar talks and have already recommended it to others." -Victoria
"I loved it!!!!! Now I have to go see all these buildings and what they have to offer in their books and crannies! Would definitely do a walking tour...." -Darlene
"Well-paced and full of info and loved the pictures!" -Paul
"As with all of Tom's talks, this was full of amazing information and details i never would have known. Excellent tour Tom! thanks again." -Pat
"Speaker was very knowledgeable, photos very helpful." -Sarah
"The commentator, his great selection of photos and how well he showed and described all the architectural details, plus connecting all the mansions to one another." -Robert
"I liked the family stories that went along with the houses, as well as how the subsequent uses. Photographs of details both inside and outside were especially good." -Craig
"I liked the thoroughness of the presentation, and the fascinating facts that were discussed." -Jasmine
"The presenter, Tom, was extremely knowledgeable and did a great job on the presentation." -Andrew
"The in depth knowledge and the stories of different families who had lived in these mansions. I enjoyed the insights of the presenter on architecture." -Kathleen
"The subject matter... So true how we walk past these beautiful homes and not pay them any mind. I'll definitely note them on my next trip to NYC." -Virginia
"Amazing. Mr Miller is incredible. An honor to be in his virtual company." -Richard
"The history, photos before/after, the pace of the presentation was just fun & wonderful...gonna watch it again." -Diane
"Informative, well paced. By far my favorite speaker of the NY Adventure lectures." -Jane
Disclaimer
By attending a New York Adventure Club experience, you accept our terms of service.
Categories: Virtual, Gilded Age