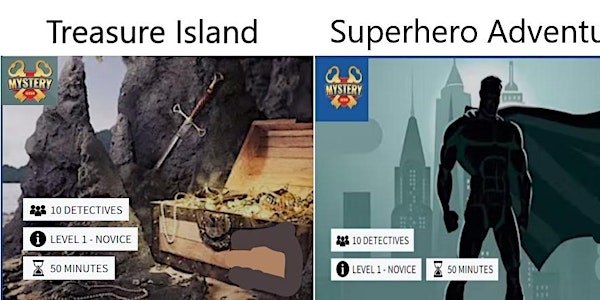 In Person Year End Social --- All In Adventures: Mystery Escape Rooms
Your choice of an adventure - have a great time strategizing and working towards a solution, then enjoy refreshments.
When and where
Location
Triangle Town Center 5959 Triangle Town Boulevard Raleigh, NC 27616
About this event
Your choice of an adventure, depending on when you arrive at the event. Have a great time strategizing and working towards a solution. Then enjoy refreshments while meeting new and old colleagues in-person!
Scenario A: Blueprint for Disaster (Superhero Adventures)
The arch-criminal Matador has stolen the blueprint to the Grand Central Bank. He is threatening to contaminate all the gold bullion and crash the stock market if the city does not pay a ransom of $25,000,000 within the next hour. He has hidden the blueprints in one of the city's streets, so his plan proceeds even if he is captured. You must use your superpowers to recover the blueprint and prevent his minions from carrying out the plan. Use your keen senses to find and use gadgets to help you on your quest to save the gold and the city!
For more information please see: Superheros Adventure
OR
Scenario B: Captured or Crew? (Treasure Island)
You've been captured by pirates, but you won't be walking the plank…. not just yet. They are going to give you a chance to earn a place on the crew. If you can prove you are seaworthy you might just make it through this without becoming a meal for the sharks!
For more information please see: Treasure Island
==============================================================================
Please note that this event is FREE and open only for IIBA RTP chapter members.
20-person limit.
Refreshments (sandwiches, drinks and dessert) will be available after the session for debrief and networking.
For your Health and Safety all bookings will be private room bookings regardless of your group size!
All participants will need to complete the All Adventures WAIVER prior the event. Please complete the WAIVER before the event/arrival to save time. The waiver link will be forwarded to you AFTER registration.
Address for directions: All Adventures – Mystery Room: Triangle Town Center –5959 Triangle Town Blvd Suite EU2113, Raleigh NC 27616. We are right off exit 17 on Interstate-540, directly off of Capital Blvd. We are attached on the outside of the mall next to Barnes & Noble.