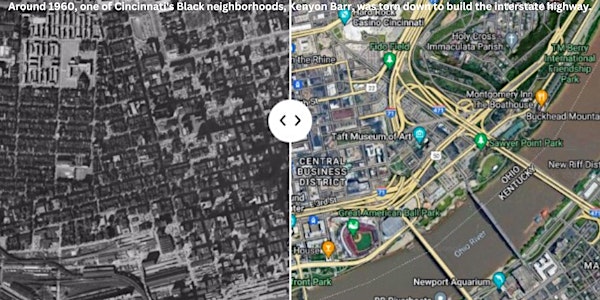 In-Person Walking Tour of Over-the-Rhine and the People's Movement
In-Person Over-the-Rhine People's Movement Walking Tour
By GAPP (Greater Anderson Promotes Peace)
Date and time
Saturday, April 29 · 10am - 12pm EDT
Location
Greater Cincinnati Coalition for the Homeless 117 East 12th Street Cincinnati, OH 45202
About this event
GAPP and ACRU invite you to join us!
Dr. Mark Mussman, Director of Education at the Greater Cincinnati Coalition for the Homeless, will be joined by Melissa Mosby for an in-person Social Justice Walking Tour, focusing on the historical and contemporary struggles and successes of the Over-the-Rhine People's Movement. This tour will take you through the streets, alleys, and parks of the neighborhood and clarify the meaning and direction of decades of neglect and today's investment. Learn and see for yourself what gentrification looks like and how displacement affects community members.
Part 1: Introduction outside of the Homeless Coalition (30 minutes), covering Cincinnati history, including Native American history, colonial history, immigration history, and the influence of racism in housing (and many other aspects of life) in Cincinnati.
Part 2: Several walking stops throughout the neighborhood (90 minutes), including: an introduction to the Over-the-Rhine People's Movement; visiting places and hearing stories about how people in the neighborhood have come together to ensure that people (who have been historically pushed from their homes), maintain their ability to stay in Over-the-Rhine, regardless of economic and social impacts. This tour shows how hostile design is used and the impact of the loss of public space. Direct and indirect gentrification are explained and seen through real-life examples, including the West End. This tour ends at Washington Park.
NOTE: PARTICIPANTS WILL BE WALKING/STANDING FOR 2 HOURS. PLEASE DRESS FOR THE WEATHER AND WEAR COMFORTABLE WALKING SHOES.
About the organizer
GAPP has been serving the greater Anderson Township area since 1999, providing community-buildinging programs and activities that honor diversity, encourage understanding, and promote inclusion. Visit us at www.gappeace.org