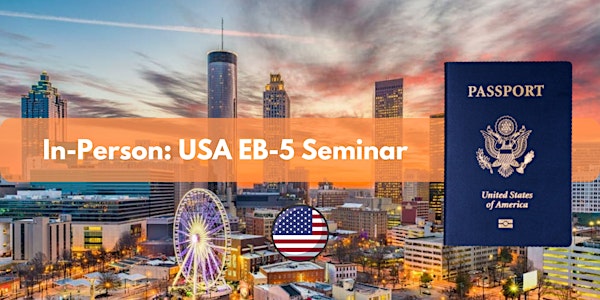 In Person USA EB-5 Seminar - Atlanta
Event Will Present Information on How to Obtain USA Green Card Through Investment and Talk One-On-One With Immigration Attorneys
Date and time
Sunday, October 15 · 3:30 - 7pm EDT
Location
Hilton Garden Inn Atlanta Perimeter Center 1501 Lake Hearn Drive Northeast Atlanta, GA 30319
About this event
*Especially Helpful for H1B to EB5*
Dear Friend,
You are cordially invited to attend the USA EB-5 Seminar - Bay Area, June 9th from 3:30 - 7:00 pm. Find out how you can get your Green Card fast using EB-5. Get all your questions answered by many immigration attorneys and professionals. Have one-on-one interactions with immigration lawyers and professionals to understand ways of getting your Green Card fast.
Special Highlights:
How can you get an EAD combo card in just a few months?
How does concurrent filing benefit Indians, Chinese, Vietnamese, Koreans and others?
What are the basics of EB5?
How does the EB5 immigration process work?
How does an attorney prepare Source of Funds?
What is the typical structure for a Regional Center project?
What about Backlogs and Set Aside Visas?
What are the new requirements in the EB5 Reform Act which became law in March 2022?
Who Should Attend?
Anyone in the United States on a Valid visa who wishes to obtain a Green Card quickly is welcome to attend this seminar.
Please Note - Online research is not a substitute for attending this seminar in person because of US law; under American law, some information can only be shared face to face and not on a website. This seminar is a unique and rare opportunity to talk face to face with experienced immigration attorneys, and EB-5 projects to understand it thoroughly--with all your questions answered. Registration is Free. You must register on Eventbrite and have your ticket to get into the event. Print it out or download it on your mobile phone in advance. Please forward a link to this page to your friends and ask them to register. They will thank you for it. Seating is limited so you must register to reserve your seat. Register Now!
Meet, Learn and Realize Your American Dream
Date & Time: June 9th, from 3:30 PM to 7 PM (Eastern Time)
Location: Hilton Garden Inn Atlanta Perimeter Center, 1501 Lake Hearn Drive Northeast Atlanta, GA 30319, United States.
Complimentary parking will be provided for event attendees
Registration is Free but you must register on Eventbrite to attend.
Event Organizer - ILW
We are proponents of American strength – this stems from immigrants seeking freedom and liberty - and is unique to America. Our vision is to catalyze immigration information into action by leveraging technology.
Our value proposition:
We have a profound grasp over migration to America: the forces of human migration and the political structure which channels these
We are connectors: we can connect anyone with anyone within the American immigration community
We are an execution machine – we get things done - often very complex things
By the numbers:
600+ Continuing Legal Education (CLE) seminars for immigration attorneys
25+ books on immigration law published with 300+ immigration attorneys as authors
1/3rd of active EB5 projects are our clients
350+ EB5 events in China, India, Korea, Taiwan, Vietnam, Turkey, UAE, Kuwait, Saudi Arabia, Bahrain, Qatar, Oman, UK, Canada, etc. 120+ in person H1B to EB5 events in 30+ cities across USA
During covid, 15+ online H1B to EB5 events, as well as 15+ online webinars for India, Brazil, Mexico, Russia, Turkey, South Africa, Korea, Taiwan, UAE, Kuwait, Saudi Arabia, Bahrain, Qatar, Oman, Pakistan, etc
50+ DACA events in 20+ cities across USA
50+ Chinese Student Events and International Student Events in many campuses and cities across USA
Many other events such as private label events for law firms, a job fair for immigrants, private equity events, etc
Fun facts:
ILW stands for Immigration Law Worldwide – we pioneered cloud-based immigration software (this division was later divested)
Founded in 1999, ILW is headquartered in Midtown Manhattan in New York City for 20+ years (we have a team in Bombay, India, and have had team members in Taiwan and China).
About the organizer
ILW.COM is a US based law publisher.