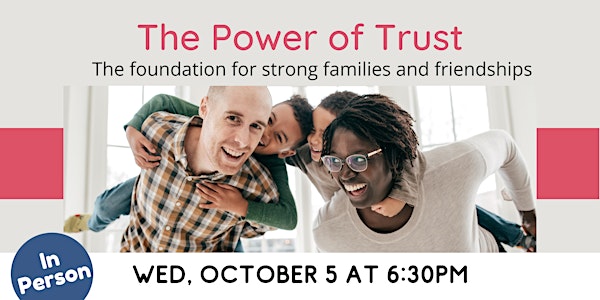 IN PERSON: The Power of Trust
Learn about building trust for healthy, happy relationships.
When and where
Location
Bridges To Growth Georgetown 805 West University Avenue Georgetown, TX 78626
About this event
One of the foundations of strong families and friendships is the powerful word Trust. Although we intuitively know when we don't trust someone, conversations around trust can go sideways quickly. Brene Brown, a four-time #1 New York best selling author has developed the acronym BRAVING to break down trust into seven elements.
Join us as Jen Mauldin, a certified professional coach and Brene Brown facilitator, breaks down this big gauzy word to help strengthen trust in our families and friendships.
* Participants will be entered to win a door prize!*
NOTE: This session takes place in person at Bridges to Growth, 805 W. University Ave, Georgetown, TX. The class is for adult participants.
Mask optional. Please follow the CDC's guidelines for COVID infection and exposure.