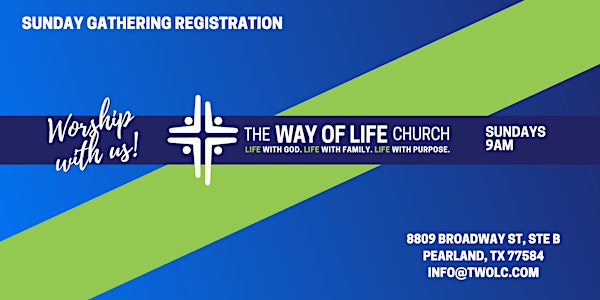 In-Person Sunday Gathering & KidLIFE Registration
WE'RE EXCITED TO HAVE YOU AND YOUR FAMILY JOIN US!
When and where
Location
The Way Of Life Church 8809 Broadway Street Pearland, TX 77584
About this event
LIMITED SEATING. RSVP REQUIRED.
Capacity is limited due to social distancing guidelines. Please reserve your seats in advance.
Please account for each person in your party (including children), up to six (6) persons per party. If children will be participating in KidLIFE activities, please indicate that on the registration.
PLEASE READ
We are excited to resume in-person gatherings, but will continue to practice caution and social distancing at all times. All attendees must reserve their place to attend the gathering ahead of time and follow the following safeguards:
All attendees should maintain six feet of distance between each other, except for members of the same family or household.
Attendees will sit with the persons they came with. Three (3) chairs will be blocked off between parties to maintain distancing.
Those who are sick should not attend.
People in at-risk categories related to COVID-19 and have not had both doses of the vaccine are strongly encouraged to continue participating online or to drive up and listen in from the comfort of your car in our parking lot.
In order to facilitate the safety of as many people as possible, masks will be required of everyone over the age of 4. One will be provided in the event you do not have one.
No hand shakes, hugs, or other greetings that require physical touch or close proximity.
NEW GATHERING SCHEDULE
To accommodate thorough cleaning between gatherings, we will be adjusting our schedule until further notice. Seating and all regularly touched surfaces will be disinfected after each gathering. 
START TIME
Gatherings will start at 9AM each Sunday.
ENTRANCE & CHECK IN
Doors will be propped open to prevent the need to touch handles. Upon arrival, we will have a social distanced, hands-free check-in process. Only those who have pre-registered will be allowed to enter the building. Check-in starts at 8:40AM.
HAND SANITIZER STATIONS
Hand sanitizing stations are provided at entrances and throughout the building. All are encouraged to use before & after services.
NO HANDOUTS OR ORGANIZED GIVING DURING SERVICE
We will not be passing out any handouts, prayer request cards, or any other materials during our services. You can continue to find fill-in-notes, prayer requests forms and other information on our website or the app. Additionally, we will have a drop box located at the back of the worship facility for your tithes and offerings, or you can continue to give online.
KIDLIFE WILL BE AVAILABLE FOR A LIMITED NUMBER OF INFANTS AND ELEMENTARY AGED CHILDREN
In person KidLIFE activities are now resumed. Pre-registration is required for all kids in attendance. You will need to indicate the number of children in each age group. Masks will be required for all kids over the age of 4. All members of the KidLIFE team will be required to wear masks. Per CDC guidelines, we will maintain 3 feet of distance between school-aged kids while in the classroom. KidLIFE lessons will no longer be available on the website.
NO COFFEE OR WATER
Unfortunately, we will not be offering coffee or water during our limited seating services.
ORDERLY DISMISSALS
To ensure social distancing, we will ask attendees to leave in sections. Please wait until your section is called to leave your seat. We ask that you leave the church immediately after the service concludes. If you have children, please pick them up promptly.
RESERVATIONS
You are free to reserve your seat(s) in advance, but please be sure to cancel your reservation if you are unable to attend so that others may attend. You can reserve your seat(s) as far in advance as you'd like, but please don't schedule two weeks in a row so as to give others a chance to attend in person.
CONTINUATION OF ONLINE CHURCH AND DRIVE UP & LISTEN IN
We will continue hosting our weekly online gathering via YouTube and our the drive up and listen in option each Sunday at 9a. We hope those who cannot join us inside will continue joining us online or from the parking lot. KidLIFE online will be discontinued.
UNABLE TO MAKE IT?
Please let us know as soon as possible if you have RSVP'd but are not able to make it to the in-person gathering so that we can give those seats to others who may want to attend. Just email info@twolc.com or use the link in your confirmation email to cancel your RSVP.