Join us for coffee and casual conversation on parenting topics!
About this event
Join us for coffee and casual conversation!
Parents are invited to come and connect with other parents, learn new parenting strategies, and share support. The Georgetown Project's Lexy Largent and a GISD Counseling staff member will facilitate discussion on parenting topics applicable to all families.
11/9 Building Healthy Relationships
11/16 Communicating with Kids
11/30 Effective Discipline & Guidance
Parent Cafe meetings provide parents with a positive and safe environment to have honest, real conversations with other parents to discuss strategies they can use to strengthen their families.
Registering for one session registers you for all three sessions. If you have any questions, please email registration@georgetownproject.org or call Lexy Largent at 512-864-3008.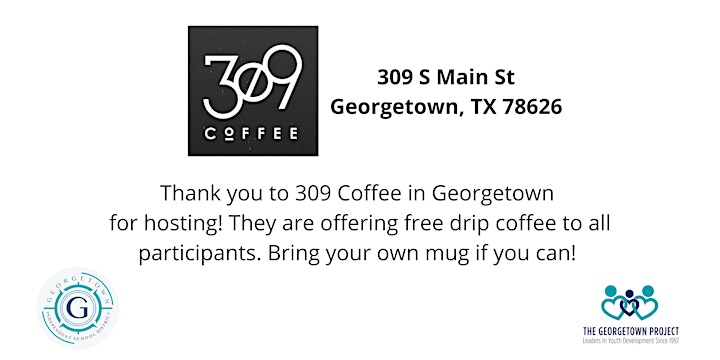 COVID-19 Safety Protocols:
Do not attend if you or any household member is sick, has a fever, or has had contact with another person with a positive COVID-19 test or a suspected case of COVID-19 in the past 14 days.
Masks are optional.
Questions? Email registration@georgetownproject.org
Organizer of IN PERSON: Parent Cafe
A program of The Georgetown Project that builds skills and confidence in parents and childcare providers to create nurturing early environments important to the social, emotional and cognitive development of young children. Bridges to Growth offers parent workshops, childcare provider training, children's events, support groups, ESL classes and more.