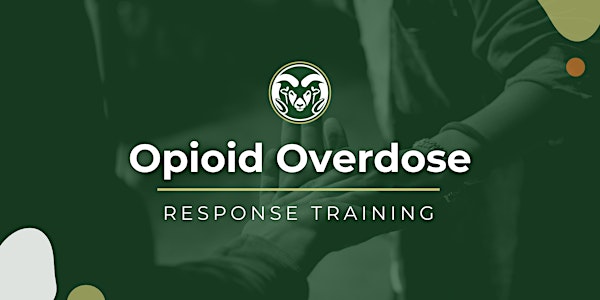 In Person: Overdose Prevention & Naloxone Training
You can reverse an overdose if you know what to do and you act in time. This training teaches you tools to support in the event of overdose.
When and where
Location
CSU Health Network Multipurpose Rooms 3404 A and 3404B 151 W Lake St Fort Collins, CO 80524
About this event
Approximately every 5 hours and 56 minutes, there is a fatal opioid overdose in Colorado. Colorado State University is working to better support and reduce preventable overdose deaths in our community by supporting the faculty, staff and guests with training on overdose prevention and Naloxone, an opioid overdose treatment.
The CSU Health Network in collaboration with SAFE Project, the CSU School of Social Work, The Health District of Northern Larimer County, and the North Colorado Health Alliance seeks to lead a movement at Colorado State University to provide knowledge and training regarding Naloxone as well as make NARCAN® (Naloxone HCl) widely accessible in case of emergency. Through the training, participants will receive harm reduction strategies, comprehensive prevention education regarding the opiate crisis, the influx of Fentanyl, and how to prevent accidental overdose.
NARCAN® Nasal Spray helps reverse an opioid overdose using a concentrated 4mg dose. NARCAN is needle free, without need for assembly, designed for community use, and does not require specialized training.