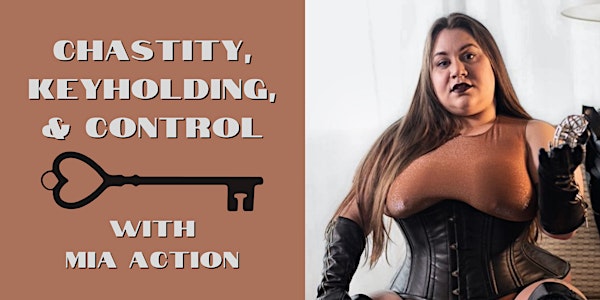 IN-PERSON & ONLINE CLASS: Chastity, Keyholding, & Control with Mia Action
Event Information
Location
PASSIONAL Boutique & Sexploratorium
317 South Street
Philadelphia, PA 19147
This class offers a framework to explore chastity/control or discover new ways to implement control (or denial) into kink/s3x!
About this event
IN-PERSON: Doors open at 5:45pm / Class starts at 6:00pm EST
ONLINE: Zoom link sent at 5:00pm / Class starts at 6:00pm EST
Whether you want to be the Keyholder or the one in chastity (or if you want to self-lock!), there are a variety of reasons to play with control, and we are going to get down and dirty to talk about them. Let's Lock it Up offers a framework for those who want to explore chastity/control, or discover new ways to implement control(or denial) into their kink/s3x lives!
I will also shed light on how chastity play overlaps with other common kinks and f3tishes. We will then delve into the nuts and bolts of negotiating for a chastity dynamic: what to consider, pitfalls, troubleshooting, and recommendations on where to purchase chastity devices. All genders and body types are welcome! Time will be left at the end for a Q&A.
Mia Action is a professional Dominatrix, lifestyle sadomasochist and alternative sexuality consultant based in Philadelphia and South New Jersey. Mia has been formally involved in the alt s3x community since 2017, but has been drawn to the margins of desire from a young age. While her class roster is varied, she has a particular predilection for discussing sadomasochism of all kinds, power exchange, and the psychology of BDSM. Mia is also passionate about educating the public on kink literacy and s3x work.
Date and time
Location
PASSIONAL Boutique & Sexploratorium
317 South Street
Philadelphia, PA 19147
Refund policy