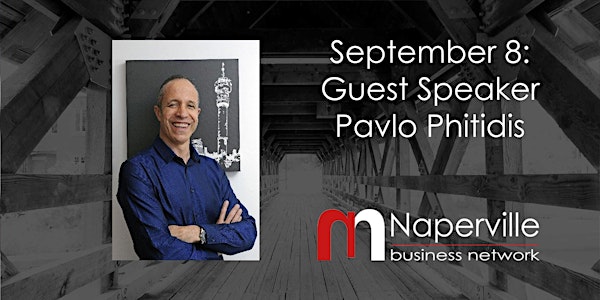 IN-PERSON Naperville Meeting September 8: Guest Speaker Pavlo Phitidis
Location
City of Naperville Building - ROOM B
400 South Eagle Street
Naperville, IL 60540
Join Pavlo Phitidis in-person at Naperville City Hall to learn to build your business into your most significant wealth-generating asset.
About this event
Talk: Build Your Business Into Your Most Significant Wealth-Generating Asset
An established company is proof that you have built an income-generating business. Yet, 94.6% of companies started failed to sell and closed at great cost to owners, families, and employees. To prevent this from happening in the future, today, you must build a business that generates income growth, deepens valuation, and can operate largely independently of you as the owner. We call this an Asset of Value™.
Key Takeaways:
Insights into a single, simple, scalable system of business growth
A strategy to secure organic growth that allows you to focus on next-level growth
Understand the 5 levers of business valuation
Join this session to understand how to make the most of your economic prime to build your business to generate wealth through income growth and capital growth. Members and non-members are welcome to attend this live, in-person event at Naperville City Hall.
Event Includes:
Speaker
Room Fee
Light Breakfast (Breakfast sandwich)
Coffee/Water
TICKETS:
MEMBERS: Included in membership (You still need to register for the event but as a member)
NON-MEMBERS: Tickets are $25
We hope to see you there!
About Pavlo:
Pavlo Phitidis is an SME investor, business growth platform founder, business growth speaker, and author of 2 bestselling books on the topic. Together with his co-founder, he started, built, and sold 12 businesses in 9 years to understand what it takes to build, grow and exit a business. Their learnings developed the Asset of Value™ business growth system, seeing over 3,000 companies gain average annual turnover growth of 28.9% with average EBITDA growth of 32.4% across their client portfolio. Pavlo hosts several media segments on business growth across radio and TV and speaks on growth and innovation at various international events.