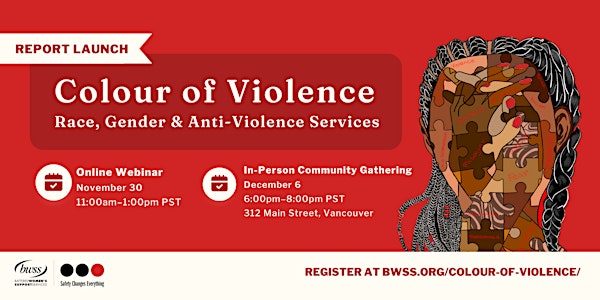 In-person Launch: Colour of Violence: Race, Gender & Anti-Violence Services
Announcing the in-person launch of BWSS's community-based research report "Colour of Violence: Race, Gender & Anti-Violence Services."
When and where
Location
312 Main 312 Main St. Vancouver Canada
About this event
Launching "Colour of Violence: Race, Gender & Anti-Violence Services"
Battered Women's Support Services (BWSS) is thrilled to announce the launch of our community-based research report Colour of Violence: Race, Gender & Anti-Violence Services.
As part of the #16DaysofActivism Against Gender-Based Violence, join us for one or both of our exciting events to hear more about Colour of Violence: Race, Gender & Anti-Violence Services. All are welcome at these public events, please spread the word!
Wednesday November 30, 2022
Online Webinar @ 11 am – 1 pm PST / 2 pm – 4 pm EST. With ASL interpretation.
📣 Speakers: Paulette Senior (elle); Leslie Spillett Giizhigoweyaabbikkew, Mukwa Doodem, she/her/Iskwew; Summer Rain, Angela Marie MacDougall (she/her), and Harsha Walia (she/her).
REGISTER HERE FOR THE WEBINAR: https://us02web.zoom.us/webinar/register/WN_zDPM8-miTaie4NSQSc4Tmw
Tuesday December 6, 2022 (National Day of Remembrance and Action on VAW)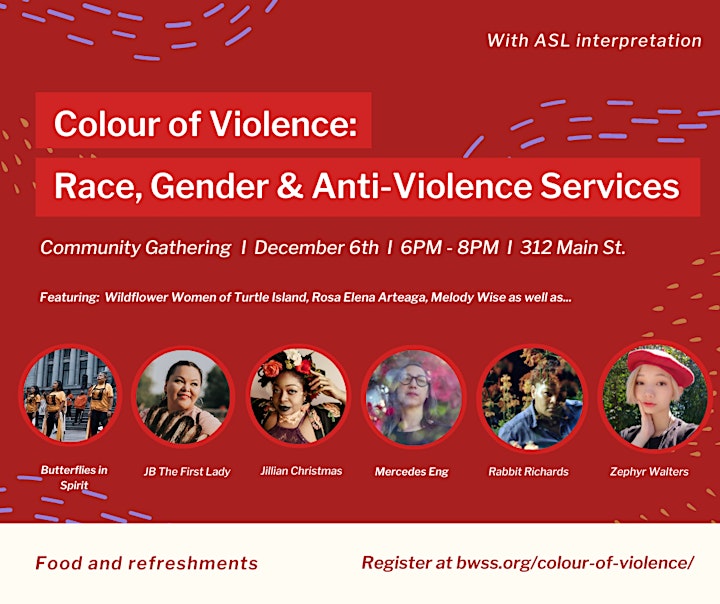 📍 An in-person community gathering @ 6 – 8 pm PST.
📍 312 Main Street, Vancouver. Unceded xʷməθkʷəy̓əm (Musqueam), Sḵwx̱wú7mesh (Squamish) and səlilwətaɬ (Tsleil Waututh) territories.
🛈 ASL interpretation. Food and refreshments served. The venue entrance, main space, and washrooms are accessible for cane/walker/wheelchair/scooter users. More detailed information regarding the space can be found here. We urge attendees to wear masks, and to stay home if you are feeling sick.
** FEATURING 📣 **
Deanna George │ Cecilia Point │ Deborah Baker │ Melody Wise (she/they) │ Rosa Elena Arteaga (she/her) │ Wildflower Women of Turtle Island Drum Group │ Jillian Christmas │ Butterflies in Spirit with JB the First Lady │ Rabbit Richards │ Zephyr Walters (they/she/he) │ Mercedes Eng (she/her) │
Territorial Welcome by Deanna George (Tsleil-Waututh), Cecilia Point (Musqueam), and Deborah Baker (Squamish).
Deanna George is a member of the Tsleil-Waututh Nation. She holds two ancestral names: Halat and Tewalewet. Deanna is proud of her culture and heritage. She has been a member of both the Children of Takaya dance group and the Burrard Canoe Club since a young age. Encompassing the very core values of our nation, our elders, youth, health and wellness, education, employment, she has quickly become knowledgeable in the Nation's strengths as well as providing guidance in areas that require improvement.
Cecilia Point is a member of the Musqueam Nation. As a political activist advocating for human rights and the environment, Cecilia stood for 200 plus days protecting her nation's ancestral burial site from development in 2012. Cecilia has also dedicated many years to cultural preservation in the field of Aboriginal cultural and ecotourism. She is a facilitator for reconciliation workshops with Bright New Day, and has been designated a public speaker for her nation.
Deborah Baker is a member of the Squamish Nation and the Executive Director of the Aboriginal Mother Centre Society in Vancouver. Deborah serves on the board with the All Nations Outreach Society and other organizations in the Vancouver area. Deborah is passionate about working with Indigenous People world wide. Deborah is a mother of five adult children and grandmother to one granddaughter. Deborah enjoys local, regional and national travels to help connect others through networking with a focus on healing and wellness as a residential survivor and a firm believer in reconciliation. Deborah supports healing and wellness for Survivors of Trauma in all forms.
Hosted by Melody Wise 梁茵韻 (she/they): Melody is a settler of mixed heritage, raised on unceded, occupied and traditional territories of the Songhees, Esquimalt and W̱SÁNEĆ peoples. Currently, she works with Battered Women's Support Services as a Research and Policy Analyst, where she supports the creation of community-driven, participatory action research including as a co-author of the "Colour of Violence: Race, Gender, and Anti-Violence Services" report. Having previously worked at the Downtown Eastside Women's Centre, and Health, Environments and Communities research lab, Melody brings a background specifically focused on intersectional feminist research and service provision. They are also a board member of Yarrow Intergenerational Society for Justice 世代同行會,
Rosa Elena Arteaga (she/her) has been working in the anti-violence field for over twenty years delivering workshops on violence against self-identified girls and women, and providing training to service providers at national and international level. In her role as Director of Clinical Practice and Direct Services, she oversees a number of programs within BWSS. Since 2008, Rosa Elena has researched and addressed the issue of battered women being wrongfully arrested, and has been successful with a number of police complaints. Rosa Elena holds a Master's degree on Narrative Therapy and Community Work and she works from a decolonizing, feminist, anti-oppression, practice.
Wildflower Women of Turtle Island Drum Group is a hand drum group, to heal from trauma, find our voices and stand strong in our power through drumming and singing.
Jillian Christmas is a queer, afro-caribbean writer living on the unceded territories of the Squamish, Tsleil-Waututh, and Musqueam people. Jillian works as an artist, educator, curator and consultant, including as a speaker coordinator for Cicely Blain Consulting, long-time Spoken word curator of the Vancouver Writers Fest, and former artistic director of Verses Festival of Words. She has won numerous Grand Poetry Slam Championship titles and represented both Toronto and Vancouver at 11 national poetry events, notably breaking ground as the first Canadian to perform on the final stage of the Women of the World Poetry Slam. She is the author of The Gospel of Breaking.
Butterflies in Spirit: Butterflies in Spirit is a Vancouver dance group started by Lorelei Williams in 2011 and consisting of family members of MMIWG2S+. Their mission is to raise awareness of violence against Indigenous Women and Girls. They have performed at numerous gatherings and events throughout Canada, the US (Alcatraz Island), Mexico, and Bogota, Colombia.
Jerilynn Webster, aka JB the First Lady, a member of the Nuxalk & Onondaga Nations, is a Vancouver-based female hip hop/spoken word artist, beat-boxer, cultural dancer and youth educator "using her words to go upwards/not backwards." JB has performed at over 500 hip hop shows, spreading the words of empowerment & the perspective of urban Indigenous women in Canada. She has released 4 albums to date, "Indigenous Love" (2008); "Get Ready, Get Steady" (2011) and "Indigenous Girl Lifestyle" (2014) and the 2015 IMA winning album "Indigenized by Entertribal" in collaboration with Chief Rock. JB is the 2015 winner of the Indigenous Music Award for Best Album Cover, a 5-time nominated artist at the Aboriginal Peoples Choice Music Awards, the only female to ever be nominated for Best Hip Hop Album (twice), and has been nominated previously for Best Pop Album & Best Album Cover.
Rabbit Richards is learning how to exist on stolen land in a marginalized body. Relentlessly compassionate with fierce integrity, Rabbit is passionate about anti-oppression and accessibility work and is deeply invested in the conversations that are provoked by their art.
Zephyr Walters is a 16 year old poet, singer-songwriter, actor, and artist. They started writing poetry two years ago to express the unimaginable reality of the world. Their goal is to make people understand the truth outside of themselves. 'I know a girl' is a poem for anyone affected by abuse, especially girls far too young to comprehend it. They hope very much that you enjoy and that you can draw what you need from their work.
Mercedes Eng (she/her) is the author of Mercenary English, Prison Industrial Complex Explodes, winner of the BC Poetry Prize, and my yt mama. Her writing has appeared in the Lambda-nominated anthology Hustling Verse: An Anthology of Sex Workers' Poetry, Jacket 2, Asian American Literary Review, The Abolitionist, r/ally (No One Is Illegal), and Survaillance and M'aidez (Press Release).
ABOUT COLOUR OF VIOLENCE
Over the past year, BWSS has been engaged in a community-based research project to better understand and raise awareness on the experiences of Indigenous, Black, newcomer immigrant/refugee, and racialized survivors accessing gender-based violence services in British Columbia (B.C).
This work is motivated by the urgency of our moment. The pervasive reality of gender-based violence and its overlap with many escalating crises —such as the pandemic, toxic drug supply, precarity of poverty, and climate catastrophe — all disproportionately and deliberately impact Indigenous, Black, newcomer immigrant/refugee, and racialized women, girls, and gender diverse people. Canada has extreme difficulty recognizing how deep and profound racism is, and how racism is instrumental in compounding the impact of gendered violence for racialized survivors. As we heard from one participant, "Understand that racism exists, and survivors experience it."
Drawing on the foundational work of INCITE! Women of Color Against Violence, our own Colour of Violence: Race, Gender & Anti-Violence Services report explores the extent to which gender and race influence system-based responses to gender-based violence. We specifically highlight the experiences of survivors navigating inadequate and inaccessible anti-violence services in B.C. We also examine the police and criminal legal system, child services, immigration, and other institutional responses. Our key research approach is a "by and for" approach, with all the work conceptualized and conducted by Black, Indigenous, and racialized staff of BWSS. We conducted surveys with over 100 survivors, focus groups with anti-violence workers of colour, and a series of public events. Based in anti-oppressive, anti-racist, decolonial, and feminist principles, this report positions Indigenous, Black, newcomer immigrant/refugee, and racialized survivors accessing safety and justice at the center of our anti-violence work.
Through our research, we found that Indigenous, Black, newcomer immigrant/refugee, and racialized survivors in B.C face numerous barriers to accessing safety and support when they experience gender-based violence, such as lack of access to culturally safe services; mistrust of the legal system and other state systems; and being minimized or disbelieved. One participant put it: "Nothing in the system is supportive — the system itself is abusive." Indigenous, Black, and newcomer immigrant/refugee survivors face particularly heightened barriers to justice, including often being criminalized for reporting violence, having their children apprehended, or facing deportation. The report identifies key barriers in accessing anti-violence services, and also offers concrete best practices for service providers developing anti-violence interventions.
We are deeply grateful to all the participants who brilliantly and courageously shared their time and insights with us. Their words powerfully illuminate what is needed to end violence against Indigenous, Black, newcomer immigrant/refugee, and racialized survivors in this province. We hope you join us in honouring their strength and in amplifying their truth-telling toward action. As part of the #16DaysofActivism Against Gender-Based Violence, we look forward to seeing you at our Colour of Violence: Race, Gender & Anti-Violence Services launch events!