Grow your creativity and bury your stress with Terrarium Therapy
About this event
Your experience will include one driftwood piece sourced from the Chesapeake Bay area, succulents, soil, moss, and instruction. We'll discuss best practices for succulent care and maintenance; soil, sun requirements, grooming, watering, and propagation for healthy plants.
Small Driftwood 8-10 inches: $45
Large Driftwood10-12 inches: $55
This event will be hosted outdoors and will we will be practicing appropriate social distancing protocols. If you have any special seating requests, please make note of this at check out.
Tickets are non-refundable nor transferable. If you purchase a ticket and are unable to attend, please email Terrarium Therapy directly at events@terrariumtherapyworkshops.com to discuss options.
Pre-registration and pre-payment are required to hold your spot.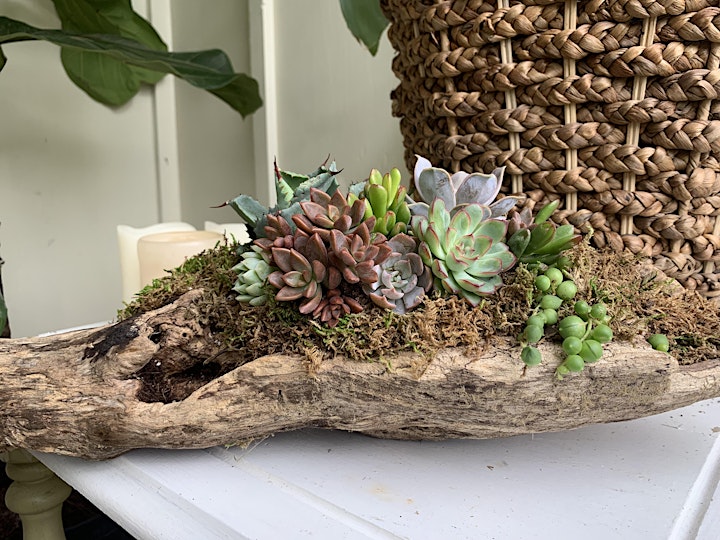 Organizer of In-Person Driftwood Planter Workshop at Hershey Public Library
Established in 2017, Terrarium Therapy was created with one purpose: to provide a refreshing and positive environment to relax and connect with others through nature. We believe it is therapeutic to grow your creativity and bury your stress!

We provide an array of plant workshops all priced to provide the best experience possible for you, your friends, and your family. To date, Terrarium Therapy has hosted over 700 workshops.
We offer two workshop experiences:
VIRTUAL WORKSHOPS
"Grow Together While Apart"
We are delighted to provide online workshops, easily accessible from the comfort of your own home. Our kits are packed to ensure the safety and quality of the plants, then shipped to you at home. On the date of the workshop, join us on Zoom for step by step instruction with our plant-loving host.
Our kits ship anywhere in the contiguous United States. These virtual workshops are open to the public or can be arranged to be held privately for team building, networking, or socially distant gatherings.
IN-PERSON EVENTS
Terrarium Therapy offers in-person planting workshops at breweries, wineries, and restaurants. In addition to our workshops available to the public on Eventbrite, we also will work with you to host private parties, team building functions, charity/fundraising events, bridal/baby showers, bachelor/bachelorette parties, and any other group functions. Keep us in mind to brighten up your special day with favors, bouquets, centerpieces, and more!


We look forward to growing with you!
 | Terrarium Therapy |
"Grow your creativity, bury your stress" 
For upcoming events and private parties, please visit our website: www.terrariumtherapyworkshops.com 
Or contact us at: 
Events@terrariumtherapyworkshops.com or (267) 216-8328