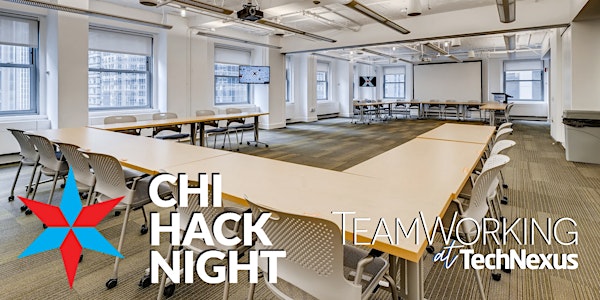 In-Person Chi Hack Night
A free, weekly event in Chicago to build, share and learn about civic tech and tools to create, support, or serve public good.
When and where
Location
TeamWorking at TechNexus 20 North Upper Wacker Drive #12th Floor Chicago, IL 60606
About this event
Join us for our return to in-person at TeamWorking at TechNexus!
We are a group of thousands of designers, academic researchers, data journalists, activists, policy wonks, web developers and curious citizens who want to make our city more just, equitable, transparent and delightful to live in through data, design and technology. More about us »
What happens at a hack night?
Every week, we have a 45 minute presentation by a government agency, non-profit, company or group who've made use of open data or built a civic technology application. The goal of these presentations is to showcase the different uses and opportunities, as well as challenges and successes in the civic technology movement.
After the presentation, the format of the event is similar to that of a hackathon where breakout groups self-organize to work on civic apps, discuss policies and their implications, learn technical skills and network with a welcoming and diverse community at the intersection of technology and government.
But I'm not a techie!
That's ok! We encourage non-technical folks to pair up and learn from our community's designers and developers. We've seen time and time again, the best civic projects come from teams with a diverse background.
Remember, there's much more to making a great app than just coding.
Questions about the event? We have answers:
Q: I won't be able to make it in person. Will the event be live streamed?
A: Yes. The event will be livestreamed on our YouTube channel: youtube.com/chihacknight/live
Q: Will COVID-19 vaccination be required?
A: Yes. In order to keep attendees safe, we will be requiring proof of vaccination at the door. A physical vaccine cards or picture of one will be accepted. If you are not vaccinated, you can tune in to the livestream.
Q: Will masks be required?
A: Yes. As per the City of Chicago's mask mandate, attendees will be required to wear a mask. We will provide additional masks if you forget yours.
Q: Will there be food?
A: Serving communal food in a pandemic is a tricky problem. For our first go-around, we will be providing some light snacks and drinks, so you may want to grab some dinner ahead of time!