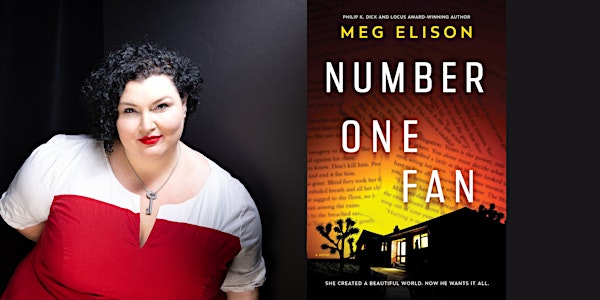 In-Person Book Signing with Sci-Fi and Horror Author Meg Elison
Join us for a book signing and discussion with science fiction and horror author Meg Elison.
When and where
Location
Cellar Door Bookstore 5225 Canyon Crest Drive ##30a Riverside, CA 92507
About this event
We are so excited to welcome back Philip K. Dick Award winner Meg Elison, author of The Road to Nowhere trilogy, to talk about her new book, Number One Fan (out on August 30th)!
On her way to a speaking engagement, bestselling novelist Eli Grey gets into a cab and accepts a drink from the driver, trusting that everything is fine. She wakes up chained in the stranger's basement. With no close family or friends expecting her to check in, Eli knows she needs to save herself. She soon realizes that her abduction wasn't random, and though she thinks she might recognize her captor, she can't figure out what he wants. Her only clues are that he's very familiar with her books and deeply invested in the fantastical world she creates. What follows is a test of wills as Eli pits herself against a man who believes she owes him everything--and is determined to take it from her.
Terrifying and timely, set against the backdrop of convention culture and the #MeToo reckoning, Number One Fan unflinchingly examines the tension between creator and work, fandom and source material, and the rage of fans who feel they own fiction.
RSVP for the event or purchase a book bundle here. You may also preorder the book in-store, order online (https://www.cellardoorbookstore.com/book/9780778386155), or call us to purchase over the phone to register.
About the author: Meg Elison is a California Bay Area author and essayist. She writes science fiction and horror, as well as feminist essays and cultural criticism. She has been published in McSweeney's Internet Tendency, Fangoria, Fantasy and Science Fiction, Catapult, and many other places. She is a member of the Science Fiction Writers of America (SFWA) and the National Writers Union. Her debut novel The Book of the Unnamed Midwife won the 2014 Philip K. Dick Award. Her novelette "The Pill" won the 2021 Locus Award. She is a Hugo, Nebula, and Sturgeon Awards finalist. She has been an Otherwise Award honoree twice. Her YA debut, Find Layla was published in fall 2020 by Skyscape. It was named one of Vanity Fair's Best 15 Books of 2020.
Elison is a high school dropout and a graduate of UC Berkeley.